Today's feature is a much-loved curry dish in our household and perhaps in a lot of Malaysian households as well. This is one of the many famous signature dishes by the Straits Chinese (which I referred to here as Nyonya) who were the early settlers in Malaysia (then Malaya) from China who mostly lived in Malacca, Penang and Singapore - hence the name Straits Chinese. Nyonya cuisine is a delectable and unique blend of Chinese, Malay, Indian and a bit of Thai cuisine - somehow everything blends together deliciously and seamlessly. Kari kapitan has obvious Thai influences, looking at the use of kaffir lime leaves and tamarind juice - this dish has a fresh and fragrant dimension which does well at cutting into the richness of the dish.




If you prefer your curries less rich, you can always skip or halve the use of coconut milk. I can guarantee though that if you are a curry lover, you will probably love this variation. This dish does require a little bit of time and effort as the spice paste does take some time to prepare although it is by no means difficult at all. This extremely appetising dish is great with the usual rice or you can also serve this with rotis (Indian flatbreads) like naan, paratha and yes even with regular toast - utterly scrumptous.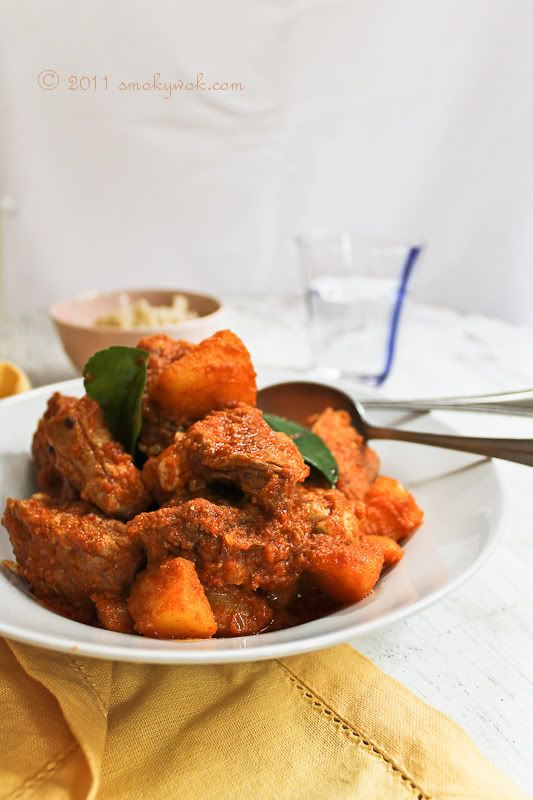 Serves 4
Serving suggestion: with steamed rice/ rotis like roti paratha, naan/ regular toast


Ingredients:


500g of pork ribs, sliced to bite-sized (substitute with chicken thighs if desired)
Handful of fresh kaffir lime leaves
1 tablespoon lime juice
1 cup coconut milk (optional - I did not use)

Seasoning:
1 teaspoon light soy sauce, or to taste

For the spice paste - either use a food processor to mix together or pound with mortar and pestle for the traditional way

5 tablespoons cili boh
10 shallots, skin removed
4 cloves garlic, skin removed
2 stalks lemongrass
1 tablespoon worth of belacan (shrimp paste), toasted until fragrant (either dry-fried or toasted in oven)
1 tablespoon turmeric powder
3 candlenuts (optional)

Method:

Heat up your wok until almost smoking. Add about 5 tablespoons of oil and swirl to coat. Note that spice pastes usually 'eat up' quite a bit of oil. Add in the spice paste and fry until aromatic.

Add in rib pieces and stir-fry, add in the tamarind juice and kaffir lime laeves. Turn heat down and allow to simmer on low heat liquid has mostly dried up.

Add in coconut milk if using, season with soy sauce, bring to a boil and add in the lime juice. Mix well and dish out.