Now that the new year celebrations have mostly ended, I am looking forward to another new year - the Lunar New Year to be exact. For the Chinese, the new year only officially starts when Chinese New Year comes about and to be more specific, this only happens on the sixth day this time as that is the official day when spring arrives or 'lap chun'. Yes, kind of confusing but I am totally looking forward to it. Today's feature however is just a simply stir-fry that is popular in a lot of Chinese households and usually never fails to be a 'rice-puller'. The ever-humble salted vegetables ('ham choy') simply stir-fried with some pork slices. This savoury and slightly sweet dish (we like to add a tiny bit of sugar to balance out the saltiness) is extremely addicting and very easy to whip up.

Salted vegetables are one of the many preserved vegetables used in Chinese cooking and is well very salty and usually made with fresh bok choy. Apart from simple stir-fries like today's dish, it is also extremely popular used in Chinese 'slow-fire' soups like
this salted vegetables and tofu soup.
You can probably say that salted vegetables belong to the acquired taste category but I think if so, it's only on the milder scale as it is not really pungent but just well really salty with a slightly sourish flavour which I find pleasing.
Ingredients:
1 whole salted vegetable, soaked for about 30 minutes
150g of pork (you can use with slightly fatty bits), sliced marinated in 1/2 teaspoon corn starch
3 cloves garlic, roughly minced
1 teaspoon of light soy sauce or to taste
1 teaspoon sugar
How salted vegetables (ham choy) look like - soaking in water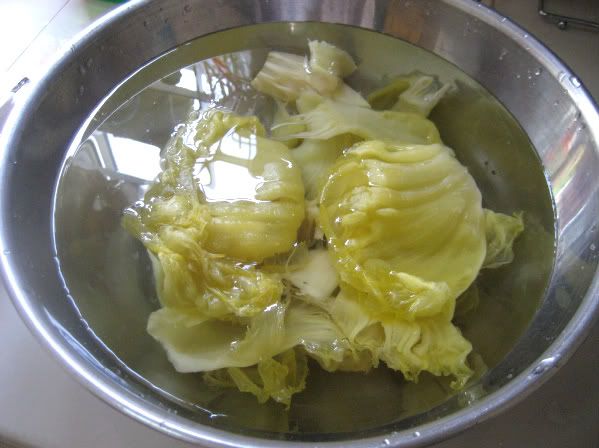 Method:
To prepare the salted vegetable, soak it whole for about 30 minutes to get rid of excess salt. Drain and squeeze gently to get rid of as much water as possible. Slice.
Heat wok until almost smoking. Add 3 tablespoons of oil to wok and swirl to coat. Turn heat to low. Add garlic and stir-fry until aromatic. Add light soy sauce. Turn heat up. Add pork slices and stir-fry until almost cooked. Add salted vegetables. Add sugar. Stir-fry until well-mixed.
Add 3 tablespoons of water and turn heat to low. Cover and allow to cook for about 3 minutes.