I hope everyone is having a lovely weekend. It's been awhile since I've featured one of my favourite Chinese comfort foods, congee or also known as rice porridge. Today's recipe is an extremely easy and refreshing salmon congee dish that you can whip up pretty quickly and easily whenever you're in need for a dose of some delicious warmth or just when you feel like some congee. I used salmon belly today but you can also just use salmon fillet if you like - then again you can totally substitute the salmon with another fish of your choice. Apart from the fish, all you need are some ginger, scallions (green onions), chicken or vegetable broth and of course well rice.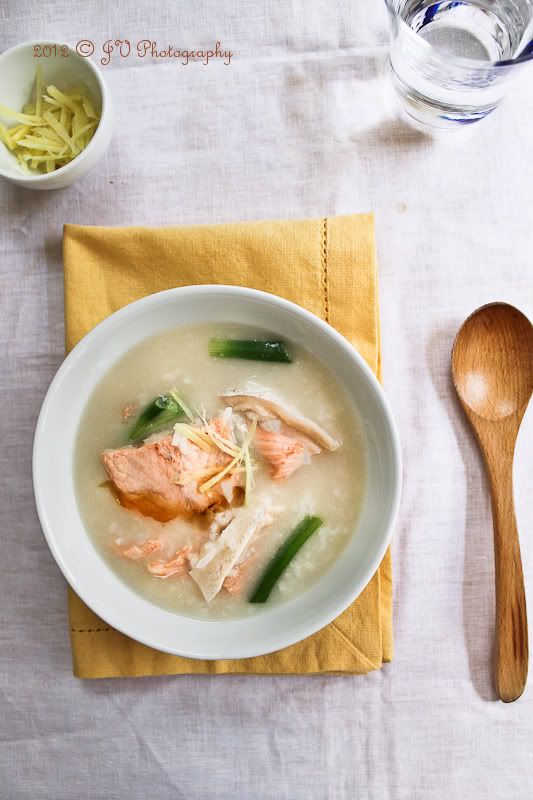 I prefer my congee to be of a smoother consistency hence I like to soak the rice in water for at least 30 minutes before cooking which really helps break down the grains considerably more producing a silky smooth consistency. Then again, if you like your congee to be more substantial feel free to increase the ratio of the rice grains to water. I used homemade chicken broth for my congee today but you can definitely just use any good quality (no MSG) store-bought chicken broth.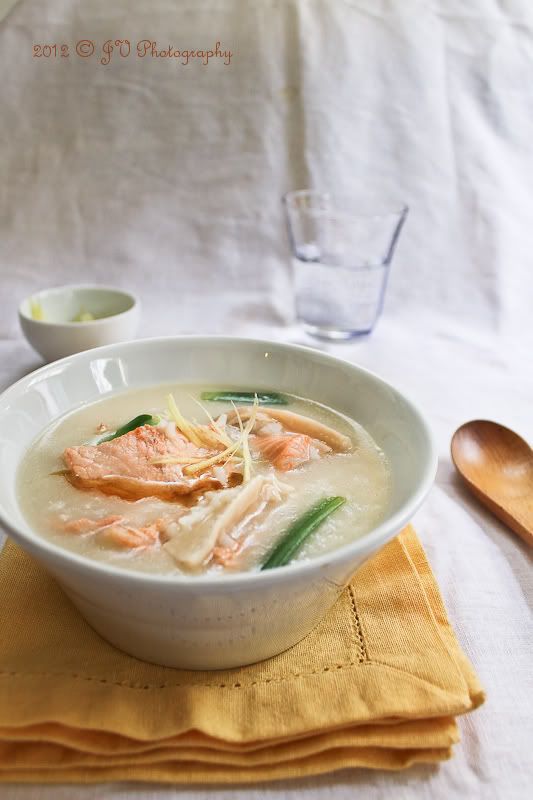 It is rather important to use good quality sauces especially in such lightly flavoured dishes like congee. This recipe is now part of my Yuen Chun collection of recipes.

Serves 4
Ingredients:
1/2 cup rice, washed and soaked in water for at least 30 minutes
4 cups chicken broth + 6 cups water
300g of salmon belly or salmon fillet
2 slices ginger
1/2 cup ginger slivers
3-4 scallions, sliced
Marinade for salmon:
3 tablespoons Chinese rice wine (Shaoxing rice wine)
1 tablespoon light soy sauce (use Yuen Chun - www.yuenchun.com)
1/2 teaspoon salt
1/2 teaspoon sesame oil
Serve with:
Light soy sauce
Sesame oil
White pepper
Method:
Marinade the salmon in the mix above while the rice is soaking. After about 30 minutes, drain the rice and boil the rice, water and chicken broth together. Once rapidly boiling, bring the heat down to low and allow to simmer until it reaches your desired consistency. I usually boil for about 45 minutes on low heat.
Once the congee reaches your desired consistency, drop in the salmon fillets. Watch closely and turn up the heat again. Once the salmon is entirely cooked - this should take about 3-4 minutes, turn off the heat. Ladle the congee into individual serving bowls and serve with the ginger slivers and scallions with the soy sauce, sesame oil and white pepper on the side for your guests to add to their hearts' desire.