Having dim sum (點心) is also known as going to yum-cha or 飲茶 (which translates to tea-drinking from Cantonese) especially amongst the contemporary Cantonese people. I have always been a fan of dim sum - there is just something so incredibly appealing about foods served in those petite helpings usually from a cart piled high with mounds of bamboo steamers. It was always fun to see what tasty morsels were creating delicious wafts of steam from under each 'tower' of bamboo steamers. Sometimes, I think I enjoy the process of ordering from the little carts more than the actual eating itself!

Of course, there are many variations in how a Chinese restaurant may serve dim sum now, there are some where you just order at your table, and they bring the dishes straight to your table once it's done. I think this actually lessens the 'fun' for me maybe because I have been used to carts ever since I was little and it just means less to me when the dim sum is 'cooked' (probably just heated up) in the kitchen and then brought to the table.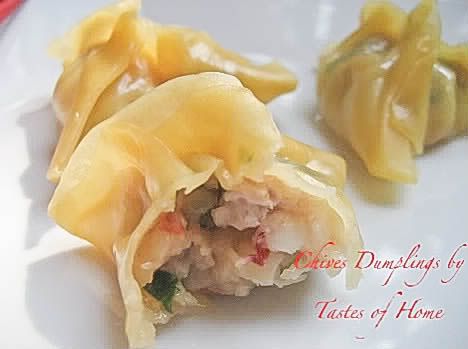 Today I feature a well known item on most restaurant's dim sum list, steamed chive dumpling with pork and shrimp. This tasty dumpling recipe should definitely take a place in your cooking repertoire - of course, it is quite easy to simply order this at a restaurant, but isn't it fun and satisfying to be able to make some things on your own when you feel so inclined? Especially when it looks and tastes as good as these little dumplings!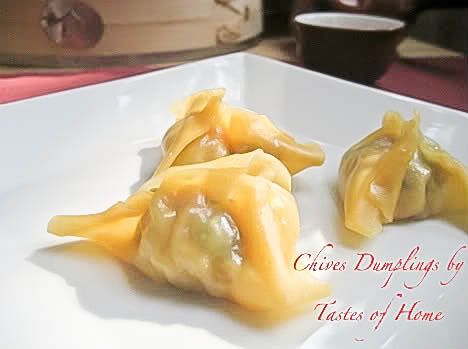 Ingredients:

6 stalks of Chinese chives, chopped finely
8 Tiger Prawns (use more if using smaller shrimp), shelled and deveined
1/4 pound ground pork (just try to make sure that the ratio of prawns to pork is 1.5:1)
1 tsp chopped fresh ginger
16 wonton wrappers


Marinade:
1 tsp rice wine
1 tsp light soy sauce
1 tsp sesame oil
Dash of pepper
2 tsp sugar
2 tbsps corn starch


In the mood for more dim sum recipes?


Click here for my Steamed Seaweed Rolls Recipe


Method:
First, use the back of a cleaver to break down the prawns. Next, simply chop them up - I don't like to use the food processor for this as I like a bit of 'bite' to my dumplings. Now, simply mix the ground pork, chopped up prawns and chives together in a bowl. I actually chopped these up together to make sure they were well mixed. Next, add the marinade ingredients listed above into the prawn mixture. When you use the wonton wrappers, be sure to refrigerate the extras to avoid them drying out. Place a damp kitchen towel on the rest of the wrappers while you are working on each dumpling.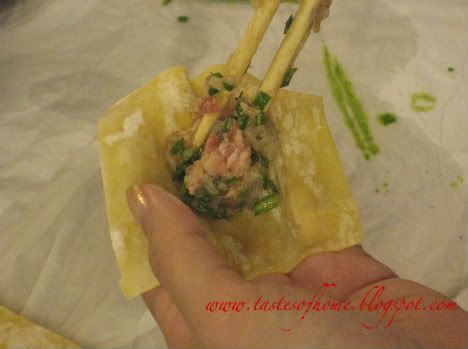 Prepare a bowl of water which will be used as 'glue' for sealing the dumplings. First, spoon about 1 tsp of filling into the middle of the wrapper. Brush the sides of the wrapper with water (I just used my fingers to dab) and then gently lift up three sides of the wrapper and press firmly with your finger tips to seal together to form a triangular shape. Set aside, and repeat with the remaining of your wrappers. Be sure to place a wet kitchen towel on the wrapped dumplings to avoid drying out as well.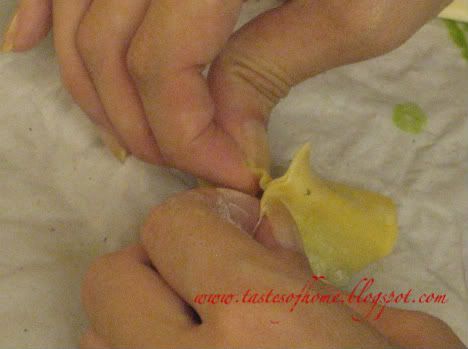 If you're using a bamboo steamer like me, cut out some parchment paper to put on the base of the steamer. Place the wrapped dumplings in the steamer and steam on a wok for about 10-12 minutes. Once the dumplings are cooked, they should look translucent. Serve with some soy sauce if desired.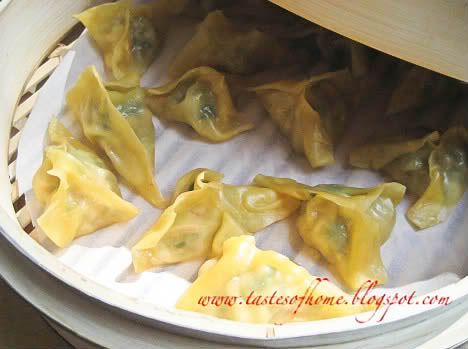 Tip: Do not let the bamboo steamer touch the water as we are not going for boiled dumplings!