Here's another way I'm 'exploiting' the oh-so versatile and fragrant (stinky to some!) belacan that is so uniquely Malaysian. On my prolonged spicy mood, I present shrimp and beans stir-fried in belacan - a delicious way to incorporate some healthy greens and my ever-favourite seafood in one single dish. My specially-treated belacan consist of toasted shrimp paste, shallots, dried chilli peppers and dried shrimp all pounded together in my mortar and pestle before cooking. Growing up in Malaysia, belacan and all sorts of pungent fare are the norm rather than the exception, however you have been forewarned, make sure you have good circulation in your kitchen before you attempt to make belacan - this is definitely not a delicate flavour!


On a side note, I think it's official - you really do know you're a food blogger when you start receiving birthday gifts in the form of pretty dishes and gift cards to
Crate & Barrel
. Definitely no complaints from me though! As most of my family and friends know, I am always on the look-out for interesting looking dishes just to make my photos appear just a tad bit more fun or maybe as a means to compensate for my very-amateur food photography skills that I'm hopefully improving on (?!)'. Now apart from thinking on how to cook a tasty dish, a blogger usually puts in thoughts on how to present the delicious dish well as the eyes are the only ones doing the tasting on the computer screen!
Also, a
few
of my food photos did make it to
Tastespotting
and
Foodgawker
, the fabulous food porn sites, so I'm feeling a tad encouraged. By the way, the very first time I encountered the term 'food porn', I did feel a little puzzled - hey, might sound weird to some but I have to admit, this term describes the luscious food photos perfectly and succinctly.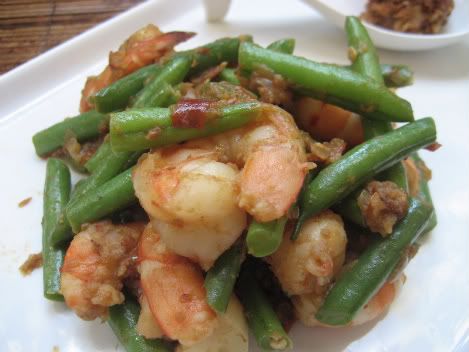 Some of my other spicy offerings:
Malaysian Belacan Fried Rice Recipe
Stir-fried Okra in Belacan Recipe
Stir-fried Taro Leaves with Belacan Recipe
Ingredients:
1 bunch of fresh green beans (you may use frozen if you like) - sliced diagonally
10 medium sized shrimp, shelled and deveined
2-4 tbsps of
belacan
2 cloves garlic, minced or sliced
For my belacan paste (Pound together in a mortar and pestle)
6 shallots, peeled
8 dried chilli peppers (softened slightly in hot water)
1-2 tsbps of dried shrimp, soaked in water briefly
1-2 tbsps worth of belacan paste, dry-fried in a wok (this is to bring out the pungent fragrance more)
Method:
First, heat about 1 tbsp of oil in a pan or wok. Saute the garlic and the belacan paste together. Next, add the shrimps and stir-fry around briskly. Finally, add in the previously blanched green beans. Do a taste test and add more of the specially treated belacan paste if needed. Very yummy served with hot steamed rice.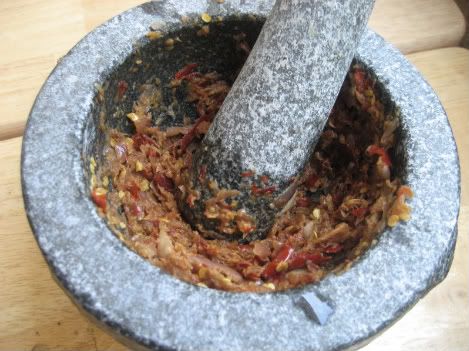 Tip: If you're not feeling up to pounding all the ingredients together for my specially treated belacan, simply saute the ingredients together before adding the shrimp and the green beans.