Toriniku tatsuta-age

Recipe from Book of Practical Japanese Cooking

According to the authors, this dish takes its name from the Tatsuta River, near Nara which hs a long history as one of the most famous places to celebrate fall and the changing colours. The batter for this chicken is light as it's mostly egg white and corn starch. The slivers of ginger and green onions incorporated into the batter imparts a fragrant aroma. Deliciously crunchy and should be a crowd favourite. The bell pepper shapes provide a decorative touch.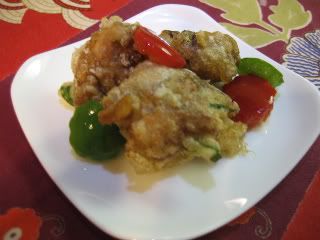 Ingredients:
1 pound boned chicken thighs
Vegetable oil for deep-frying
1 red pepper
1 bell pepper
cornstarch
4 lemon wedges

Marinade:
2 tbsps dark soy sauce
2 tbsps sake
1 tsp fresh ginger juice

Batter/ Coating:
2 egg whites
2-3 tbsps cornstarch
2 tbsps finely chopped green onions
1 tbsp finely chopped ginger

Method:
Cut the chicken into 1 inch squares. Combine the seasoning ingredients and marinade for about 30 minutes. Preheat the oil to a low deep-frying temperature (330 F). Core and seed the peppers. Use mini cookie cutters to create the decorative shapes.

For the batter, beat the egg whites until frothy but not stiff. Add the cornstarch and mix well. Add the green onions and ginger. Dredge the chicken in cornstarch and then cover well with coating mixture. Deep-fry the chicken. Remove from oil before the chicken becomes too brown. It should fry gently. Deep-fry the pepper shapes for about 30 seconds. Arrange chicken pieces and pepper shapes on serving plates. Great with rice or as a snack.