A vegetable and beef stir-fry is a great and simple way to make sure you have your vegetables and protein. Taking my cue from the ever-popular Beef with Broccoli that is available on most Chinese take-out menus, I substituted broccoli with Chinese Boy-Choy (I used the green leafy ones) and infused my dish with grated ginger instead of the usual ginger slices. I am a huge fan of ginger and I find that using grated ginger instead of ginger slices imparts a heavier gingery goodness to the dish. If you have time to marinate the beef even better, but if not, just try to slice your beef as thinly as possible (I used some flank steaks) for the flavours to better seep into the beef.

The Chinese believe that ginger has a lot of beneficial qualities and in general is good for you, for example, you will find that a lot of Chinese dessert soups (tong sui- 糖水) has some ginger in it, the ginger is used to lessen the 'cooling' effects of most tong sui (literally translates to Sweet Water from the Cantonese dialect but Sweet Soup will be a better translation).

I find that I have been featuring a lot of dim sum recipes lately - while still simple does require a little bit more time spent in the kitchen, hence today I decided to feature my simple beef stir-fry recipe which is tasty yet very quick to whip up!

Another simple hit from Tastes Of Home's kitchen!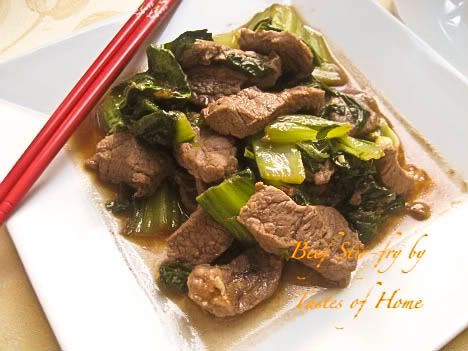 For more of my beef recipes, please check out the recipes below:


Claypot Beef with Glass Noodles Recipe


Beef Simmered in Mirin


Steak with Wasabi Butter Sauce