I'm so sorry for the lack of posts this week as I have not had a chance to cook while there is still daylight and of course food photos look so much better in natural sunlight. Anyway, I feature another simple recipe that I whipped up as I was tidying up my fridge. I love pasta and sometimes I like pasta cooked in an Asian or Chinese style instead of the traditional way. The macaroni is flavoured with soy sauce and a tiny splatter of fish sauce - add some carrots and green onions, here you have it a tasty and simple method for cooking pasta an unconventional way.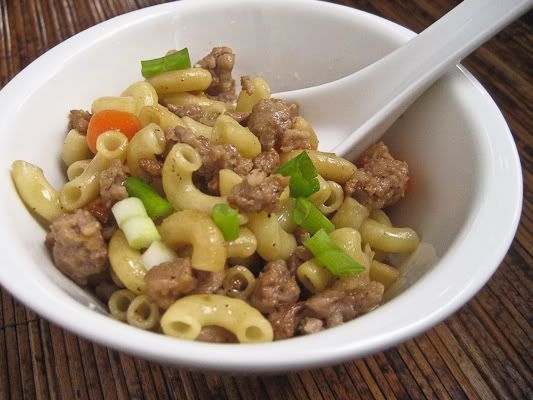 Although macaroni is traditionally a western type of noodle, macaroni is very popular in Hong Kong's famous char chan tengs (or tea cafes) where macaroni is often served in chicken broth with accompany vegetables for a quick and tasty breakfast. I love Hong Kong's tea cafes as I am absolutely addicted to their famous stocking milk tea and of course the egg tarts! Anyway, I digress - do try this macaroni recipe out especially on those busy weeknights!

This is my first entry to Presto Pasta Nights created by Ruth and hosted by herself this round at Once Upon a Feast . If you want to join in the fun, check out her blog for more details.