I have featured Chinese steamed fish before on this blog, but this time I decided to add a little twist to an old favourite of mine, I added a handful of goji berries to the fish before steaming.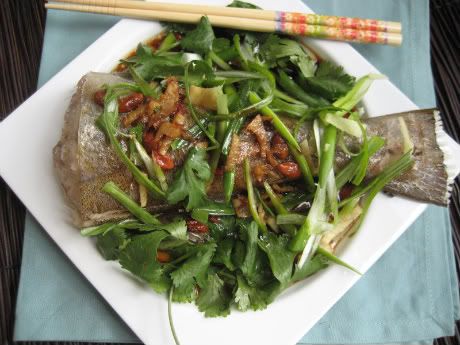 Growing up in the city of Kuala Lumpur (capital of Malaysia), I had absolutely no idea what a 'real' fishing trip constituted- let me share a harrowing experience I had when I unwittingly accepted a friend's invitation to go on a party boat to catch giant squid. Yes, these squids' heads are as big or bigger than a human head - so their namesake, giant squid is not a joke. Anyways, apparently the seas were rougher than expected that night and I seriously thought I was going to fall into the black ocean and meet a watery end. Firstly, the entire party boat was filled with fishing fanatics - the winds were billowing (howling like a banshee almost) and the sea was so choppy, it was indeed a terrible terrible experience and a litttle embarassing as well since one of the boat hands had to kindly accompanied me throughout the experience and tried his best to comfort me. Well, my friend had to stand at the side of the boat to fish for the squid and I refused to stand so close to the water so my dear friend put me in the care of the kind (and rather puzzled) boat hand since I was on the verge of tears most of the time. Looking back, I guess it can be vaguely described as 'funny' BUT as always, time always puts a positive glaze on
most
incidents no matter how bad they were at that time - notice I used the word 'most', there are always exceptions to the general rule. I still recall my law professor telling us this wise statement, there are so many general rules in the study of British law BUT of course there are even more exceptions.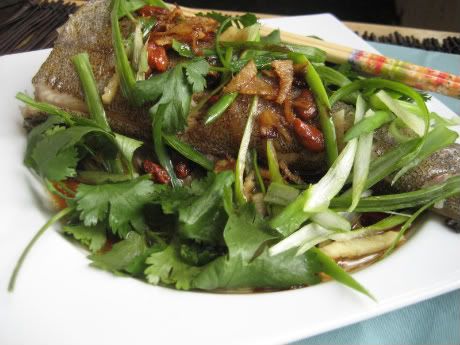 Anyway, back to the subject at hand, Goji berries, also known as wolfberries or
lycium barbarum
are tiny sweet-tasting red fruits around the size of a raisin. The Chinese people have been growing and consuming these fruits since thousands of years ago and these tiny fruits are believed to possess a myriad of healing properties. I steamed my ling cod the usual way that is with ginger slices and green onions and added the berries for a delicate layer of extra sweetness. I used a bamboo steamer to steam my fish - I highly recommend getting a bamboo steamer as it is so versatile and is easy to clean as well.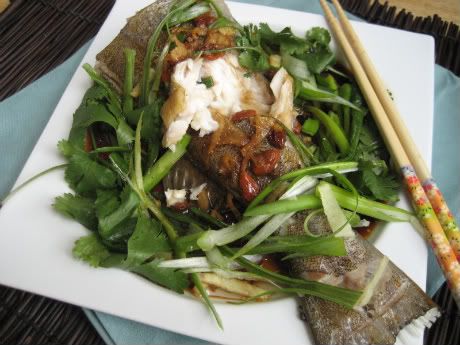 For more fish recipes on Tastes of Home, please click below:
Pan-fried Salmon in Miso and Ginger Recipe
Red Snapper in Ground Bean Sauce Recipe
Ingredients:
Ling cod tail (you may use other types of cod or rockfish)
Green onions, finely chopped lengthwise (looks more appealing and easier to eat with the fish)
Ginger, finely sliced (use a vegetable peeler to 'slice' off pieces then chop finely)
Generous bunch of cilantro
Handful of goji berries (you may skip this if you wish)
Enough water for steaming
For the sauce:
2 tbsps oil
2 tbsps light soy sauce
Dash of dark soy sauce
1 tsp sugar
2 tbsps water
Method:
Firstly, clean and scale the fish throughly. If the fish that you are using is relatively large, cut it down the middle for easier steaming. Place 2 stalks of green onion, two big slices of ginger and a handful of the goji berries on top and inside of the fish and steam for about 15-20 minutes, depending on the size of fish used. Do not overcook the fish as the fish will continue to 'cook' even when it is out of the wok. For the size of the ling cod tail I steamed, I only used 15 minutes and the flesh of the fish was succulent without being rubbery i.e. overcooked. Discard the green onions and ginger but leave the goji berries on the plate. Discard the liquid from the plate as well.
Now, heat the oil for the sauce in a pan, once hot, turn heat to very low, and slowly pour the rest of the sauce ingredients into the pan, be very careful as there will be a tendency to splatter. Place the chopped up ginger, green onions and a handful of cilantro on top of the steamed fish and pour the hot sauce on top of the fish. Serve immediately with steamed rice if you wish.