Noodles are a very vital part of the Asian diet - I use noodles a lot in my cooking repertoire and I really can't imagine how my culinary life would be without these versatile ingredients! May I present another winner (at least in my books) from Tastes of Home's humble (and rather messy) kitchen - my udon noodles stir-fried with chicken and mushrooms. Chicken and mushrooms make a perfect pair, this combination can be used to be served with rice or noodles. Today, I chose to pair them with some whole-grain udon noodles. I just adore the chewiness of Chinese mushrooms complemented by the natural 'sweetness' of the chicken.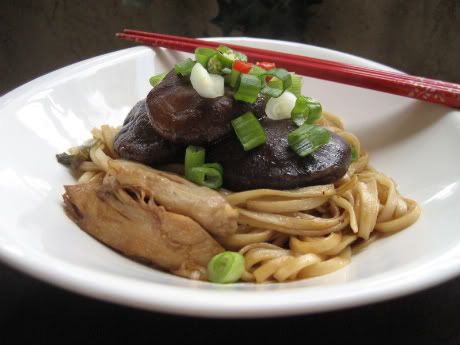 These noodles are cooked in oyster sauce, soy sauce and the chicken broth left over from the boiling of the chicken thighs, hence the noodles are oh-so-fragrant, infused if you will with the natural flavours of the chicken that sadly is hard to reproduce with chicken stock or chicken granules. However, in the interest of saving time in today's short-cut world, I am guilty of using chicken powder from time to time when I'm in a pinch. What I love about cooking is that I can improvise on whatever ingredients are in my freezer or fridge to create new dishes or rather new versions of popular dishes. Regular readers of my blog would observe that almost all my recipes include the use of garlic, however, this time I eschewed garlic in favour of shallots, well not because I got a ground-breaking idea BUT because I simply ran out of garlic! What a travesty for a food blogger to not have garlic - well, lame jokes aside, the shallots did not disappoint and added a sweeter fragrance to the dish. Finally, I added a few drops of sake for another layer of fragrance to the noodles.




For more noodle recipes on Tastes of Home, please click below:

Claypot Drunken Crab with Glass Noodles Recipe

Stir-fried Macaroni with Ground Pork Recipe



Ingredients:
1 packet of udon noodles (I used whole grain) - you can subsitute with other noodles
3 chicken thighs
8 Chinese dried mushrooms (you can also use fresh ones if available) - soak beforehand if using dried
1 shallot, sliced thinly
3 stalks green onions, sliced thinly

Seasoning:
2 tbsps of dark soy sauce or to taste
1 tbsp light soy sauce
2 tbsps oyster sauce
3-4 tbsps of chicken broth (from boiling of the chicken thighs)
Dash of sake (optional)
Dash of pepper
Dash of sugar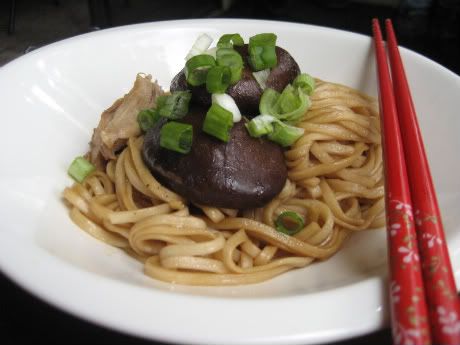 Method:
First, cook the chicken thighs in some boiling water for about 45 minutes (low heat). Once cooked, set the thighs aside to allow them to cool off for shredding later. Now, boil the noodles according to packet instructions. Set aside.

Saute the shallots and the green onions (the white parts) in a pan until fragrant. Add the mushrooms and the shredded chicken into the pan and stir-fry around briskly. Add the seasoning ingredients (as listed above) and turn the heat to low. Finally, add the noodles and with a pair of chopsticks (or you can use a fork) to quickly turn them around for an even coating of the seasonings. Serve hot with some cut chilli peppers if desired and top with the remainder of the sliced green onions.