I have always been a huge fan of 'chawan mushi', which literally translates to 'tea cup steam' - the egg custard is savoury instead of sweet and is traditionally served as an appetizer at Japanese meals. The texture of the egg custard is much lighter than that of its' Western counterparts due to the absence of heavy cream and milk.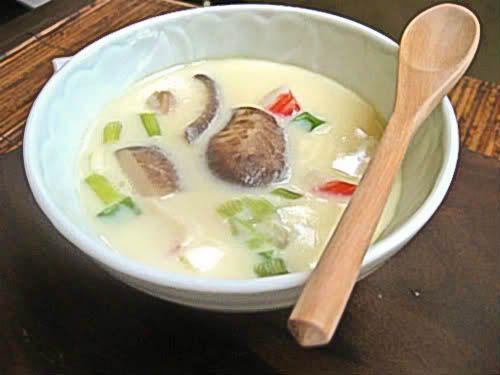 For an 'ideal' cup or bowl of chawan mushi, the custard has to just barely be set, and should be silky and light in texture, a 'holey' appearance is a definite faux pas. The egg custard is simply a mixture of lightly beaten eggs and bonito stock seasoned with some soy and sake. The ingredients used in the custard allows for a lot of creativity, this time I merely used crabsticks, mushrooms and green onions. It is customary to have chicken, shrimp, mushrooms and gingko nuts in the chawan mushi - however, as always, do improvise and tweak the recipe to your liking.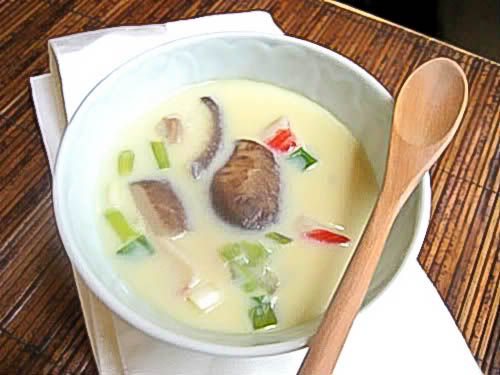 This is a very easy dish to make at home, this was my first attempt as well and you just have to remember not to overcook the steamed egg (much like Chinese steamed egg), do not overload the cups or bowls with ingredients (no more than 1/3 of cup/bowl) and to beat the eggs lightly so as to lessen the bubbles in the mixture. The silky smooth and flavourful egg custard was a delight to my senses - try it at home, it's not difficult I promise!






Ingredients (4 servings):
2 stalks green onions
4 shitake mushrooms (quartered)
2 crabsticks (cut to bite-sized)

Custard:
2 1/2 cups bonito stock (dashi)
1 Tbsp light soy sauce
1 tsp mirin
1/2 tsp salt
3 eggs

Egg custard mixture is strained through gauze


Method:
Heat the bonito stock, then season with the soy sauce, mirin and salt. Let cool to room temperature. Now, lightly beat the eggs and add the cooled bonito stock while stirring lightly. Strain the egg mixture with some gauze (as pictured) into a separate bowl.

Separate the ingredients into the bowls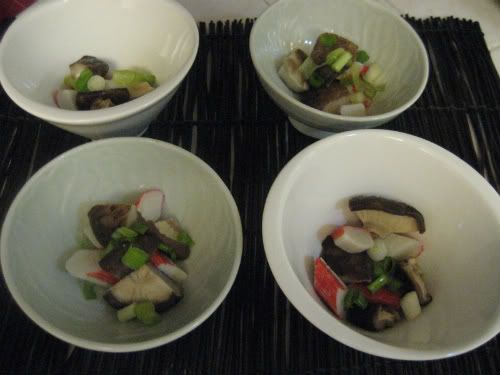 Now, prepare your steamer (I used my bamboo steamer) - divide the ingredients above into the 4 cups/ bowls and gently ladle the egg custard mixture into the cups/ bowls. I did not have the traditional chawan mushi cups which come with covers, so I made some 'covers' out of foil. This is to avoid the condensed moisture in the steamer from dropping back onto the custard.

Ladle the egg custard mixture onto the ingredients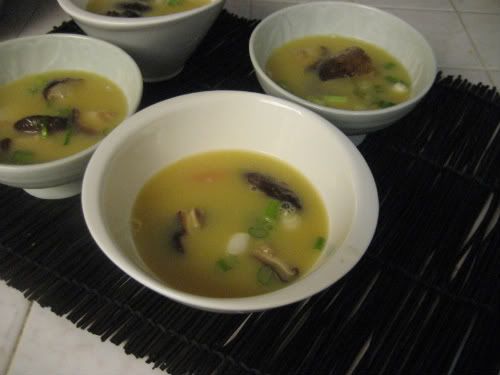 Steam the custard over high heat for about 5 minutes or until you see the top layer turn whitish. Now, turn the heat to medium low and steam for another 15 minutes or so. To test if the egg is set, insert a toothpick gently - if the liquid runs clear, it is done. Serve hot or chilled depending on weather.