I have been planning to make some slow-boiled Cantonese soups for a while, and I initially decided to feature winter-melon soup today, however when I checked the melon today, it had already gone bad. So what was I to do, as I already had the spare ribs boiling away merrily on the stove? I remembered that I bought some cooked periwinkle meat and had them in the freezer, so I decided to use that instead and added some wolfberries (gei zi) and threw in some honey dates that I had handy.



Periwinkle is actually a species of snails and are a group of marine snails. Periwinkle meat is very chewy in texture, not too unlike abalone and clams. The periwinkle meat provided a sweet and briny taste to the soup - perfectly complemented with more 'regular' Cantonese soup ingredients like the honey dates and the wolfberries. I am so glad that I did not give up and just threw away my whole pot of spare ribs soup.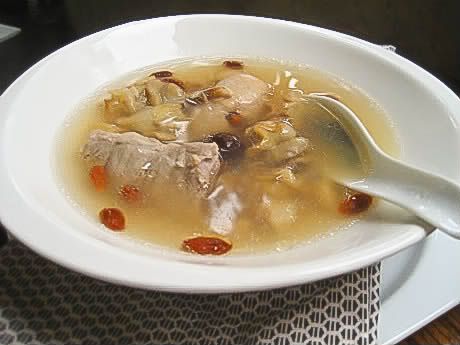 The Cantonese also love to stir-fry periwinkle meat with black bean sauce and red chilli peppers which is a popular fiery dish especially in Hong Kong where these snails are cooked on high heat with the shell intact. One has to dig the meat out with either toothpicks and other more inclined diners will suck the meat out of the shells.

Being a huge fan of Cantonese slow-boiled soups, I am ecstatic that I 'discovered' a new soup recipe for myself. As always, do not add water during the boiling process as the resulting watery taste will be impossible to eradicate even with copious amounts of salt - you will just end up with some tasteful salt water!



Cooked periwinkle meat, conveniently sold in packages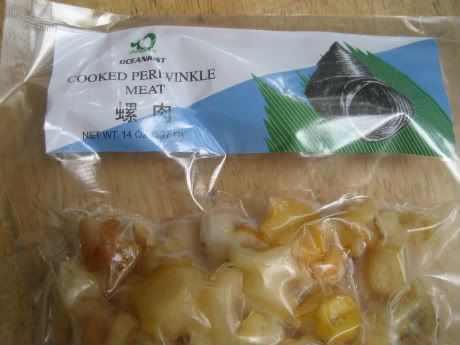 Ingredients:
1 packet cooked periwinkle meat
1/2 pound worth of pork ribs
Handful of wolfberries (quickly rinsed)
3 honey dates
4 dried cuttlefish, rinsed
Salt, to taste

Method:

Firstly, blanch the pork ribs for a quick flash in boiling water. Remove the pork and discard the water. Next, boil about 8 cups of water in a large pot. Once boiling, add the blanched pork and the rest of the ingredients into the pot. Bring to a boil again, and boil for about 4 hours with low heat, checking frequently. Add salt to taste, serve hot.