It is spring but days are still overcast and cloudy not to mention colder than I remembered during this time of the year! Nothing makes me feel better than sipping a hot bowl of wholesome soup - I thought kimchi soup would be a good alternative as it is also spicy! Of course, watching the actors in my current Korean drama cooking and eating it all the time might be also influencing my sudden cravings!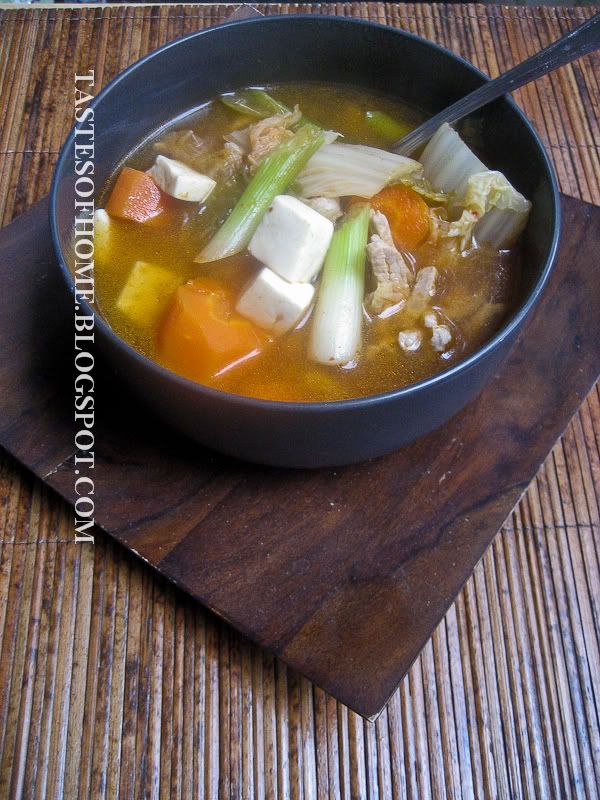 Kimchi is a staple food in Korea - and kimchi can consist of cabbage, cucumber, carrots and a myriad of other vegetables pickled in salt, garlic and fermented fish paste (usually). The flavour of kimchi is rather strong and might be overwhelming to some at first, but I have definitely grown to love the flavour and kimchi soup is delicious and heartwarming to say the least. In addition, this recipe does not require a long boiling time but just under 1 hour. In traditional Korean soups, minced garlic may also be added which is really quite different from Chinese soups, or at least Cantonese soups - I don't think one usually adds garlic to the best of my knowledge.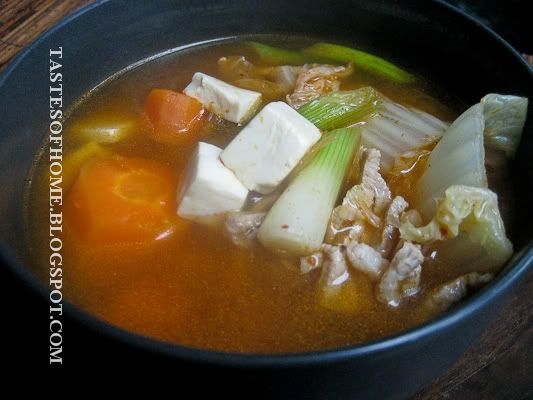 The vegetables in the soup are not set in stone - you can be creative and use whatever you have in your fridge (within reason of course). Cooking is really a fun thing to do, experiment a little and you might just come up with something you love!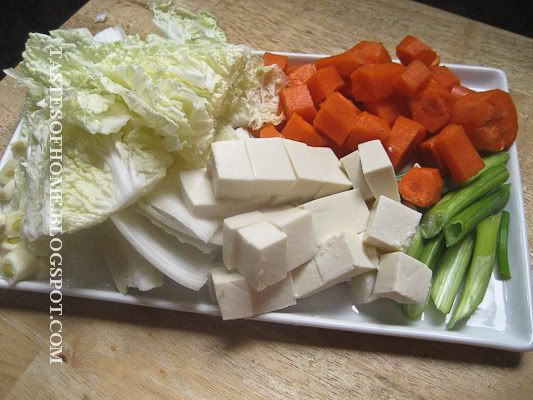 Ingredients:


4 tbsps worth of kimchi
2 heaped tsps of kochujang (Korean chilli pepper paste)
2 tsp of kochukaru (Korean chilli pepper powder)
2 carrots, chopped
2 green onions, sliced diagonally
1/4 slab of tofu, cubed
1 tsp minced garlic
Soy sauce, to taste
1/2 Chinese (Nappa) cabbage
1/2 onion, sliced
1/4 pound of pork, sliced or cubed
3 cups of water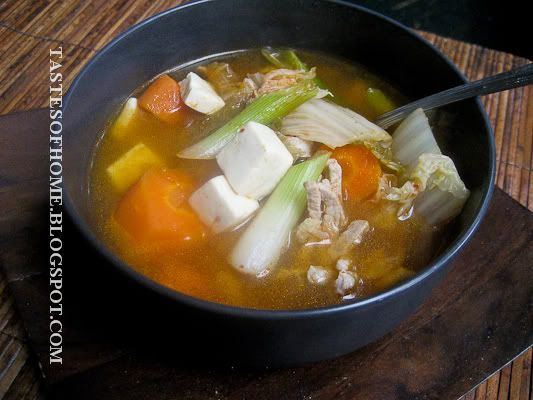 Method:

First, blanch the pork in boiling water to remove impurities, remove from water once the surface turns white. Discard water. Using the same pot, fill it with 3 cups of water, bring to a boil. Now add the vegetables except for the green onions, kimchi and blanched pork. Bring to a boil again and simmer at medium heat for about 30 minutes. Now, add the kochujang, kochukaru, green onions, tofu and garlic. Bring to a boil again, and simmer for another 20 minutes. Add soy sauce to taste. Serve hot with rice.