Braised pig's trotters is a very yummy and protein-filled dish that is familiar to most Chinese people. To the uninitiated, pig's trotters do look or sound rather exotic for eating. This dish has been cooked for years and has a distinctive and strong flavour courtesy mainly of the copious amounts of vinegar used. The version I am presenting today differs slightly from the classic pig's trotters in black vinegar traditionally served to women post-labour. This dish is considered nutritious as pig's trotters are low in fat and carbohydrates but high in natural collagen. One should definitely try this at least once -today's feature is a very simple recipe for tender, moist and succulent pork trotters cooked in an aromatic and sweet and sour sauce. For another 'exotic' recipe, try my braised chicken feet recipe, a Chinese classic and an extremely simple dish to prepare at home.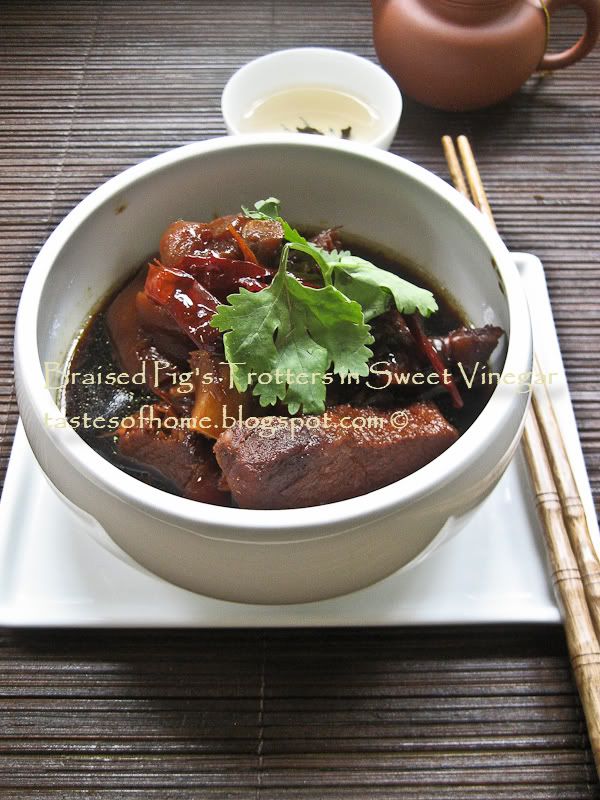 My version or rather my mom's version of this classic eschews ginger - the heat factor is supplied generously by the dried chilli peppers used in the recipe. Instead of black vinegar, white vinegar is used - I think this is more a personal taste preference, white vinegar is higher in vinegar content and produces a more sour taste compared to black vinegar where the latter may have more of an almost 'smoky' taste.






Ingredients: (lessen the quantity according to how many you are planning to serve)

2 pig's trotters
3 whole smoked garlic (smashed, skin on) - you may use regular garlic if you wish
12 dried chilli peppers
2 cups white vinegar
6-8 cups of water
10 lumps of rock sugar (depending on size, always do a taste test) - you can also use the equivalent in slab sugar if convenient
3/4 cup of dark soy sauce
Splash of light soy sauce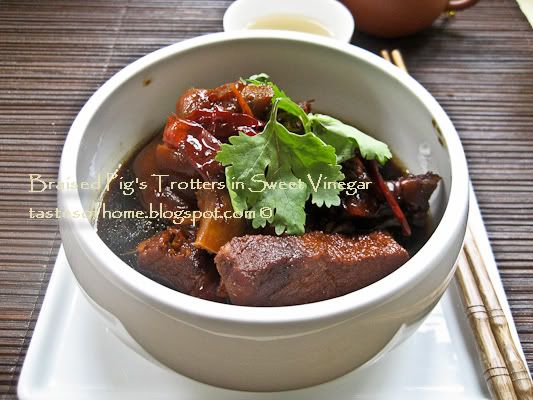 Method:

Firstly prepare the pig's trotters by marinating lightly in some corn flour and place in the fridge for about 1-2 hours. Blanch the pig's trotters in boiling water to remove impurities and run under cold water before putting into the fridge. Placing the pig's trotters in the fridge will provide a 'crunchier' texture.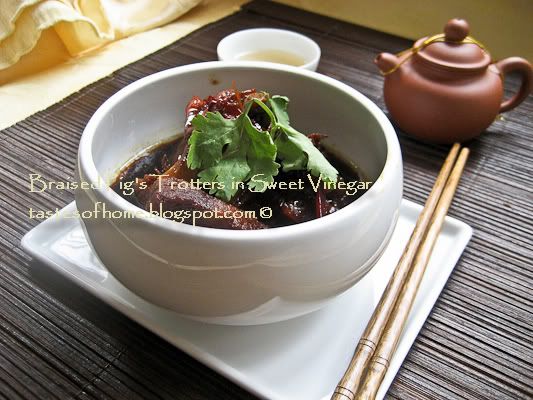 Meanwhile, place the water, vinegar, dark soy sauce, ginger, garlic, dried chilli peppers in a soup pot and bring to a boil. Add the sugar and do a taste test. Now, turn the heat down to low. Add a splash of light soy sauce to bring out the flavours. Finally add in the pig's trotters into the pot and boil at low heat for at least 2 hours. Add more sugar or soy if desired.

Share