I am so excited today to present apparently the Korean street food from my humble kitchen - ddukbokki (떡볶이) or Korean spicy rice cakes. An extremely comforting yet easy to make snack, ddukbokki are usually cooked with cylindrical rice cakes or dduk (made of glutinous rice flour usually and then steamed) stir-fried in a spicy gochujang (Korean red pepper paste) based sauce. These rice cakes are very dense and produce an extremely filling dish. When I saw these snacks in many a popular Korean dramas I was guiltily addicted to a few years ago, I got curious - the red gooey rice cakes looked intriguing and so appetizing to me. It was only recently though that I got curious enough to make these for myself (armed with some tips from my Korean friend), I now totally understand why ddukbokki is so popular - warm, chewy rice cakes coated in a yummy spicy and sweet sauce - totally addictive!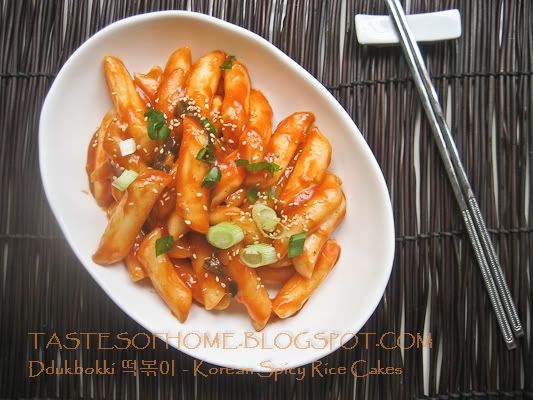 According to my Korean friend, there are a million ways to make ddukbokki and every Korean household probably has different ways of making it. (There also seems to be a million ways of romanizing this snack i.e. tteokbokki, dduk bok kie, tuck boy key and the list goes on). I prefer mine spicy and sweet so I used gochujang, sugar and a bit of ketchup for an additional punch. These cute rice cakes are usually sold at the street stalls in Korea stir-fried with a variety of ingredients including fish cakes, a myriad of vegetables, bulgogi and even cheese or with ramen. One can also add eggs to the dish - usually hard boiled. I just went the bare route today, my ddukbokki consist of only rice cakes, green onions, garlic and of course a healthy sprinkling of toasted sesame seeds as the finishing touch.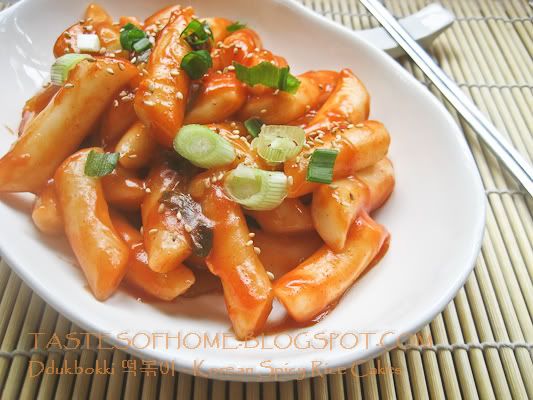 Next time, I shall try pan-frying the rice cakes in soy rather like how us Chinese like to cook radish cakes with beansprouts and chives.


Ingredients:

200 grams of cylindrical rice cakes (I bought refrigerated ones) - I soaked mine in cold water for 10 minutes
2 cloves garlic, minced
3 stalks green onions, sliced (save some for garnish)
Handful of toasted sesame seeds

For the stock:
A handful of dried anchovies (rinsed)
4 cm of kelp (konbu)

Sauce:
2 tbsps of gochujang (Korean red pepper paste)
1 tbsp sugar
Dash of mirin
1 tbsp of ketchup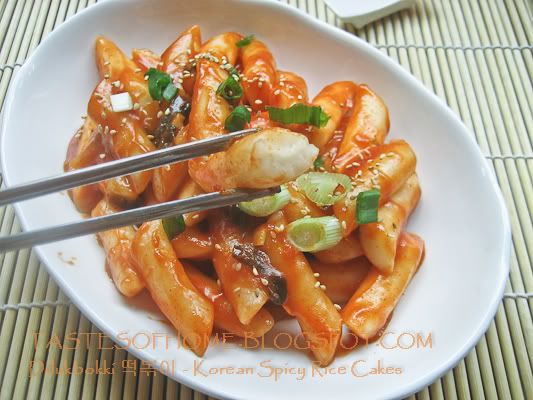 Method:

Firstly, prepare the stock by boiling 4 cups of water with the rinsed anchovies and kelp. After bringing to a boil, boil on medium heat for about 15 minutes. Remove the anchovies and kelp to discard.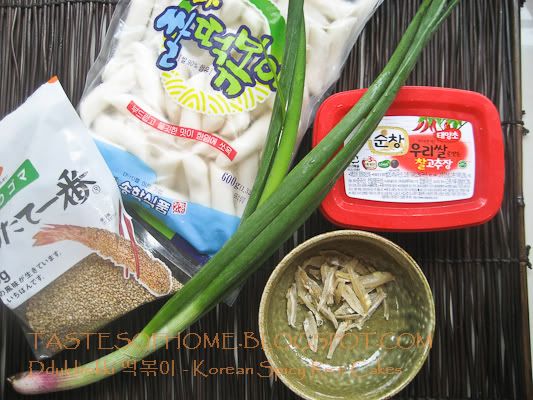 Turn heat to low. Add the gochujang to the stock and mix well. Add in sugar and a dash of mirin. Mix well. Add in the rice cakes with the minced garlic and chopped green onions. Add ketchup.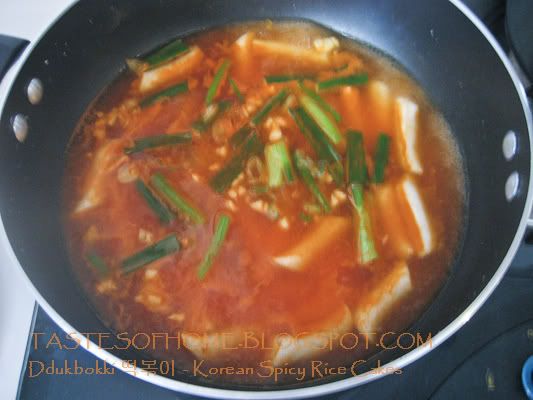 Stir constantly with a wooden spoon until sauce starts to thicken. The starch from the rice cakes will help to naturally thicken the sauce. Keep stirring until the sauce reaches the level of consistency you like. Spoon onto serving plate. Garnish with green onions and toasted sesame seeds. Serve hot.