Soondubu jjigae (순두부찌개) is one of the classics in Korean stews - soondubu refers to soft tofu while jjigae means stew. Soondubu jjigae is a spicy stew with seafood and usually beef (but I used chicken) base cooked with extra soft, silky tofu. I have always loved Korean cuisine and only recently started to cook Korean food at home. I love how Koreans use a variety of colouful and nutritious vegetables especially in their stews and soups - and after making maeuntang (spicy fish soup) earlier that I adapted from Maangchi with delectable results, I decided to try making today's popular soondubu jjigae also based on a recipe from Maangchi.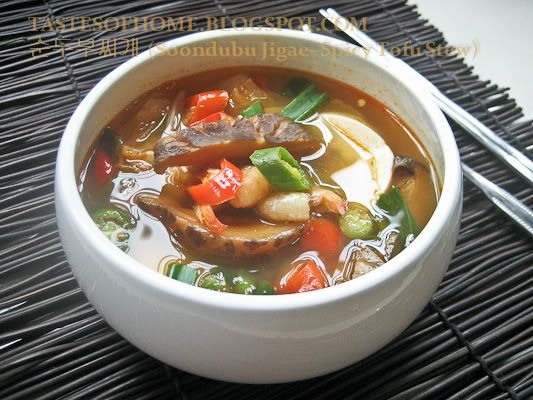 Instead of gochujang (spicy chilli paste) that was used in the maeuntang, Maangchi advocates using gochugaru (spicy chilli powder) instead, although a quick look around the web brought up all kinds of variations where some cooks vouch for the gochujang version and some for gochugaru while some used a mix of both. I am no expert on Korean cuisine but I think the most important thing with food in general is that it suits your own tastebuds and I find it extremely enjoyable to experiment and come up with your own recipes.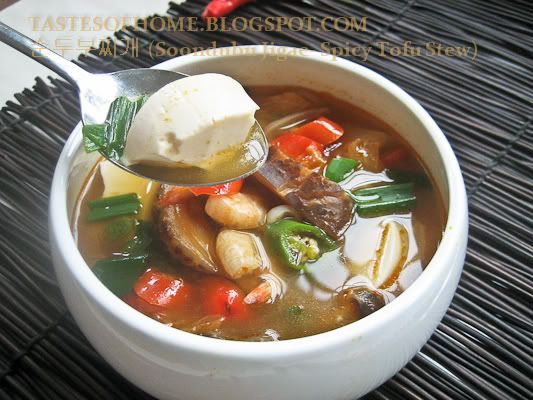 I used Chinese cabbage (Nappa) in my soondubu jjigae today but you can substitute with your favourite vegetables - I think spinach will work extremely well. The cabbage and seafood added natural sweetness to the soup while the meaty shitake mushrooms and silky soft tofu added great contrasting textures. All in all, I was extremely satisfied with the results. By the way, the Chinese in me tells me that this stew would make a great base for noodles, especially rice noodles.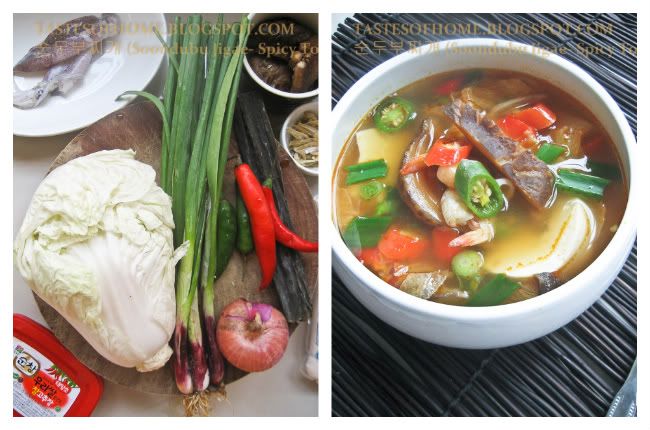 Recipe adapted from Maangchi

Ingredients:

For the broth:

8 cups of water
5 inches worth of dried kelp (konbu)
2 small red onions (use 1 large one)
5 dried shitake mushrooms (soaked in hot water for 2 hours - remove stems)
1/2 cup of dried anchovies, rinsed
8 cloves of garlic

For the stew:

1 cup worth of sliced chicken thighs (get boneless to make your job easier)
2 cloves garlic, smashed
2 heaped tbsps of gochujang
1 - 2 tbsps of gochugaru (this depends on how spicy you want your stew to be)
1/2 cup of small shrimp, (I left the shell on)
3 small squids (remove the thin hard membrane inside - clean the body pouch inside to remove any grit)
2 tubes of extra soft tofu, sliced
3 stalks green onions, sliced
1 head of Chinese cabbage, sliced (I used a medium one)
2 tbsps of fish sauce
2 red chilli peppers
2 green chilli peppers
Dash of light soy sauce
Dash of salt
2 eggs
Dash of sesame oil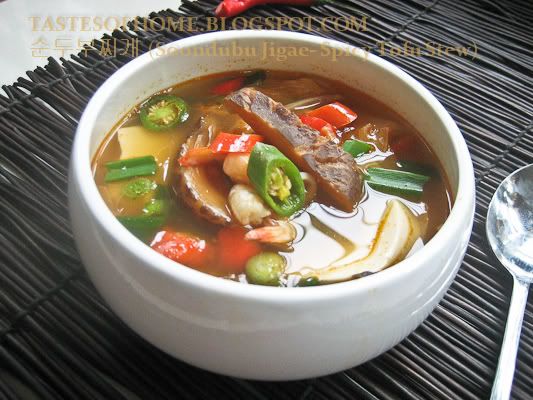 Method:

Firstly, bring the ingredients for the broth to a boil and let boil on high for 10 minutes. Remove kelp and discard. Turn heat to medium and boil for another 20 minutes. Remove the shitake mushrooms and slice (use a fork to hold down the hot mushrooms).

In another pot, preferably a claypot, heat about 2 tbsps of cooking oil till hot. Turn heat to medium. Add the smashed garlic and saute till fragrant. Add the chicken slices and stir-fry till half-cooked. Add the shitake mushroom slices and continue stir-frying. Add the gochujang and gochugaru, continue stir-frying for about another minute.

Ladle the broth into your claypot or second pot. Add the squid and shrimps. Add the cabbage. Bring to a boil again. Add in the fish sauce. Add the tofu and smash lightly with a spoon in the pot. Finally, add in the chilli peppers and green onions. Do a taste test. Add the salt and soy sauce as necessary. Right before serving, crack the eggs into the stew and add a dash of sesame oil. Serve hot.