Today's post is an extremely simple yet highly representative dish of Korean home cooking, doenjang jjigae or soy bean paste stew which I thought would be perfect with fall at our doorsteps (although I am now in tropical Malaysia, towards the end of the year, with the monsoon season arriving, we have a lot more rain which does make the weather slightly cooler :O). As with a lot of classic dishes, there are just so many interpretations, each delicious in its' own way - the version I am sharing today is actually a 'vegetarian' version of sorts (of sorts since I used fish stock) but traditionally seafood or meat is added to the stew itself. To make my vegetarian doenjang jjigae a little 'meatier', I added some chopped up shitake mushrooms. The mushrooms are first stir-fried with the aromatic doenjang in sesame oil, then fish stock and the rest of the ingredients are added, do note that you should add the ingredients in order of how fast they cook. I really liked the texture of the zucchini in the stew while the vibrant yellow shade of the zucchini helped brighten up the earthy stew as well.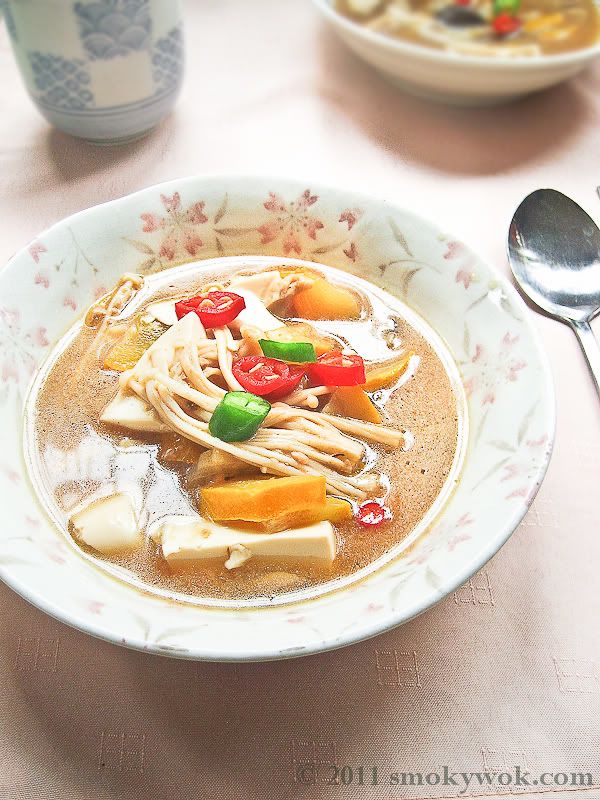 Doenjang which literally means thick paste in Korean is rich in vitamins, minerals and flavenoids. Doenjang is essentially fermented soy bean paste - a culinary icon in Korean cooking, just like its' spicy counterpart, gochujang is also popularly used as a dip with raw vegetables at the dining table. It is also often mixed together with gochujang to produce ssamjang (which is sold separately as well in convenient packages), another highly popular Korean condiment. Doenjang imparts a uniquely rich and earthy flavour to stews and sauces, I guess an easy comparison would be miso which tastes a little more delicate. For a more non-traditional dish that uses this popular Korean condiment, do take a look at my doenjang pork satay recipe.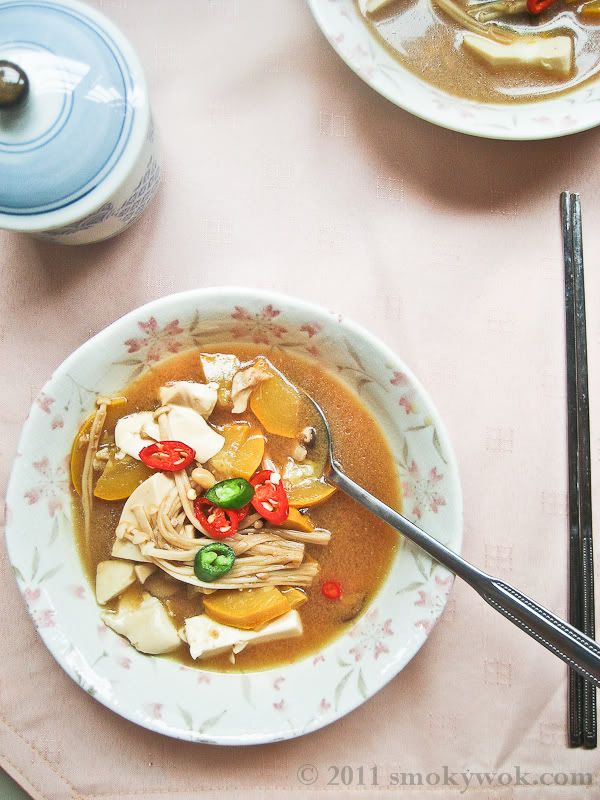 All in all, a delightfully simple and comforting stew that you can whip up anytime from your own kitchen!

Serves 4

Serving suggestion: with steamed rice

Ingredients:

2 tbsps doenjang
1 tbsp sesame oil
5 shitake mushrooms, cubed (replace this with minced pork or beef if using meat)
3 cloves garlic, minced
1/4 onion or 2 small shallots, sliced finely
2 1/2 cups fish or chicken stock
1/2 zucchini, sliced then quartered
1 bunch of enoki mushrooms, rinsed and end parts removed
1 block of soft tofu, cubed
2 green chilli peppers, sliced
1 red chilli pepper, sliced

Method:

Firstly, heat up a heavy bottomed pan and once hot, add the sesame oil. Turn heat to medium and add the doenjang and shitake mushrooms. Note that doenjang may burn quite quickly so please watch carefully. Add in the minced garlic and onions/ shallots. Stir fry around till aromatic.

Pour in the stock and bring to a boil. Once boiling, add the zucchini slices and chilli pepper slices. Boil on medium for about 3-4 minutes. Add in the enoki mushrooms and tofu. Boil for another minute. Finally, bring heat down to low and allow to simmer (covered) for about 15-20 minutes. Serve hot.

Note: It is also popular to add gochugaru (pepper powder) into doenjang jjigae, do so if you want a spicier version.