Bean Sprouts stir-fried with salted fish is a very common and well-loved dish in most Chinese homes. The salted fish add a strong aromatic flavour to the relatively mild tasting bean sprouts. However, salted fish is very pungent and is an acquired taste for most unexposed palates, due to the high level of sodium, it is also not advisable to consume in large quantities. Nevertheless, I indulge myself now and then as salted fish just adds an irreplaceable flavour to a lot of dishes.




I added some red chilli pepper slices for some spice and colour as well. Definitely try this dish at home, you can skip the salted fish if you wish. Some versions of this dish include adding fried tofu packets. Incidentally, this dish is also commonly served with Hainanese Chicken Rice as a side-dish. This is a very easy to make and delicious stir-fry at home, also a change to the usual green vegetables. Bean sprouts are essentially very young vegetables and are usually made from mung beans, harvested before growing leaves.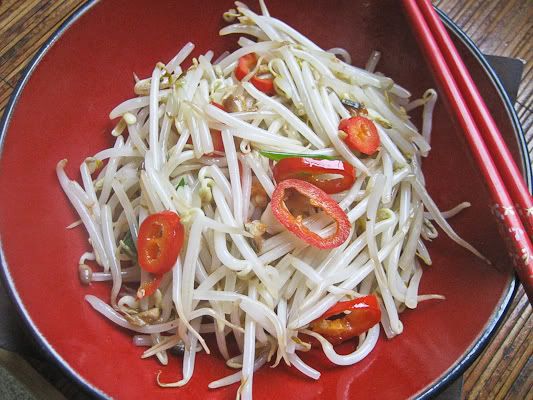 When cooking bean sprouts, be sure not to cook for too long as once they are overcooked, they will start to brown and the texture will be too soft.