A new year is arriving and as always, we end up reflecting upon what happened in the past one year while looking forward to see what the new year brings.   Good or 'bad', this year is almost gone and it's time for a new year and a new beginning.  As for me, I would like to take this opportunity to thank all my lovely readers and fellow bloggers who have supported, encouraged and continually inspired me.  I wish all of you an abundance in health and love for the coming year and many many years ahead!

Here's a super last-minute New Year party recipe - easy roasted chicken drumsticks marinated in an appetizing spicy and lemony soy-based sauce.  I marinated my drumsticks overnight although a few hours should suffice.  I love baking meat dishes when I am feeling lazy or tired, you just have to make sure your marinade tastes good and your dish can almost always be guaranteed delicious. In addition, if you use porcelain baking trays like I did, you can save on the plating and just serve straight from the oven!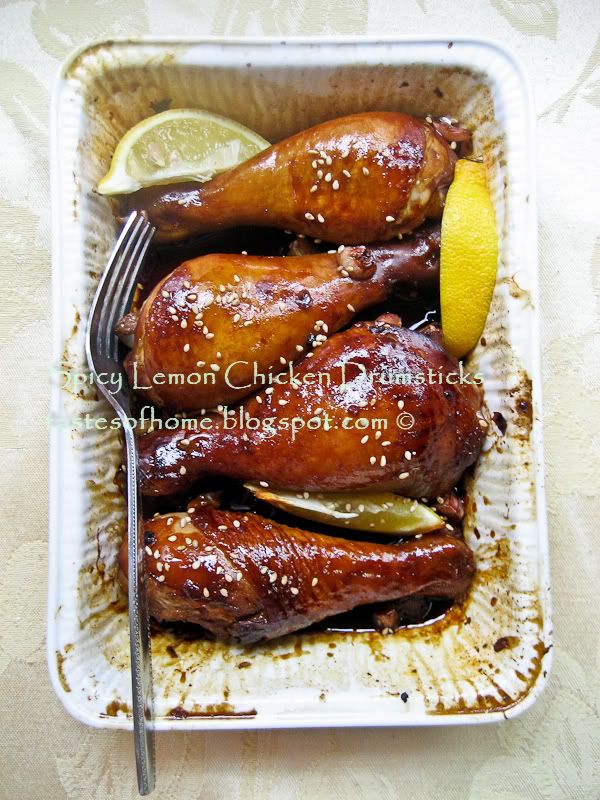 The spiciness from today's sauce comes from daobanjiang (spicy soybean paste), a staple in Szechuan cuisine while the honey and lemon did a good job of cutting into the spiciness.  I find that it is important to baste the drumsticks at least twice during the cooking process which will ensure a gorgeous colour and of course maximum yumminess.  Apart from the customary soy sauces (I used a thick caramel soy sauce and regular light soy sauce), I used mirin and Chinese Shaoxing wine for some added aroma.  I am a huge fan of both condiments and I always make sure I have a ready supply of both in my kitchen.  This recipe will work great with chicken wings or drummettes as well.