As some of you may already know, I am a big fan of Yuen Chun cooking sauces especially for my Chinese cooking needs, a preference handed down by my late maternal grandmother who was an excellent cook. I still think that her special way of making Quaker's Oats tastes the best ever, something I have not been able to replicate, I was too young then to ask for cooking tips! Today, I am extremely excited to announce that I will be working with the lovely folks at Yuen Chun on projects for this blog. First off, Yuen Chun will be generously sponsoring a giveaway on Tastes of Home so that you, my lovely readers would get to try out their products that I have been touting forever in a lot of my recipes like my braised pork in sweet soy sauce, sweet and sour pork and ginger soy chicken amongst many others. Yuen Chun recently celebrated its' 100 year anniversary in the business and its' products are favourites amongst many Malaysian cooks for both the authentic flavours and consistent high quality.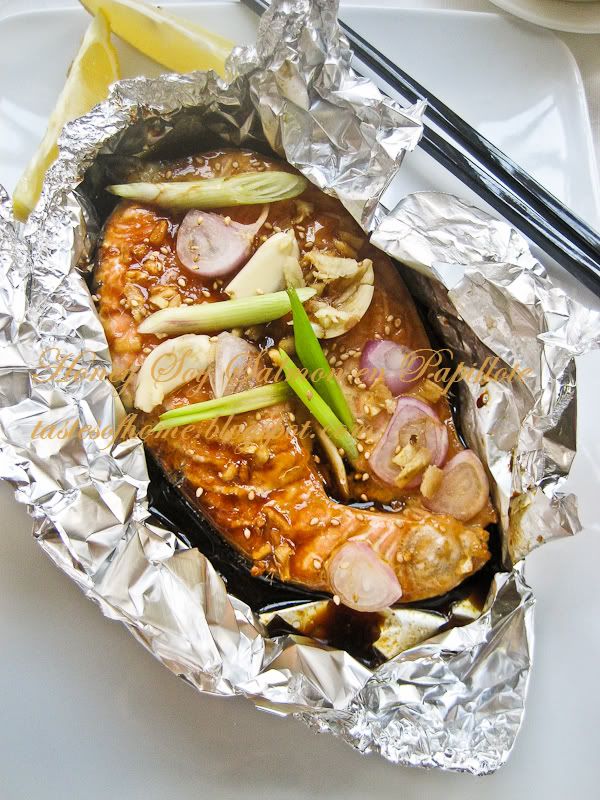 For today, I created a salmon dish that uses Yuen Chun's famous thick soy sauce - a rich and deep blend of soy sauce, sugar and caramel that lends a pleasing flavour and provides a gorgeous glaze to many dishes. Today's dish is rather like a fusion dish as I used one of the classic French cooking methods, en papillote which means 'in parchment' but can refer to food (usually fish, vegetables or poultry) cooked in foil as well. This method of cooking aims to keep the natural juices and flavours of the food intact while maintaining moisture which I think is imperative especially while cooking fish whereas I chose Asian ingredients for the condiments.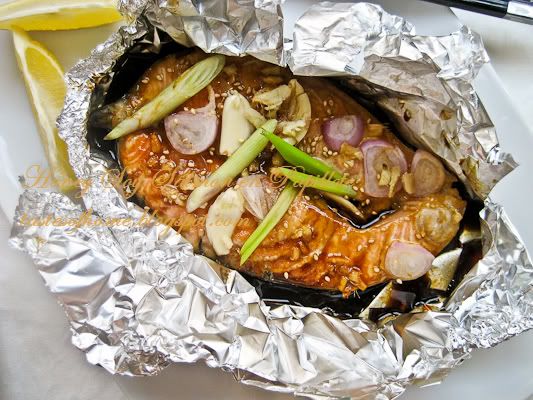 Apart from the elegant appearance of en papillote dishes, don't you just love the fact that there are less dishes to clean up? Serve your guests with the packages unopened at the table, they will definitely relish unwrapping their elegant little parcels and will be greeted first thing with the luxurious aroma of flavourful salmon. Definitely a great dish to add extra flair at your next dinner party!

Yuen Chun Thick Caramel Sauce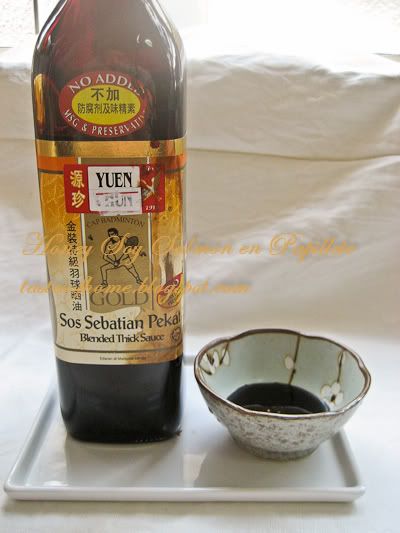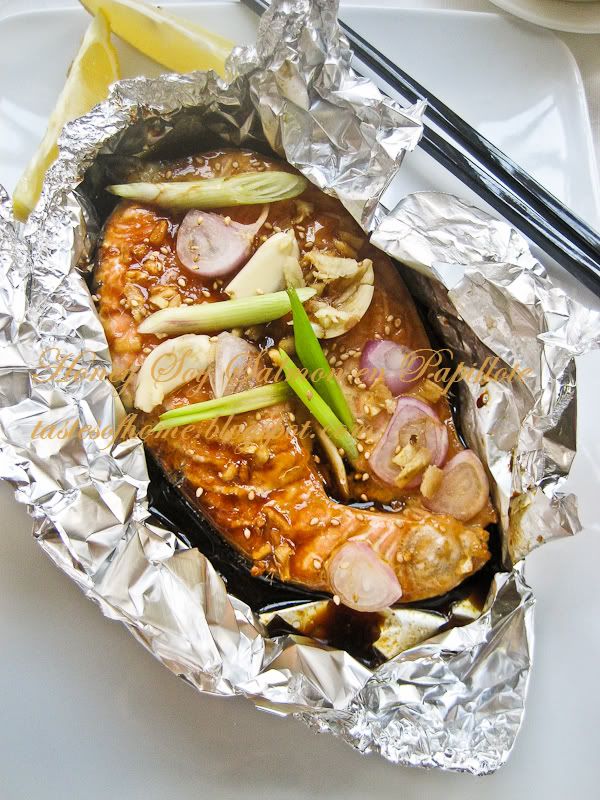 Ingredients:

2 salmon steaks (substitute with other white fish if you don't like salmon)
2 stalks scallions, sliced diagonally (2 inch lengths)
2 tbsps minced ginger
4 smashed garlic cloves
4 shallots, sliced

Sauce:

(A)
2 tbsps Yuen Chun thick caramel sauce (pictured above)
2 tsps honey
1 tbsp light soy sauce or to taste
Generous splash of sake or other rice wines
Enough oil for brushing of the foil

Garnish:

Lemon wedges
Handful of toasted sesame seeds

Method:

Firstly, prepare a piece of aluminium foil that is at least 3x the size of your fish steak. Next, fold the sheet in half and cut out the corners to create a heart shape after opening up. Open up the sheet and spread out flat on work surface. Brush the foil with some cooking oil.

Next, place the salmon steak on one half of the foil. Mix up the ingredients in (A) for the sauce, as always do a taste test and add more soy if desired. Generously brush the salmon with the sauce. Turn over and brush the other side as well. Place half the amount of the scallions, garlic, ginger and shallots on the steak. Splash some sake on the fish.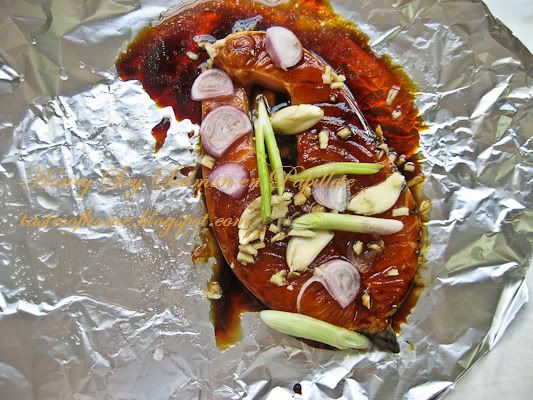 To wrap the parcel, bring the other half of the 'heart' over on top of the fish and gently pleat and fold the edges as if you are pleating a giant dumpling until you almost reach the end. With a straw, blow lightly into the package. This is to allow some space on top of the salmon so that the flavours will circulate inside the package while cooking. Do not wrap too tightly. This method of wrapping was create by legendary French chef Jacques Pépin.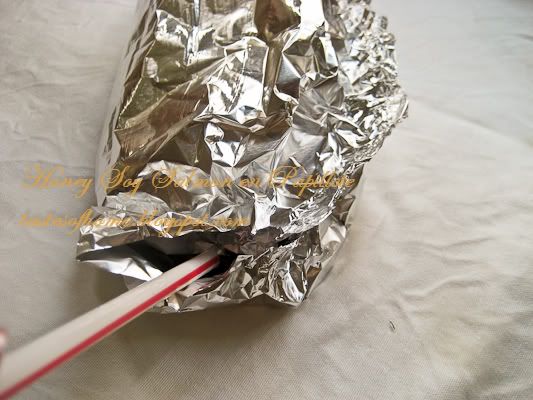 Finally, seal by twisting or pleating. Place on baking tray.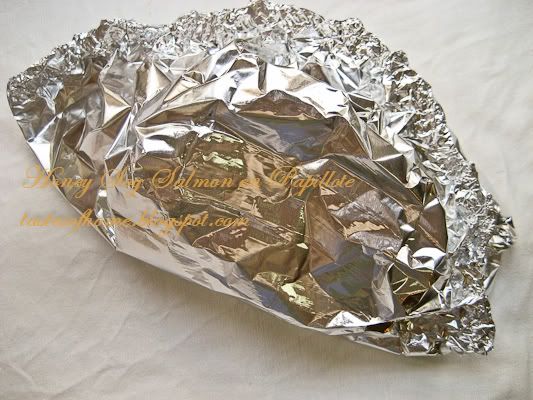 Repeat the above steps with the other piece of salmon. Bake at about 350 degrees F in a pre-heated oven for about 15-20 minutes depending on how thick your salmon steak is.

Remove from oven and with a pair of scissors cut off the top and gently tear back the foil to reveal your cooked salmon! Garnish with some toasted sesame seeds and lemon wedges. The acid in the lemon will continue to 'cook' the fish a little while the fish is still hot. You can skip this step if you are not fond of the lemony taste on fish.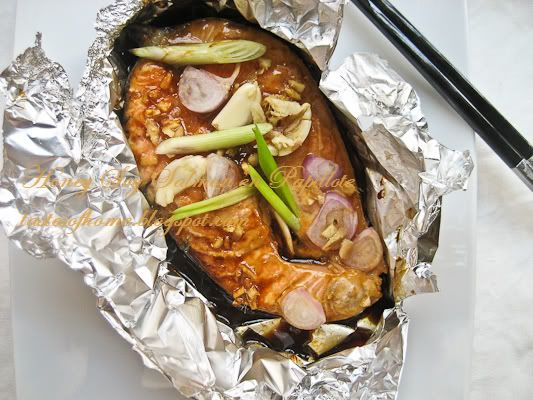 Note: Instead of foil, you can use parchment paper. If you are using parchment paper, brush the top with some oil before baking. However, do not use wax paper as wax paper will burn in the oven unless there is cake batter covering it.