The 'kam heong' (金香) method of cooking is uniquely Malaysian and is a culmination of cooking styles and ingredients from Chinese, Malay and Indian influences. Kam heong literally translates to 'golden fragrance' from the Cantonese dialect and is an extremely popular method of cooking in Malaysia, most famously seen in a crab dish,aptly named kam heong crab. Yes, the Chinese love to name their dishes with auspicious names which sometimes have nothing to do with the ingredients used. (We do have our little quirks.) For today's feature, I decided to use squid and the results are no less decadently delicious, the piquant and heavenly aroma alone is enough to make me drool. The squid is simply cooked quickly in some hot oil, then stir-fried together with the sauce. By the way, although kam heong sounds auspicious- my mom reminded me that I should not cook this squid dish at Chinese New Year since I am stir-frying squid as in Cantonese slang it means getting fired from work (炒鱿鱼)!




The essence of the dish is the sauce where the richly flavoured sauce is a potent combination of finely chopped dried shrimp, bird's eye chilli peppers, curry powder and curry leaves. The gorgeous aroma of the curry leaves is irreplaceable and gives this dish its' distinctive umami-filled flavours. It is definitely more than worth your while to hunt these leaves down and if you are living in the US, your best bet would be to find them at Indian grocery stores rather than Chinese or Vietnamese ones. I am such a huge fan of kam heong dishes that is hard to put into words and I am more than capable of finishing up a bowl of rice with the fragrant sauce on its' own. Anyhow, the toothsome squid adds great texture to the dish and you will definitely not regret trying out this representative Malaysian style of cooking!




I am also sending this entry to Muhibbah Monday, a blog event created by 3 Hungry Tummies which will be hosted by Sharon of Test with Skewer for January 2011. This is an event which rounds-up Malaysian recipes/ food blog posts each month. Check out the links for more details.





Recipe featured on Asian Food News section of Newsodrome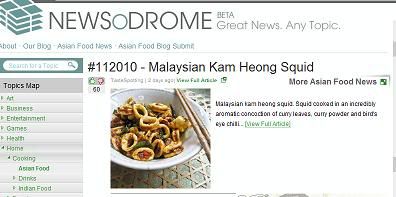 Photo featured on front page of Serious Eats on January 19, 2011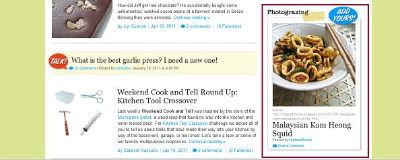 Ingredients:

12 small sized squids, cut into rings (remove the film inside the body) - marinade in 2-3 tsps corn starch
2 cloves garlic, minced roughly
4 shallots, minced roughly
6 bird's eye chilli peppers, sliced
2 heaped tablespoons dried shrimp (soaked, drained then minced)

1 tbsp fish/ seafood curry powder
Generous handful of curry leaves, rinsed
1 tsp light soy sauce
2-3 tbsps water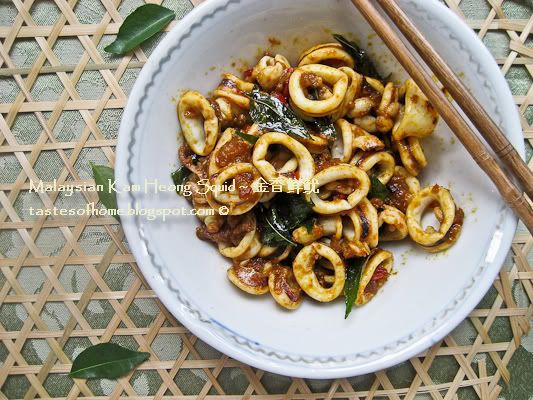 Method:

Firstly, heat up a wok until almost smoking. Add about 6 tbsps of oil. Heat until hot then shallow fry the squid rings in batches. Remember to remove as much liquid as possible from the squid before placing in oil. You just need to quickly fry the squid, it should only take about 1 minute for a quick fry as squid gets cooked easily. Remove the squid from oil, drain and set aside.

Briefly rinse your wok and wipe dry. Heat up your wok until almost smoking again. Place about 2 tbsps of cooking oil and heat until hot. Turn heat to low and add the minced garlic, shallots, chilli peppers and curry leaves. Saute until aromatic. Add in the minced dried shrimp and stir-fry around until aromatic.

Add the curry powder into the wok, then the soy sauce. Turn heat up to high and add in the pre-fried squid from earlier and stir around briskly. Add in the water. Add more water if you want more sauce. Stir around to coat the squid with the mixture well. Serve hot with steamed rice.