I am so pleased to present today steamed Chinese lotus paste buns from my humble kitchen - I'm still a little surprised at how good they were since this was my first attempt at making steamed buns or pao/ bao at home, I guess with a bit of determination and a decent recipe, one can't go too far off the mark, yes even for a novice like yours truly. Biting into these piping hot soft buns with just the right amount of lotus paste oozing out was pure bliss - steamed buns are one of my favourite Chinese snacks and are something I must order whenever I have dim sum at restaurants. I was a tad apprehensive before and while making the buns as I have heard that the dough for the buns may be a little tricky in different weathers but luckily the stars were aligned right today - oh and did I mention that it was a really fun process? I used pao flour which is a highly bleached version of all-purpose flour and this is because if you use regular all-purpose flour, the buns will take on a yellowish tinge as the flour is not bleached. The dough was quite easy to make and proofing time required was only around one hour. I used store-bought lotus paste as the filling but of course if you are ambitious enough, you can opt to make your own lotus paste.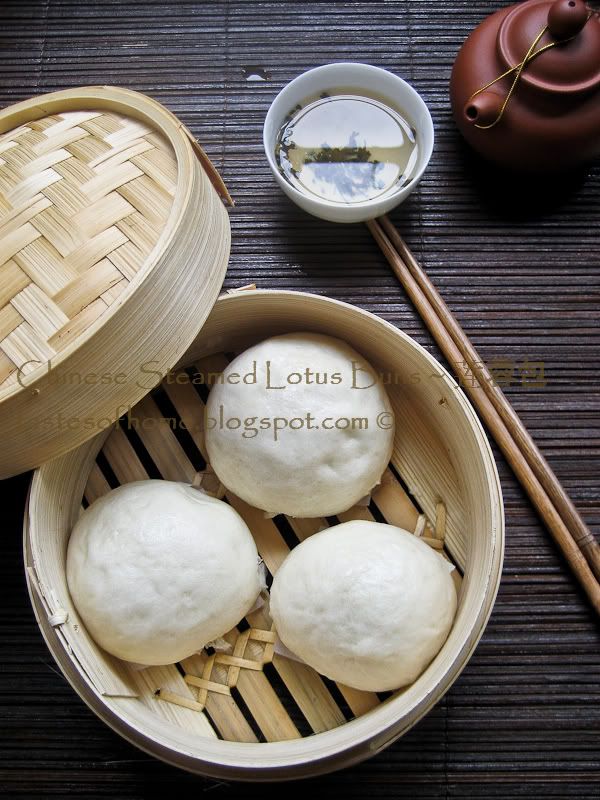 Whenever I eat steamed buns, I actually prefer to eat the skin more than the filling - I loved the soft texture of the skin on these buns and you can also substitute the filling with red bean (azuki) paste or coconut jam (kaya). Chinese steamed buns can be either sweet or savoury, fillings range from meat and vegetables or just vegetables, custard and of course the version presented today, lotus paste. I made these buns totally by hand - it is quite important to ensure that you don't skimp on the kneading parts, if not the skin will turn out too doughy. In addition, steam the buns over high heat to ensure the skin does not turn mushy. I love steamed buns piping hot and served with some good Chinese tea (also piping hot!).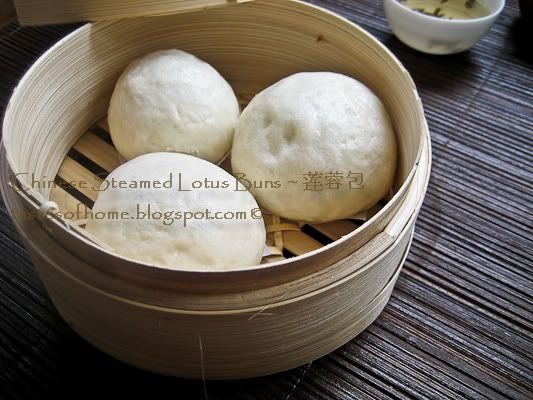 Do give this easy recipe a try and have some homemade Chinese steamed buns whenever you want!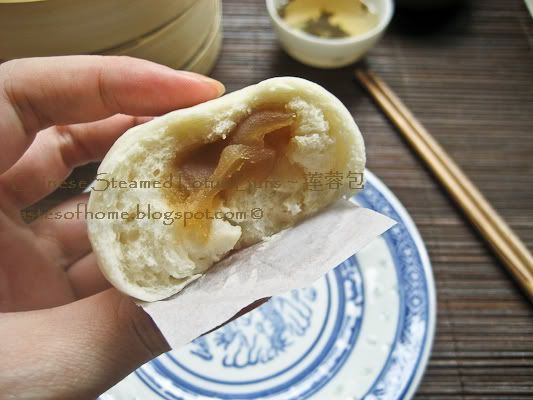 Step-by-step photos after the jump.

Ingredients:

Dough:

1 1/2 tsps active dry yeast
1/2 cup warm water
1/4 cup caster sugar
1 cup pao flour
1/2 cup self-rising flour
2 tbsps butter, melted

Filling:

Enough lotus paste (You should be able to find packets or canned lotus paste in most Asian grocery stores)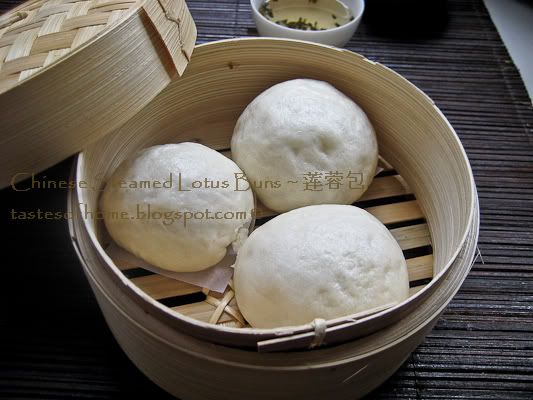 Method:

1. Combine yeast with 2 tbsps of warm water, 1 tsp sugar and 1 tsp pao flour. Mix well. Cover with a damp kitchen towel and let stand for about 15 minutes, until the mixture becomes frothy. If your mixture does not froth, it means the yeast is no longer active, you will have to redo this step.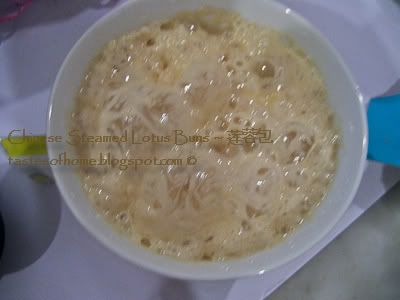 2. Sift remaining pao flour and self-rising flour into a large mixing bowl. Add the sugar, yeast mixture, warm water and melted butter. Use a wooden spoon to mix to form a soft dough.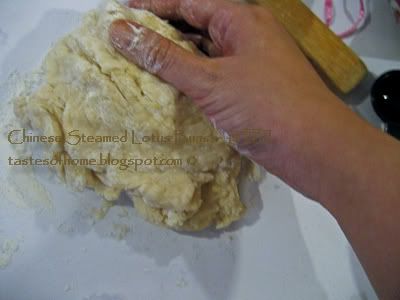 3. Dust your work surface with some pao flour. Turn the soft dough onto the surface and knead until smooth and elastic. This took me about 10 minutes as I wanted to make sure the texture would turn out soft. You should knead until the dough no longer feels sticky. Add more pao flour as you knead as and when required.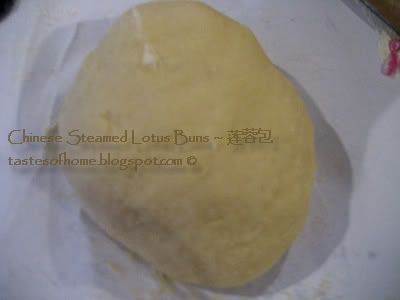 4. Place dough into a well-oiled bowl and cover with a damp kitchen towel. Allow to proof about 1 hour or until almost doubled in size.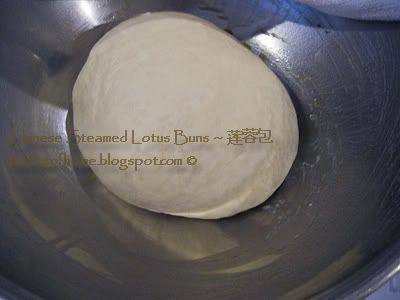 5. After the proofing, remove the dough from the bowl and place on a well-floured work surface again. Gently punch down the dough and knead again for about 5-8 minutes until smooth. Roll the dough gently. Divide the dough into about 12 pieces.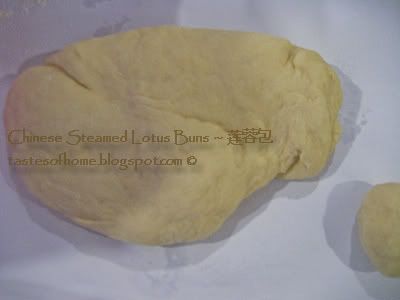 6. Roll each piece into loose ball and flatten with the palms of your hands into a flat circular shape. Place about 1 heaped teaspoon of lotus paste into the middle and wrap around with dough. Twist gently to seal.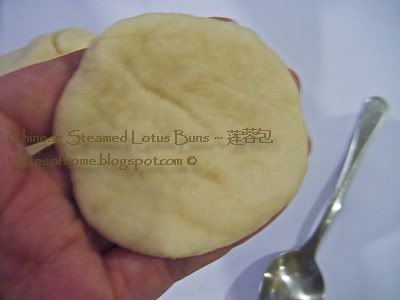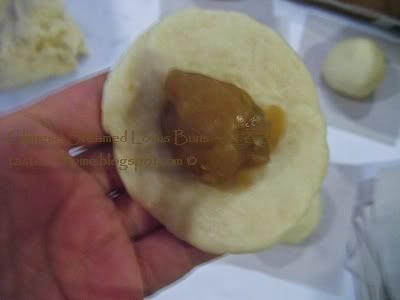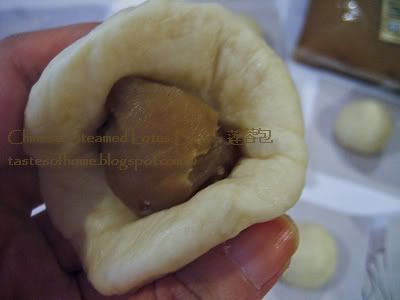 7. Place the dough on baking or parchment paper (cut larger than the dough) and set aside. Repeat with the remaining dough. The buns will expand further while being steamed.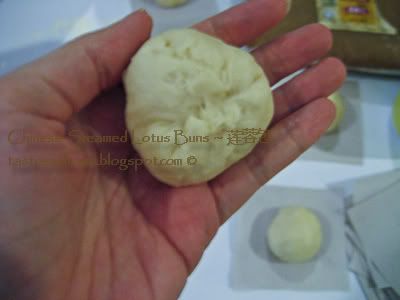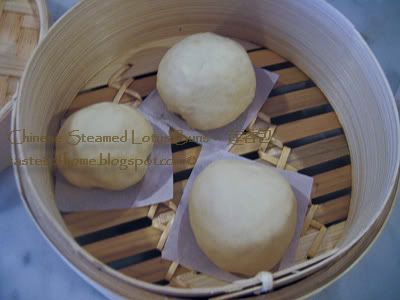 8. Steam the buns over high heat for about 15-20 minutes, checking frequently to make sure there is enough water in your wok. Use a bamboo steamer if available, you can then present your freshly steamed Chinese buns straight from the wok to the table. Serve hot or warm.