I am excited today to feature a classic dim sum favourite, steamed rice rolls Hong Kong style. This version of steamed rice noodle rolls or 'cheong fun' which means intestine-shaped noodles can be made with a myriad of fillings, from roast pork, shrimp and scallops. For today, I just used a simple filling of dried shrimp and chopped up scallions (green onions). I absolutely loved the silky smooth and feather-like texture of the rolls and the simple savoury filling provided some great crunch and fragrance. This is my first ever attempt at making cheong fun and I was glad they turned out well, so this is not hard to prepare but is a little time-consuming. These rolls are easily available in most dim sum places but sometimes it is just more fun to make things from scratch - at least for me and I vastly preferred the texture of these compared to some versions at restaurants that I've had that were a little too chewy bordering on tough.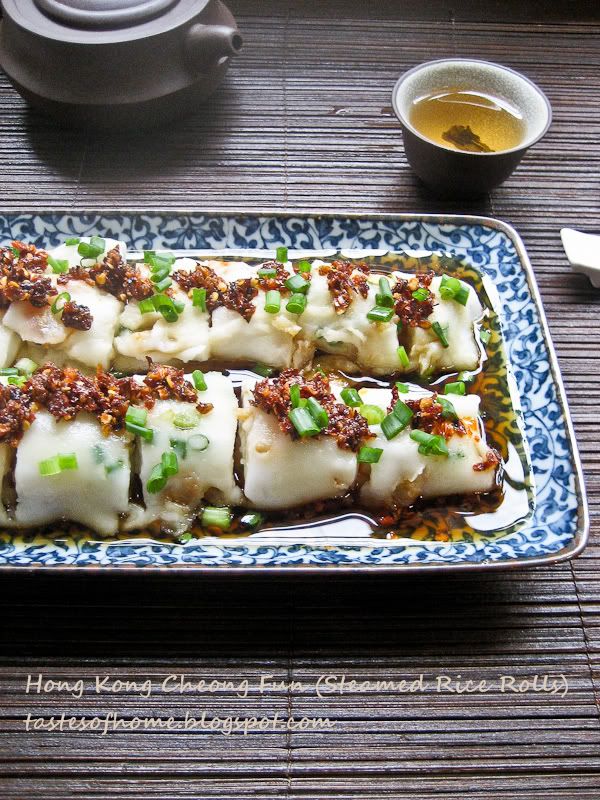 The rolls are a simple concoction of rice flour, tapioca flour and corn flour and water where a thin layer is steamed with dried shrimp and scallions, and then rolled up. The main thing to keep in mind is that the oil must always be added to the flour mixture before adding water gradually to form the batter. You can either use a piece of wet cheesecloth placed on the tray, then spoon the batter or if you want to skip the cheesecloth, just be sure to lightly brush the tray with oil before ladling the batter to be steamed. I actually tried both ways today and I found that both methods worked equally well. I would actually just skip the cheesecloth as that is one less thing to wash. As with most dim sum, these rolls are best served piping hot, in fact my guests were standing around me as I was making the rolls and eating as soon as I finished rolling.
Note that the rice rolls do not have much flavour on their own, most of the flavours in this dish come from the savoury soy-based dipping sauce. For the sauce, you will need light soy sauce, sugar, water, some scallions and a small knob of ginger. Add some chilli oil for a touch of heat. I hope you will give this a try when your mood strikes and you're ready to make some 'cheong fun' from scratch plus trust me, your guests will be so impressed.
Ingredients:
250g rice flour
76g tapioca flour
38g corn flour/ corn starch
50g oil
900 ml water
Filling:
1/2 cup dried shrimp, soaked and rinsed
6 stalks green onions/ scallions, sliced
Sauce: (Just boil the ingredients together)
Note: As the dipping sauce provides most of the flavours in this dish, it is quite important to use a good brand of light soy sauce, my preferred choice is
Yuen Chun
- product pictured above.
100ml soy sauce
100ml water
60g sugar
2 stalks scallions
2 pieces ginger
Method:
1. Mix the flours together in a large bowl. Add in the oil while slowly kneading with your other hand.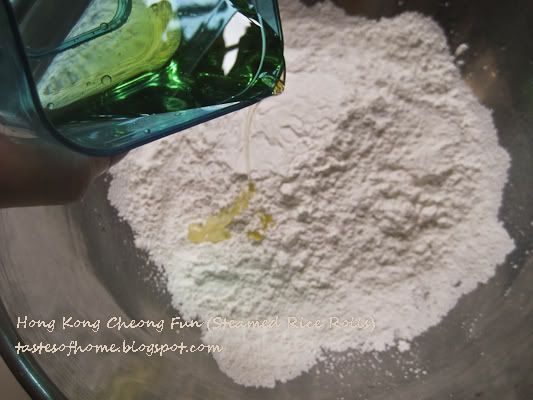 2. Add the water slowly and continue mixing with your hands, getting rid of any lumps. The batter will be quite watery. Prepare your steamer, the rice rolls have to be steamed over high heat. Prepare a rectangular tray for steaming by laying a piece of wet cheesecloth on top, if using. If not, brush the tray lightly with oil.
3. Ladle enough batter to cover tray in a thin layer. Add in dried shrimp and scallions. Steam for about 3 minutes or until set. The rice layer will look opaque once cooked. Remove from wok.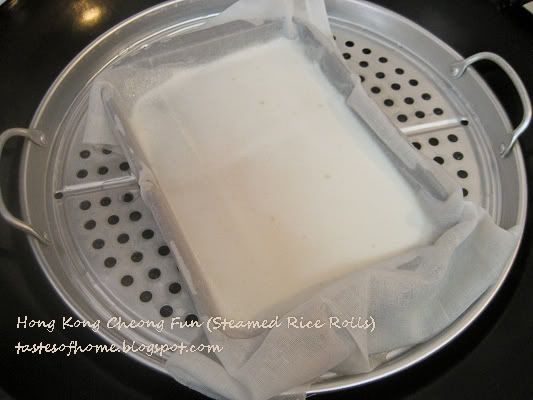 The rice layer after being steamed, I made a plain one as well as pictured below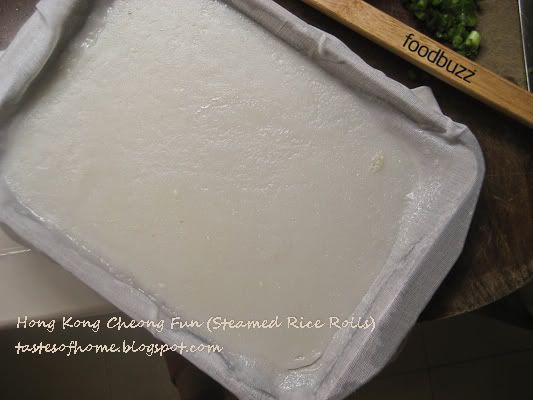 4. Lightly brush your work surface (I used a large chopping board) with oil.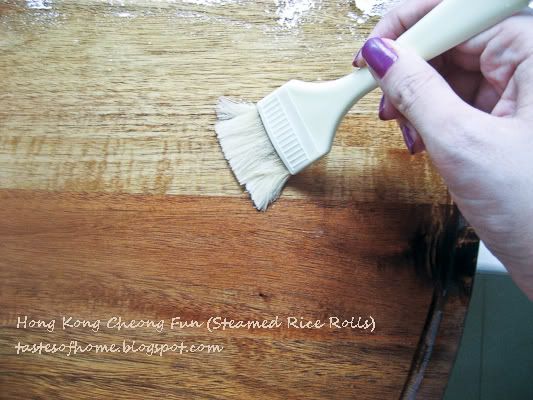 5. Tilt the tray at an angle, then with a spatula start gently scraping off the layer while creating a roll.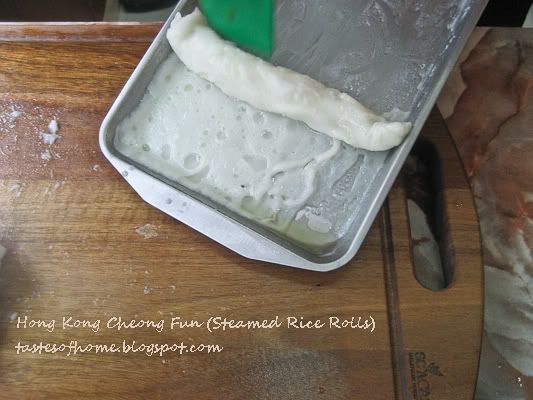 6. Place roll on oiled chopping board and coat lightly with the oil. You can choose to slice the rolls or just leave them as they are for serving.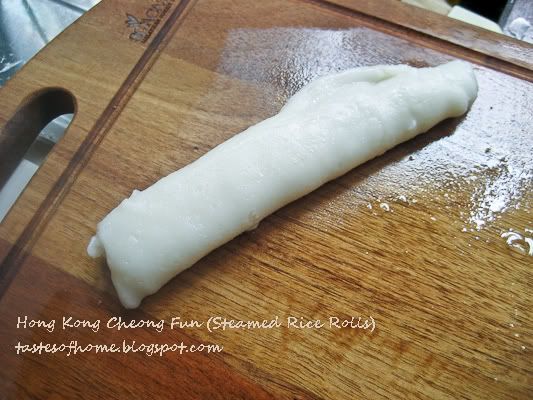 7. Repeat steps 3-6 until batter is used up. Serve hot with the dipping sauce and some chilli oil.