When in doubt, make chocolate cake and if you've ran out of flour, make it flourless. That's exactly what I did over the weekend when we had company in the form of my little brother's university mates. Surprisingly, I had a lot of fun hanging out with them despite the rather significant age gap :O. I even willingly chatted through the night without sleeping a wink until the next evening - this is a first after almost ten years when I last did it when I was studying at university. So much fun to watch and observe them - definitely nostalgic. I guess as you grow older, nostalgia overtakes you more and more. Anyway, back to the cake or rather cakes, these little cakes baked in jars not only make for elegant presentation, they are also very straightforward and easy to make.




The texture of these cakes are slightly gooey - so if you like your flourless cakes crumbly, this recipe may not suit your taste. For added texture, I topped the cakes with some roasted cashew nuts and if you don't like cashew nuts, pistachios are great alternatives. These cakes consist of chocolate, butter, eggs, cocoa powder and of course sugar. I baked these in little glass yoghurt jars that I have been saving forever and I was delighted when my guests mentioned they loved the presentation apart from the sinful cake. I baked them in a water bath to ensure even cooking and also to make sure the glass did not crack. If you prefer, you can just use little ramekins or other suitable oven-safe alternatives.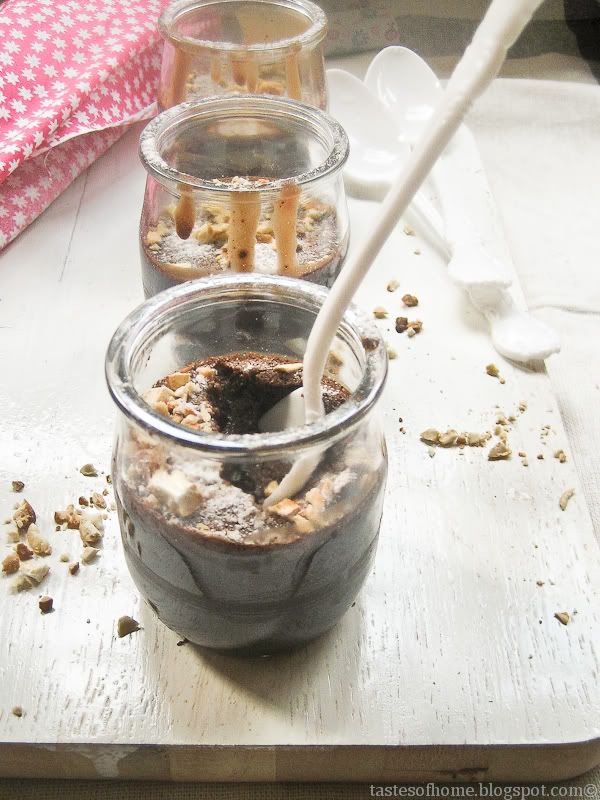 Makes 3 jars

Ingredients:

100g dark or milk chocolate, chopped into rough chunks (The bar I used was already sweet so please adjust the level of sugar according which kind of chocolate bars you end up using)
1/2 cup unsalted butter
3 tbsps sugar (rough guide is if you use bittersweet chocolate, adjust the level of sugar to close to 1/2 cup)
2 eggs
1/2 cup good quality cocoa powder

Topping:

Handful of roasted cashew nuts, crushed
Sprinkling of icing sugar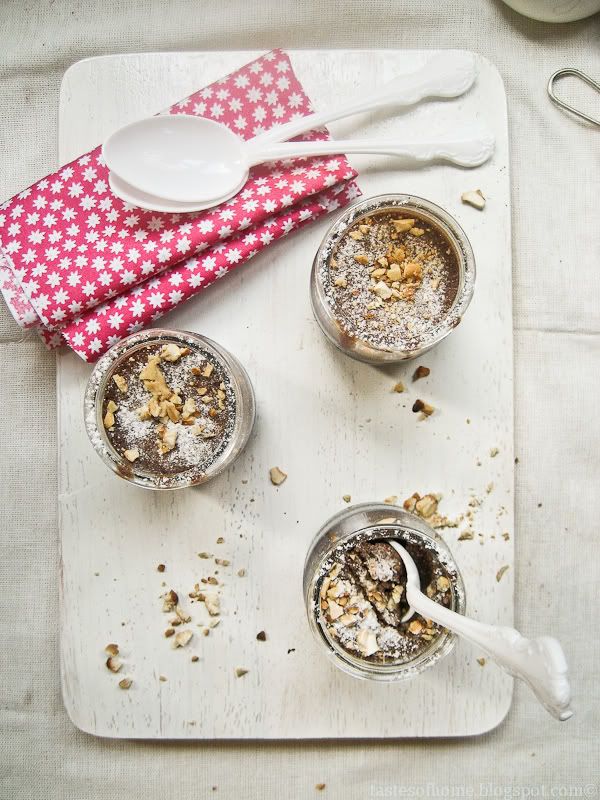 Method:

Preheat your oven to about 150 C (302 F).

Firstly, melt the chocolate chunks and butter together either with a double-boiler or melt the chocolate and butter in a pot over another pot with gently simmering water without touching the water underneath. Stir with a wooden spoon while melting.

Remove from heat and add sugar. Remember to adjust the sweetness according to your preferences. Whisk in the eggs one by one until just incorporated. Sieve the cocoa powder into the mixture.

Mix just to incorporate. Spoon the batter into the jars until about 3/4 full. Place the jars into a deep baking tray and fill the tray with water up till at least half of the jars' heights.

Bake for about 30-40 minutes or until a cake tester inserted in the middle comes out with moist crumbs sticking to it. You can also time this via the doming method where when the center of the cakes dome up, it's time to remove the cakes from the oven. I prefer to remove these kind of cakes slightly earlier rather than later especially since I plan to re-heat them in the microwave right before serving.

Once the cakes are done, top each cake with a sprinkling of cashew nuts and icing sugar. If you are not serving them yet, allow to cool, then seal the jars and place in fridge. Heat in microwave for about 30 seconds before serving.