Just like the kam heong squid that I cooked earlier, butter chicken is another unique Malaysian concoction showcasing Chinese, Malay and Indian culinary influences.  Bite-sized chicken pieces are first fried, then cooked with butter, curry leaves, bird's eye chilli peppers and egg yolk.  The heat in the dish comes from the bird's eye chilli peppers while the butter works exceptionally well with the aromatic curry leaves.  Curry leaves are native to India but are widely available in Asia, these aromatic leaves are so named because they are used a lot in curries.  I remember going on a wild-goose leaf chase while living in California as I was desperately longing for butter prawns at the time and dried curry leaves just don't make the cut.  I finally found some fresh curry leaves in an Indian grocery store after checking fruitlessly in the various Chinese/ Vietnamese grocery stores, so if you are in the US do check out your local Indian grocery stores first.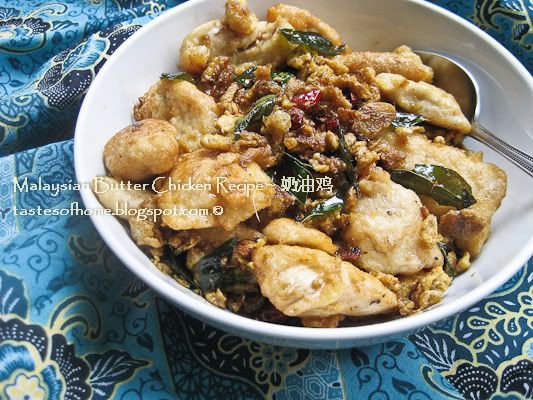 This style of cooking will work well with other types of seafood as well, the most popular being either crab or prawns.  The pièce de résistance of this dish however (at least to me) is the little fried-up egg yolk bits that are full of flavour, imagine crispy golden brown bits laden with the aroma of curry leaves and the fragrant spiciness from the bird's eye chilli peppers. 




You will fall in love with the golden deliciousness of Malaysian butter style dishes!  I hope that you will give this representative Malaysian style of cooking a try and for my fellow Malaysians, do give this easy recipe a try for a taste of home.