This simple chicken dish is a perennial favourite in our household and probably in many other Chinese households.  A whole chicken usually is simply steamed after being rubbed with salt - very straightforward.  I would rate this dish as deceptively simple however, as to achieve a decent dish of steamed salted chicken, the time the chicken is steamed is very important to avoid toughness and dryness while ensuring the chicken is cooked of course.  I want to also share a short-cut of sorts from my mom where the whole chicken is halved, lightly rubbed with salt and then steamed till almost half-cooked then rubbed with salt again to marinade and then chopped up and steamed again with scallions and cilantro (optional) right before eating.  This makes it more convenient for the homecook especially if you're cooking a variety of dishes as it only takes a short time for the second steaming step.  The extra marinating step also ensures that the savoury flavours seep deep into the chicken meat.  It used to be that steamed salted chicken always tasted better the next day due to the chicken sitting in the juices but with this method, you can produce similar deeply flavoured salted chicken on the same day so I hope you will give this a try.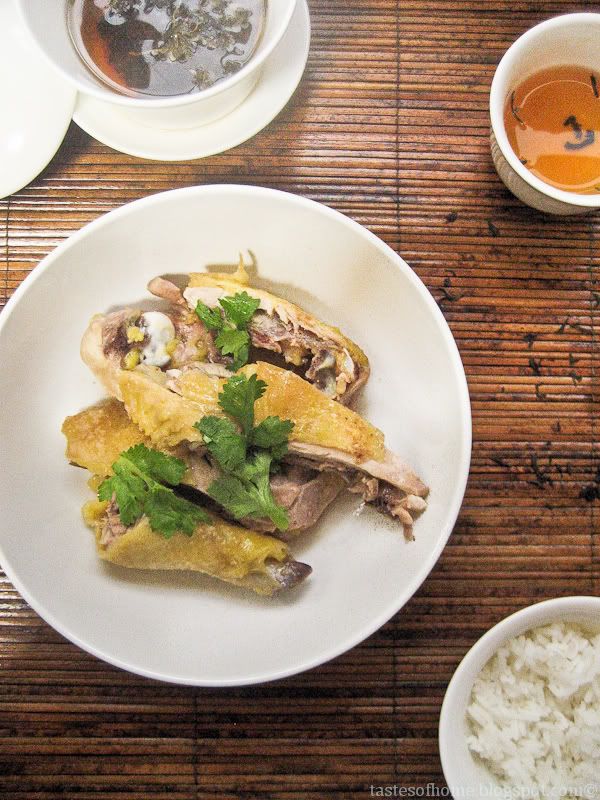 My mom loves to steam the chicken with just cilantro and scallions (the second step) although I myself almost always can't resist adding a few drops of Shaoxing rice wine for added fragrance although maybe it's my conditioning, mom's steamed chicken always tastes the most comforting.  With the simplicity of this dish, the quality of chicken used is really important - I always use free-range chicken for this dish and even while studying in the UK, I loved to steam the widely available corn-fed chicken for an easy and satisfying dish.  If you don't want to steam a whole chicken, you can just steam chicken legs (free range), so please adjust accordingly, another plus for this is that you don't have to deal with chopping up the chicken into nice looking pieces :O.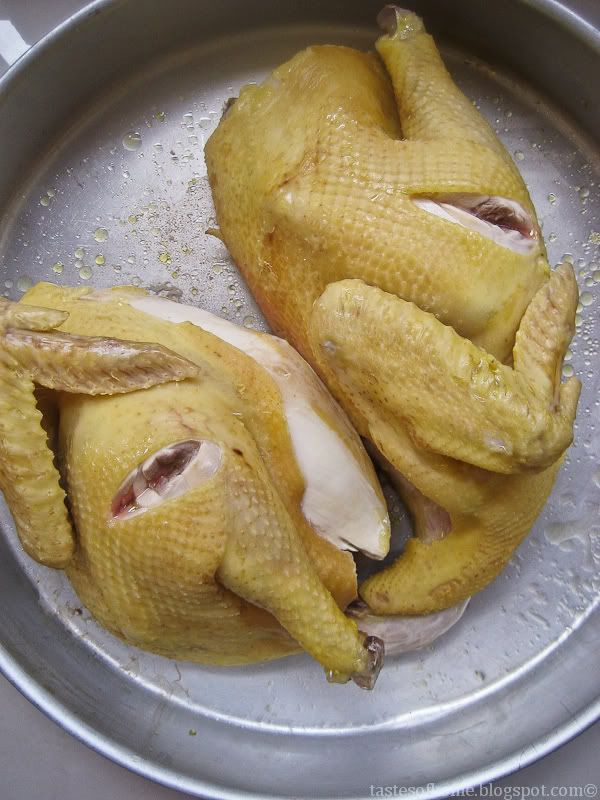 This is also a relatively healthy dish as there is not much oil involved (except natural oils from the chicken itself), sometimes I think one of the reasons I am continuing to blog Chinese recipes is to hopefully debunk the myth that Chinese food is 'always' just greasy and unhealthy mush.  I can't tell you how bothered I used to be when some old acquaintances in the US would remark that 'all Chinese food are unhealthy and greasy' which I find to be a very unfair statement.  As with cuisine from all cultures, there are bound to be unhealthier dishes which require deep-frying (or sugar anyone) but then there are also a lot of healthy steamed or stir-fried (with very little oil) Chinese homecooking dishes that probably will never see the light of day in a typical take-out.  China is such a vast country and there are so many different cuisines from the various provinces that one would find it hard-pressed to make such an umbrella statement.  As for me, I love a lot of different cuisine and I am always interested to learn about the diverse dishes the different cultures have to offer.  If you closely observe the culinary methods or dishes of different cuisine, most of the time you can draw similarities and that is also another reason why I love blogging about cooking so much as tracing or at least trying to trace the rich history of many dishes is something I find extremely enjoyable, albeit this is probably the history nerd in me coming out.

Anyhow, this dish is just simplicity at its' best.