I think I was first introduced to tea cakes when I had a 'proper' English tea in London. I loved the little cakes that were usually flavoured with fruit that went so well with a cup of piping hot English tea. I think the most appealing thing about an English tea is the petite scale of everything like delicate finger sandwiches, little tartlettes and petite scones.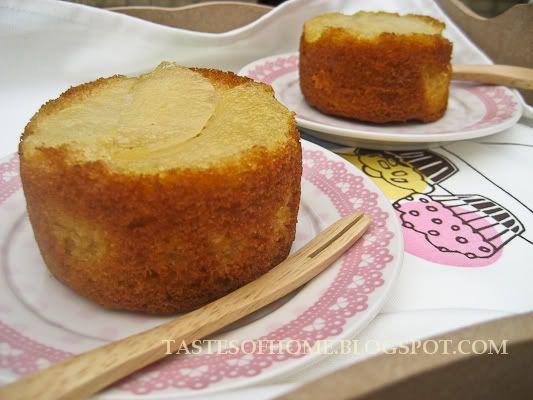 I found this recipe in Donna Hay's book, Entertaining where the original recipe called for apples but since I had some Asian pears available I decided to try this recipe with pears and I think it turned out really well. The pear slices are first cooked with a bit of lemon and butter (which made the kitchen smell heavenly by the way!) before being baked together with the cake batter. I thought the cake recipe resembled that of butter cake except that honey was added which gave it a deeper, more interesting flavour although truth be told, I think I still preferred the plain butter cake I made recently as I guess I'm a boring plain vanilla person when it comes to cakes. Anyhow, these tea cakes were still delicious and were a good variation since one cannot live on butter cakes alone!






The cakes had a nice texture (not too fine) and remained moist even the next day.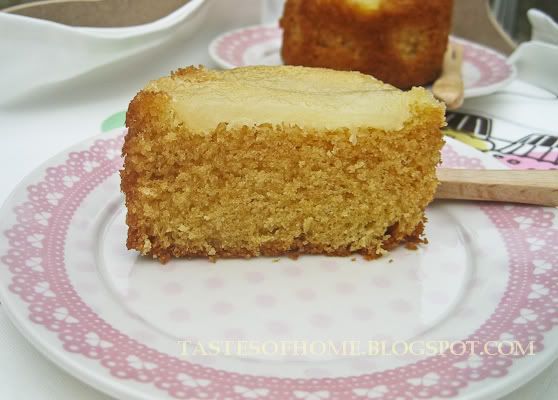 Recipe adapted from Donna Hay's 'Entertaining'.

Ingredients:

1 tbsp lemon juice
4 tbsps sugar
2 tbsps butter
1 Asian pear, peeled and sliced

Cake
185g butter, softened
2/3 cup sugar
2 tbsps honey
1 tsp vanilla extract
3 eggs
1 1/2 cups all purpose flour,sifted
1 tsp baking powder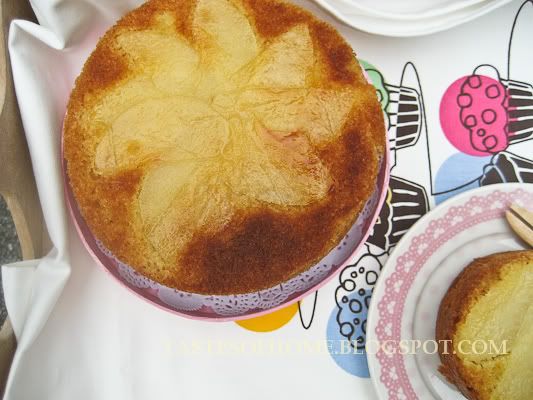 Method:

Preheat oven to 160 degrees C (315 F). Place lemon juice, sugar and butter in a heavy bottomed pan under high heat. Stir until mixture forms a syrup. Add the pears, a few at a time and cook until browned on each side (about 1 minute each side). Set aside.

For the cake, place the butter, sugar and honey in a bowl and beat until light and creamy. Add the vanilla and eggs, one at a time, and beat well. Sift together the flour and baking powder and fold gently into the butter mixture.

Layer the pear slices on the bases of well greased small pans (I used 2 ramekins and 1 mini round cake pan) and top up with the cake mixture (3/4 full). Bake for 30 minutes or until a cake skewer inserted comes out clean. Cool in pans for 5 minutes and carefully invert cakes onto wire rack to cool completely.