The first time I tasted kimbap was when I bought some from a Korean grocery store in California and I absolutely loved it. Kim refers to the seaweed and bap means cooked rice. Due to the simplicity of assembling and the convenience of having rice, vegetables and usually meat in one satisfying bite, kimbap is almost an ubiquitous picnic food and a staple in most lunch boxes. Due to sushi's more widespread popularity, kimbap is often known as Korean sushi although as Korean cuisine is gaining more and more exposure in international culinary circles, kimbap may finally be recognized as kimbap!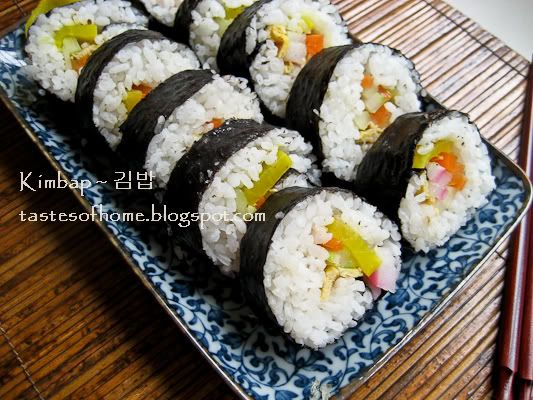 There are a few key differences between kimbap and sushi; kimbap uses cooked and sometimes seasoned ingredients whereas there is almost always a raw ingredient in the Japanese maki rolls. The rice used as well differs in that much lesser vinegar is used in kimbap compared to sushi and sesame oil is also used to season the rice for kimbap sometimes. Sesame oil is also lightly brushed onto the outside of the kimbap before eating. Finally, I don't think I have ever seen kimbap served with wasabi or soy sauce, it is mostly eaten on its' own since most of the ingredients are usually already seasoned and there are no raw ingredients used. Wasabi is usually eaten with raw foods as it has anti-microbial properties thus reducing instances of food poisoning.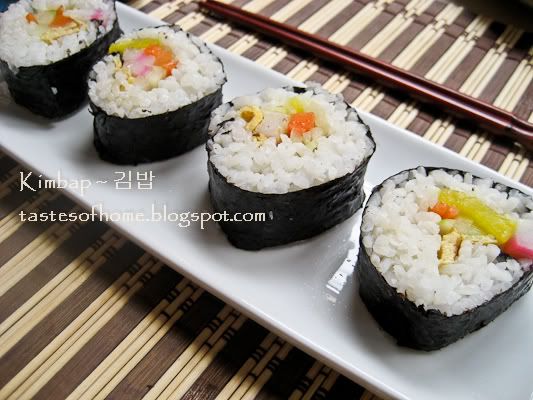 Kimbap is also very versatile, you can put whatever ingredients (within reason of course!) you wish into the roll to have your very own kimbap recipe, but I find danmuji (yellow pickled radish) a must. I used carrots, cucumber, omelette, yellow pickled radish and Japanese fish cakes for my kimbap today. It is also common to use canned tuna for kimbap, if you do - after draining the tuna from the can, saute with a bit of minced garlic, a bit of soy sauce and a dash of sesame oil before adding into your roll.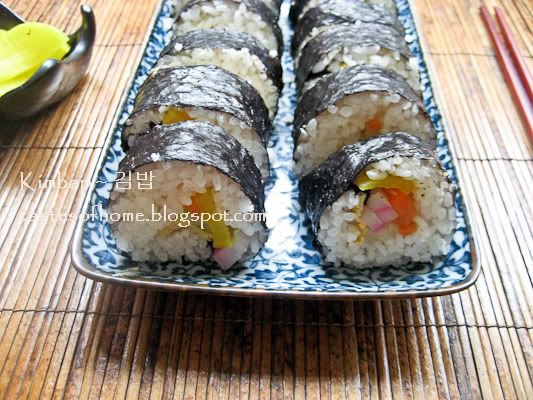 Step-by-step photos after the jump.


Ingredients:

For the rice:

1 1/2 cups cooked short grain rice
3 tbsps vinegar
1 tbsp sugar
1/2 tsp salt

To assemble:

3 pieces roasted seaweed (nori or kim)
1/2 carrot, julienned (sauteed for 30 seconds until just about to wilt)
1/2 cucumber, julienned (sauteed with a pinch of salt until just starting to wilt)
1 egg (beaten and fried) - sliced
1/2 cup worth of fish cakes - sliced (I used kamaboko)
Sliced yellow radish (danmuji)
Sesame seeds, optional

Method:

From left to right: carrot, kamaboko (Japanese fish cake), danmuji (pickled radish) and cucumber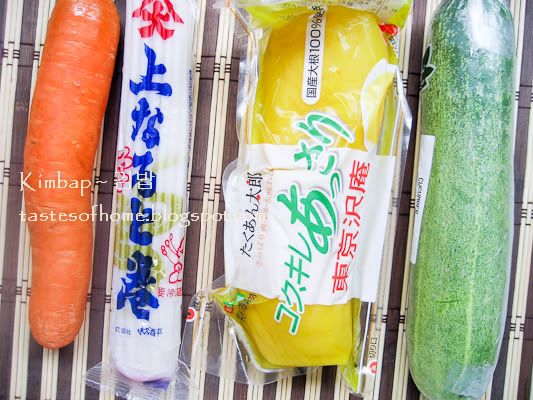 Firstly, cook the rice. As you are waiting for the rice to cook, slice the vegetables and saute as listed above. Next, prepare the omelette. Slice as well. Saute the fish cakes quickly as well.

Once the rice is ready, scoop out onto a large bowl for easier cooling. Mix the vinegar, sugar and salt in a bowl. Once the temperature of the rice goes down to slightly warm, mix in the dressing with a rice paddle.

Assembly part: (just like how you assemble most maki sushi)

Lay your bamboo rolling mat on the table with the flat sides facing upwards. Place a sheet of seaweed on your mat. Scoop the prepared rice with the rice paddle onto two-thirds of the seaweed and gently press down with your rice paddle. Place the prepared carrot, cucumber, fish cakes, pickle and sliced omelette next to each other in the middle of the rice. Sprinkle some sesame seeds on top if using.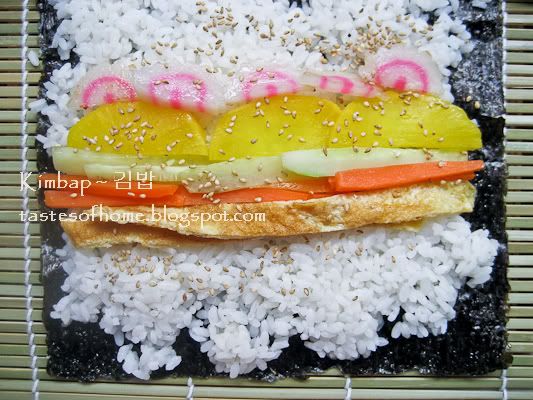 Now, with the bamboo mat, start rolling away from you, pressing down as you go. Wet the edge of the seaweed with some water and continue rolling to seal.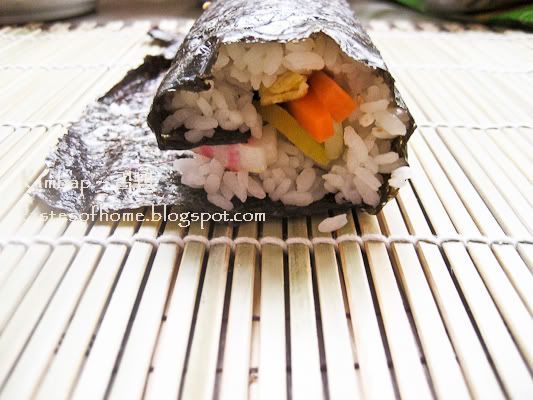 Your rolling is done! Now, brush the outsides of the roll with sesame oil (optional). Slice the roll with a sharp knife doused in some sesame oil for easier slicing. That's it!