This is another feature from my repertoire of dim sum (點心) recipes. These cute dumplings are cooked in much the same way as potstickers (鍋貼) where they are first pan-fried and then cooked in water or broth. These delightful little dumplings are very easy to make in that one just has to gather the ends of the wrappers together and twist to seal. You can be creative with the filling and you can use shrimp or lobster and if you don't eat pork, you may substitute with ground chicken or you can always just experiment with different medleys for fillings though I would always have some seafood in them. I used some white vinegar in the marinade for an unmistakably Shanghainese flavour but if you don't like the taste of vinegar, you can choose to skip this step.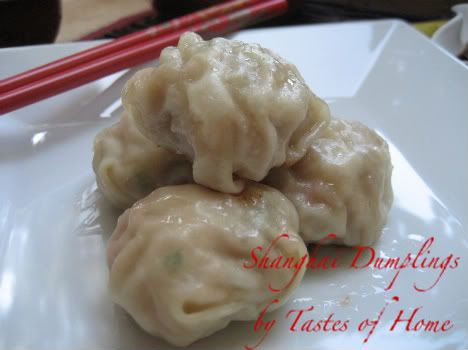 On a side note, a reader (Fibrolady) told me that she was planning a dim sum party which is such a wonderful idea! I hope you will find this recipe useful as well and I will be posting a steamed bun recipe soon.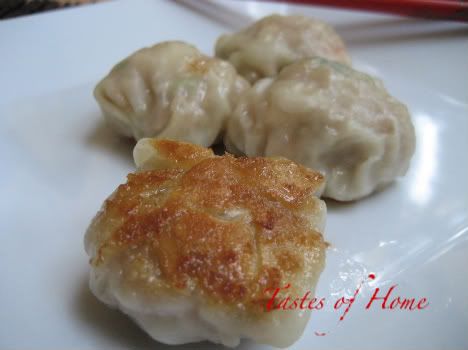 For more dim sum recipes, please click below:

Golden Wrapped Tiger Shrimp

Steamed Chives and Prawns Dumplings

Ingredients:

18 wonton wrappers
1/4 pounds of ground pork
6 tiger shrimps, chopped
3 water chestnuts (I used canned ones), rinsed and chopped
3 stalks of green onions, chopped finely
3 slices fresh ginger, chopped finely

Marinade:
1 tsp rice wine
1 tsp light soy sauce
1 tsp sesame oil
Dash of pepper
2 tsp sugar
2 tbsps corn starch
1 tsp white vinegar (optional)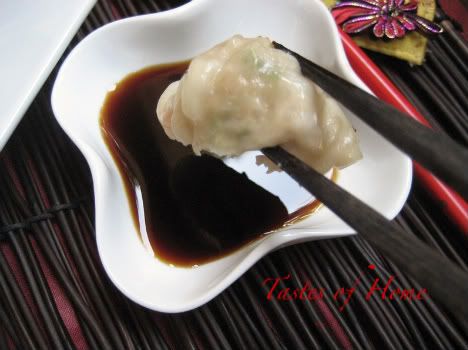 Method:

First, chop the pork and shrimp together. I don't like to use the food processor as I like a bit of 'bite' in my dumplings. Next marinade the mix with the ingredients listed above. Remember, you can choose to skip the vinegar if you don't like the flavour. Working with one wonton wrapper at a time, place a damp kitchen towel on top of the rest of the wrappers to avoid them drying out. Place about 2-3 tsps (depending on the size of your wrappers) in the middle of the wrapper. Brush edges of the wrapper with water, gently pull the sides together and twist to seal. Set aside (cover with a damp kitchen towel as well) and continue working with the rest of the wrappers.



Heat about 2 tbsps of oil in a non-stick pan (makes life much easier!) on medium heat. Place the dumplings (working in batches as we don't want the dumplings to stick to each other) in the pan and pan-fry for about 3 minutes until the bottoms are golden. Add enough water to barely cover the dumplings (add slowly as the water will splatter) and allow to cook until water evaporates. Now, cook on low heat for another 3-4 minutes to ensure a crisp bottom. Repeat with remaining dumplings. Serve hot with either soy sauce of vinegar (with some ginger slivers).

Tip: You can prepare a large amount of these dumplings to be frozen and cooked at a later date. Remember to place a piece of parchment paper in between layers to avoid the dumplings from sticking to each other.