How can something that looks so simple be so flavourful and provide so many different textures at once? Delicate and umami flavours intermingling harmoniously with crispy and creamy textures- it's hard to resist this gorgeous dish. I love Japanese food but for some reason I have never tried making agedashi tofu at home and I can only say it's better late than never. As I was thumbing through my Japanese recipe books last night, I was thinking that since I have never tried making this - I thought I would give it a try and considering that I have all the ingredients in my pantry already, it would also help to clear up some pantry space. I am not sure about you but for me, sometimes the feature I think about the least would actually turn out to be fantastic and sometimes the recipes which I had given a lot of thought on would turn out disappointing. Today's feature definitely belongs to the former category.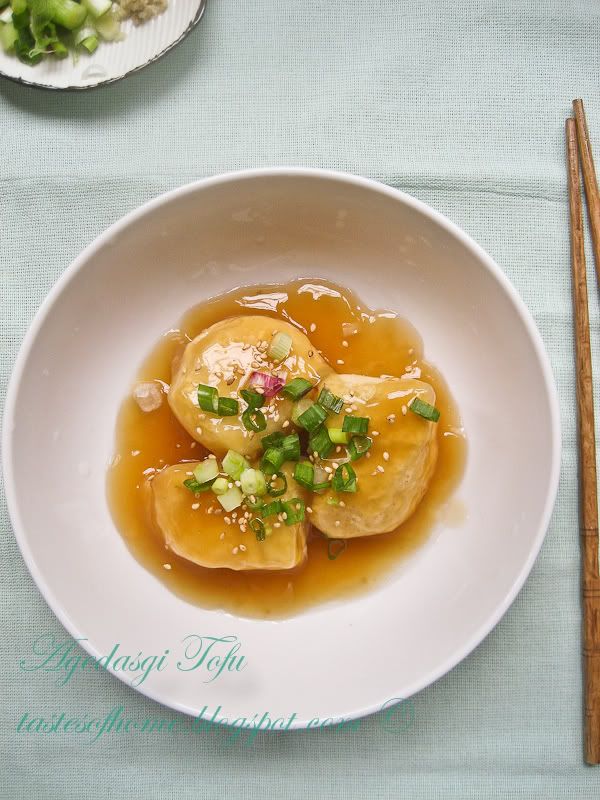 I used firm silken tofu, quartered it and shallow-fried it after dusting with some tapioca flour. The tapioca flour worked great and there was no splattering while frying. This was also helped by the low deep-frying temperature needed for the delicate tofu and the step where the tofu is wrapped in a clean kitchen towel for 1 hour to absorb moisture. The amber sauce (even sounds beautiful doesn't it?) was simply a mixture of dashi, soy, mirin and some ginger juice. It is important to clarify the sauce too before adding corn starch to ensure the clear amber hue which is just so beautiful to look at. This is a simple dish to prepare although there are quite a few steps involved (especially if you are not used to cooking Japanese cuisine) so do have that in mind. For today, I just topped the tofu with some sliced green onions, grated ginger and toasted sesame seeds. I can't wait to make a more luxurious version next time and top the tofu with some crunchy roe.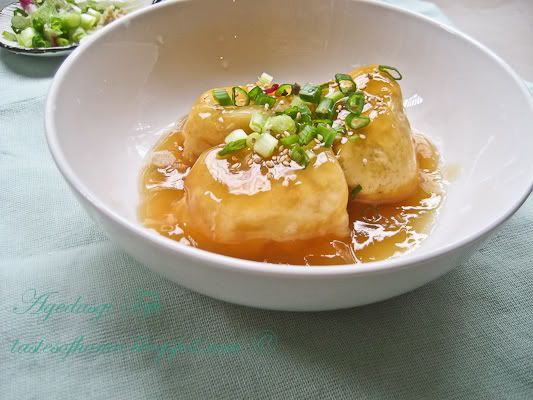 Agedashi tofu has been around since the 16th century and 'age' (pronounced 'ah-gay') simply means fried while 'dashi' refers to the broth which it is coated in.


Recipe adapted from Book of Practical Japanese Cooking

Ingredients:

1 block firm silken tofu
Enough tapioca flour for dusting
Enough oil for shallow-frying

Amber sauce:

1 1/4 cup of dashi broth
5 tbsps mirin
5 tbsps light soy sauce

2 tbsps corn starch/ corn flour dissolved in 3 tbsps water
1 tbsp fresh ginger juice (grate some ginger and squeeze to get juice)

Topping: (You can be creative here and modify or add your own toppings)

1 stalk green onion/ scallion, sliced
Handful of toasted sesame seeds (optional)
1/2 tsp grated ginger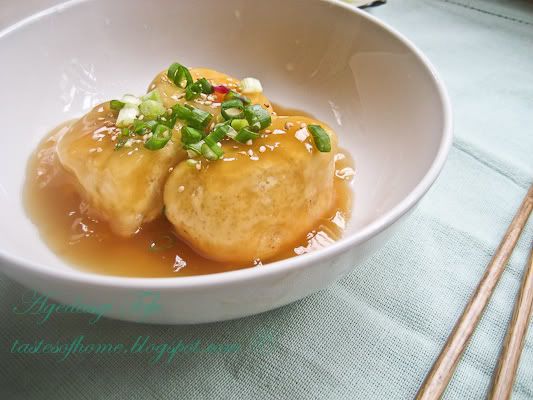 Method:

1. Drain the tofu of excess water by wrapping gently in a clean kitchen towel and set aside for about 1 1/2 hours.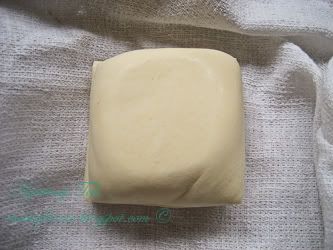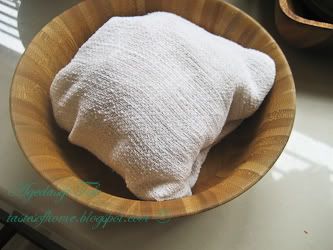 2. Quarter the tofu. Heat enough oil to about 160 C (low deep-frying temperature), you can roughly gauge this. Dust the tofu quarters well with the tapioca flour.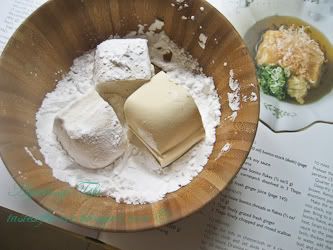 3. Gently place the tofu quarters in the hot oil with your hands, obviously do not touch the oil with your hands but do not be too scared of the oil either.
4. With a metal spatula, gently turn the tofu over to get each side cooked to a light golden hue or alternatively deep-fry the tofu. Remove and drain on paper towels.
5. Now, prepare the sauce by mixing the ingredients above together. Pour mixture into a sauce pan and bring to a boil. Remove from heat and strain to clarify. Try not to skip this step as the sauce would look so much cleaner.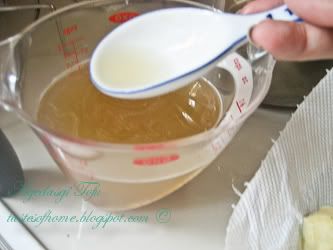 6. Put mixture back into your sauce pan. Bring to a boil. Add corn starch mixture into the sauce and bring to a boil. Add in ginger juice. Remove from heat.
7. Place tofu into serving dishes and spoon the sauce on top of the tofu quarters as desired. Add the toppings. Serve hot.
Tips:
- Wrap tofu in kitchen towel for at least 1 hour before cooking to allow excess moisture to drain out.
- Use tapioca flour or potato flour to coat before frying.
- Deep-fry or shallow-fry at a low temperature.
- Strain the amber sauce for a clearer taste and texture.
- Be creative and feel free to add to the traditional toppings.