Egg tofu (玉子豆腐) is one of my all-time favourite ingredients to use, so versatile yet so flavourful even on its' own - I highly recommend that you give egg tofu a try, I am pretty sure you won't regret it especially if you find plain tofu a little bland. Today's egg tofu dish was inspired by the classic Szechuan dish, Mapo Tofu (麻婆豆腐)which I will feature at a later date by the way. The egg tofu is cubed;and cooked together with shrimp in a spicy and sweet sauce which contains daobanjiang(辣豆瓣酱) or spicy bean paste which is a popular condiment in Szechuan cooking. Ginger slivers and minced garlic are first stir-fried until aromatic, then the ingredients for the sauce are added into the wok for a quick fry. The resulting sauce is sweet, savoury, spicy and infused with a good dosage of umami - a definite crowd-pleaser.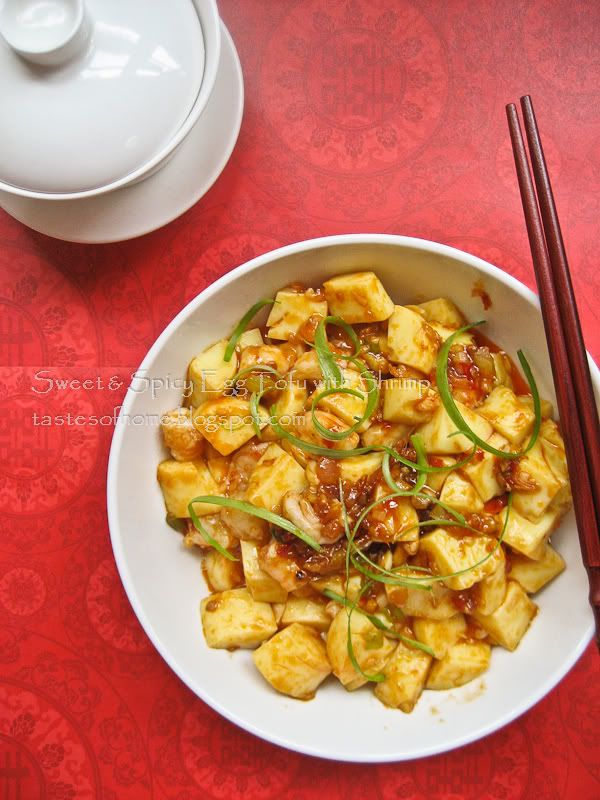 Although I have stated my preference for egg tofu, this aromatic sauce will also work well with plain tofu but definitely pick the silky versions. Also, for dishes like these that use soft tofu, be sure to use a large enough spatula so that when you gently stir-fry the tofu around, you won't break up the tofu cubes too much. The sauce used today is very versatile and can be used to cook other seafood as well like crab (deep-fry first), clams or as a steaming sauce for fish.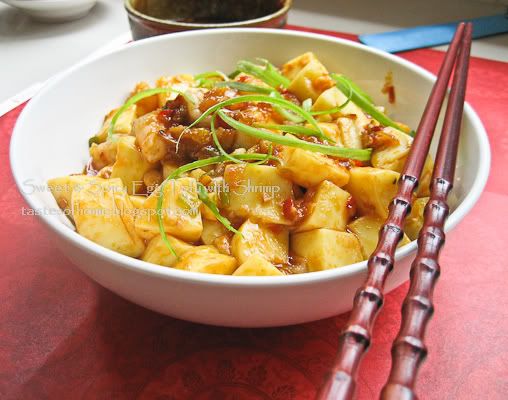 Every mouthful was a pleasure with the silky texture of the egg tofu mingling with the tender shrimp in a sauce bursting with flavours!

A non-spicy egg tofu recipe:

Egg Tofu and Shrimp Stir-fry Recipe


Recipe for sauce adapted from Cooking with Mrs. Fong (Hong Kong TVB cooking show)

Ingredients:

For sauce: (The amounts below will yield more than what is required for the dish, I usually keep the rest of the sauce in the fridge for future use)

1 1/2 tbsps daobanjiang (spicy bean sauce)
1 tbsp soy sauce
1 tbsp oyster sauce
2 tbsps Chinese Rice Wine (Shaoxing)
2 tbsp sugar
Dash of sesame oil
2 tbsps ketchup

1 1/2 tbsp minced garlic
1 1/2 tbsp minced young ginger

Rest of the ingredients:

3 tubes of egg tofu, cubed
1 tbsp minced garlic
1 small shallot, minced
2 stalks green onions, white parts sliced for cooking and save the green ones for garnish
1 bird's eye chilli pepper, sliced (feel free to add more if you want your dish to be spicier)
12 medium sized tiger prawns, sliced to about 1/2 inch thickness (kind of same size as the tofu cubes)
Enough cooking oil
1 tsp cornstarch in 1 tbsp water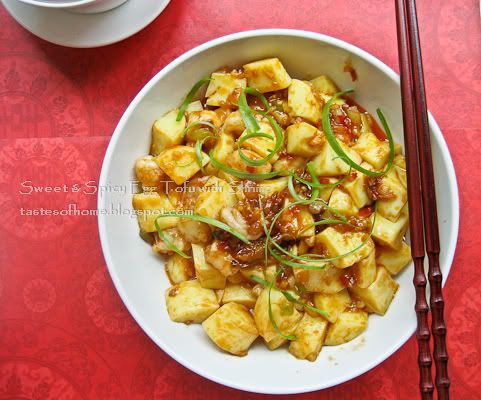 Method:

Firstly, prepare the sauce by mixing up all the ingredients listed above (except for garlic and ginger). As always, do a taste test, if you prefer it sweeter add more sugar and so on.

Saute the garlic and ginger in about 2 tbsps of cooking oil until aromatic. Pour in the previously mixed up sauce ingredients and bring to a quick boil. Remove from heat and dish out sauce. Set aside.

Clean the wok you were using and wipe dry. Heat about 2 tbsps of cooking oil. Once hot, turn heat to low and add the garlic, shallots and green onions. Stir-fry till aromatic. Add in 3 tbsps of the prepared sauce and the shrimp. Turn heat up to medium high. Stir-fry around until the shrimp is at least half cooked. Finally, add in the cubed tofu and gently stir-fry around to coat with sauce. Add in the cornstarch mixture to thicken the sauce. Stir-fry well (but gently!) until almost all the sauce has been absorbed. Dish out and garnish with green onions. Serve hot with steamed rice.