As promised, I am returning with a recipe, albeit this is my mom's recipe (and cooking); yes the food blogger gets to take a break when mom is around! Bitter melon or bitter gourd (苦瓜) as its' namesake implies, is very bitter. Of course, different sub-species will provide a different intensity level of bitterness - nevertheless I think there is also an underlying sweet taste to the bitter melon. I recall in my childhood days when my parents will try to force my siblings and I to eat these bitter vegetables/ fruit much to our dismay. However, I think I have finally acquired the taste for these unique and nutritious bitter melons - they taste really delicious even in a simple stir-fry as showcased today. It is quite interesting is it not, on how one's perceptions of so many things including food change with (adequate) time?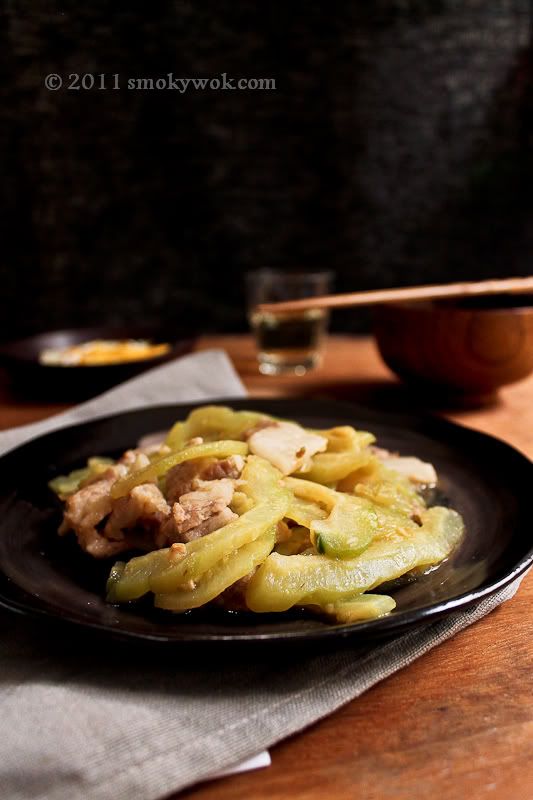 Writing about this dish reminds me of a Chinese saying, "苦盡甘來" which can loosely be translated to "once the end of bitterness is reached, sweetness arrives". The 'sweet' taste referred to here is not of the sugary sweet variety, this dimension of sweetness is described in Chinese as '甘' and unfortunately I don't think there is a direct translation for this 'dimension' of taste in the English language.



Bitter melons are also a favourite vegetable used in the perennial Malaysian hawker favourite, 'yong tau foo' where fish paste is stuffed into the vegetable and then steamed or deep-fried. In today's simple stir-fry dish, the pork slices complement the bitter melons perfectly, providing a unique yet tasty flavour. The texture of the bitter melons resembles that of the winter melon and also to a certain extent, the cantaloupe which has a relatively firmer texture.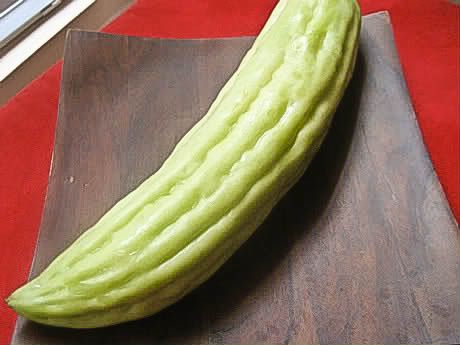 Ingredients:

1 bitter gourd, peeled and seeded - marinate with 1/2 tsp salt for a crunchier texture (30 minutes)
1/2 pound of pork, sliced to bite-sized pieces
3 cloves garlic, minced
About 1 tsp of dark soy sauce
1-2 tsps of cooking oil


Method:
After marinating the bitter melon slices in salt for about 30 minutes, gently 'squeeze' the slices to get rid of the excess salt. Next, heat the cooking oil in a wok on high heat. Turn to medium heat, then place the minced garlic and fry till fragrant (don't let them turn brown), then add the pork slices to the wok.
Stir-fry the pork until almost cooked, then add the dark soy sauce.

Finally, add in the previously blanched bitter melon slices, add a sprinkling of salt to taste, and then add about 1-2 tbsps of water. Turn the heat up until the water evaporates and transfer to a serving plate. Serve hot with rice.