I have been touting the versatility of my specially treated belacan - it's the norm that when one pounds belacan, one usually prepares more as the belacan can be used in a huge variety of dishes, adding spice and flavour to many dishes. Today I feature Belacan Fried Rice. As most of you may know, one-day old rice is usually preferred for making fried rice. This is because the rice will be a little hardened on the following day, making it ideal for the addition of sauces and new flavours.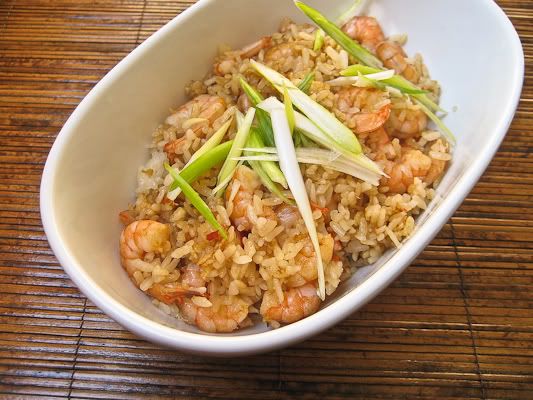 My belacan fried rice recipe is as simple as it gets, just saute some garlic and a protein of your choice (I chose shrimp - I'm a seafood freak!) and stir in some rice. You can add some shredded egg omelette, a hard boiled egg or simply a fried egg as the perfect accompaniment. If you feel like making fried rice but do not have one-day old rice in your fridge, you may cook some fresh rice and lay them out on a baking tray for fast cooling but I have yet to try this since fried rice for most Asians usually represent a tasty solution to leftovers. There are times though that I purposely make more rice than necessary to ensure that I will be able to make some tasty fried rice the next day.

Allow me to present another post in my Belacan series, the essential Spicy Belacan Fried Rice




Tip: If you decide to add more than one protein say you want to have shrimp and chicken in your fried rice, be sure to fry each ingredient separately first, then add in the rice to stir.




Not in a spicy mood?

Click here for my Seafood Fried Rice Recipe

Ingredients:
2 cups of 1 day old rice. microwaved for 1 minute
1 tbsp cooking oil
2-4 tbsps belacan, depending on the level of spiciness
Shrimp, shelled and deveined
2 cloves garlic, sliced
Eggs, optional (as mentioned above)
Green onions, sliced (optional)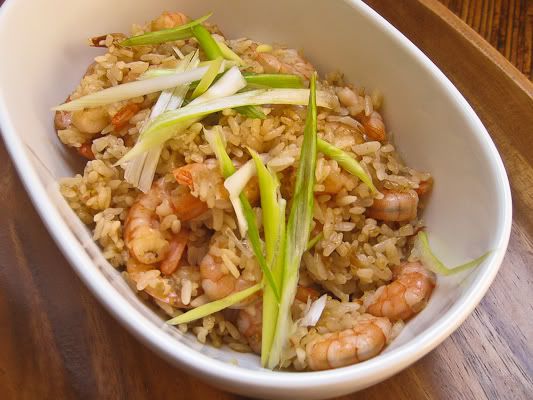 Method:
Firstly, heat up the pan or wok until really hot. Add in the oil once the wok is hot. Next, saute the garlic and belacan until fragrant. Add in the shrimp, stir-fry briskly - this should not take long if you're using small shrimp like I did, perhaps 1 minute. Finally, stir in the rice and coat throughly. Serve hot. If you prefer more spiciness, add some chili peppers. Garnish with a fried egg or green onions. As you can see, due to the inherent saltiness of the belacan, there is no need for soy sauce, but if you lessen the amount of belacan used say if you prefer the rice to be less spicy, do add some soy or salt for saltiness. As always, do a taste test before serving. My mom always says to add salt or flavour gradually since you can always increase the level of spiciness/ saltiness but will be quite difficult to 'mute' the flavours once you get your rice too salty or spicy. If you have guests with differing 'spice-tolerance' levels at your table, keep the rice less spicy and serve the fried rice together with a separate dish of belacan (heat in microwave) for the spice-lovers to add to their hearts' content!