Today I feature a simple seafood stir-fry, the scallops however go through a special pre-cooking step which rids the bay scallops of their fishiness and imbues them with a gingery fragrance. The first time I bought frozen bay scallops here, I just cooked them straightaway after de-frosting which did not yield the kind of scallops I was used to eating at Hong Kong style restaurants. Thanks to my parents who discovered this 'secret' step which all Hong Kong chefs use to pre-cook certain seafood like abalone and sea cucumbers before cooking with other ingredients. I decided to try this with bay scallops and this step truly helped make my scallops tastier and totally fishiness-free! This might be common knowledge to some of you who are used to cooking these seafood but growing up in Malaysia, yours truly hardly had to cook and only started doing so seriously after living abroad - I am delighted to share this step with you and you really have to try it to believe it.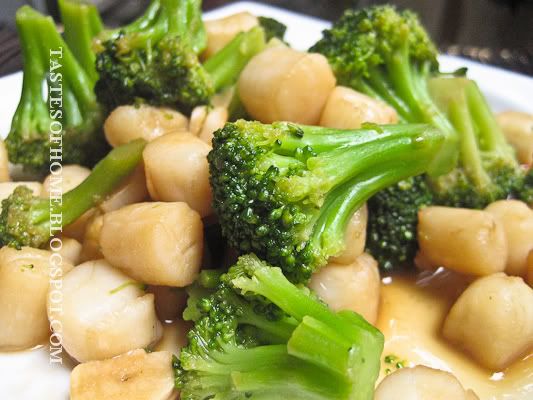 The pre-cooking step is simple - garlic, smashed ginger slices (with skin) and green onions (the white part) are saute till fragrant, then a splash of Shaoxing Wine (Chinese Rice Wine) is added. Chicken broth is then added to the mix and brought to a boil. The scallops are then pre-cooked in this mixture for about 1-2 minutes. This step is essential to ensure non-fishy scallops and to intensify the 'sweetness' of the shellfish. Incidentally, this was the first time I tried this step and my scallops tasted wonderfully fragrant and the broccoli added a nice crunch to the dish.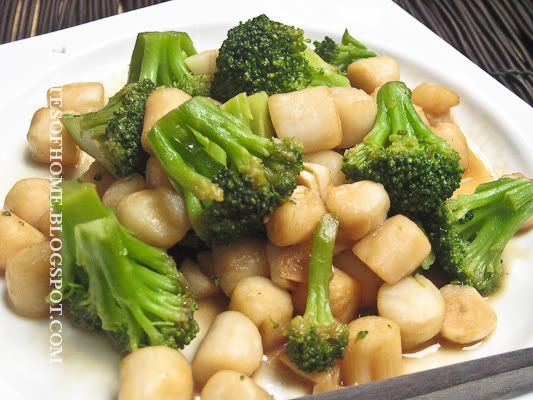 For another easy stir-fry dish, try my Beef with Chinese Bok Choy Recipe



Ingredients:
20 small bay scallops
2 florets broccoli

For pre-cooking:
3 cloves garlic, sliced
3 slices fresh ginger root, smashed (with skin)
2 stalks green onions (only the white parts)
1 cup chicken broth

For cooking:
2 cloves garlic, sliced
1 tbsp oyster sauce
Dash of sesame oil
Dash of light soy sauce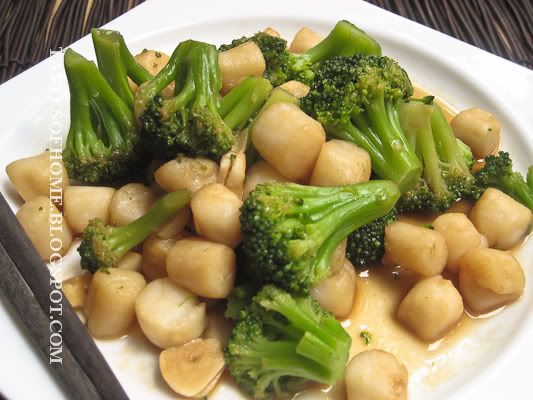 Method:

First, as described above, pre-cook the scallops in the mixture above. After 1-2 minutes, remove the scallops from the mixture and discard the latter (the mixture should be milky after the scallops cook for a bit). Next, clean the pan and saute the garlic slices in 1 tablespoon of oil until fragrant. Turn the heat down and add the soy sauce, sesame oil and oyster sauce. Place the pre-cooked scallops into the wok and stir-fry briskly. Finally, add the blanched broccoli and stir-fry quickly for about 30 seconds, coating evenly. Do not cook for too long to avoid over-cooking the broccoli. The blanching of the broccoli helps to avoid the broccoli from being in the wok too long (hence avoiding the wilting of the vegetable).

Note: You can add cornstarch at the end if you want your sauce to be thicker.