As you know, I've been busy tying up a lot of loose ends for the migration of this site to its' brand new domain, and I have been working late into the night trying to make sure everything is up and running - probably not that much work for someone more technically sound but ugh, unfortunately for me, it's a lot of googling and trying my best to understand all the complicated (to me) html codes. I'm glad though that the new name seem to have went down well with you guys and I am rather excited, almost as if I were starting a brand new blog. Hopefully, this is just one of the many positive changes coming through in life, there will be more changes coming up on the horizon and of course, I wish that everything would be 'positive' but then, we shall see. It's hard for me to divulge right now, but when the time comes, I will definitely share the good news with you.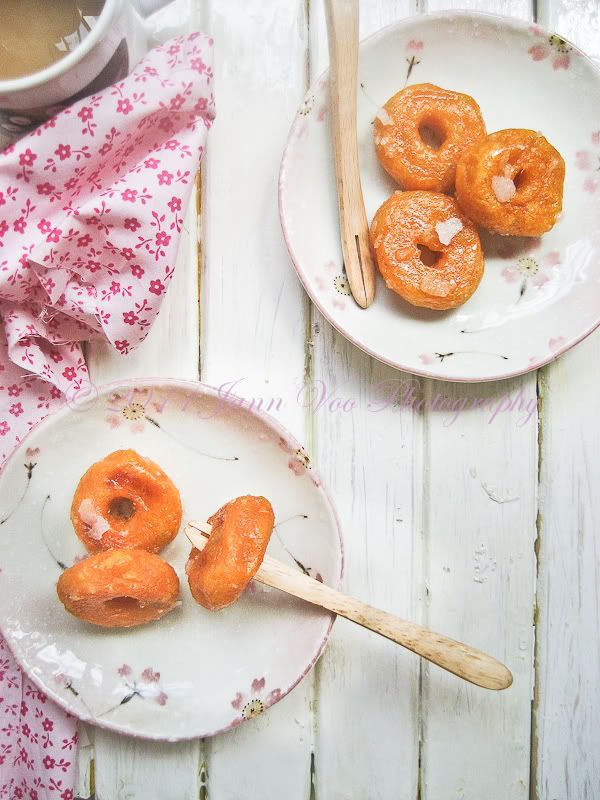 Alright, back to the feature today, 'kuih keria' is a very popular Malaysian sweet 'cake' and resemble mini-donuts although the texture is really nothing like regular doughnuts - kuih keria is essentially deep-fried sweet potato batter that is coated with a simple sugar syrup. This was my first time making any sort of 'kuih' at home and yes, the simplicity made it very attractive to try out as I suspect I'm not much of a 'kuih' expert. Anyhow, these turned out really well and were very easy to make - I had fun too making these together with mom and it was quite amazing to see the mini donuts take shape in my little kitchen. Unlike 'regular' desserts, kuih is served anytime of the day and are popular morning, mid-morning, after-lunch, mid-afternoon (you get the idea!) snacks in Malaysia. While living in Malaysia, I took these for granted of course and I remember having violent cravings for kuih while in the US despite not being much of a kuih-eater while living back home.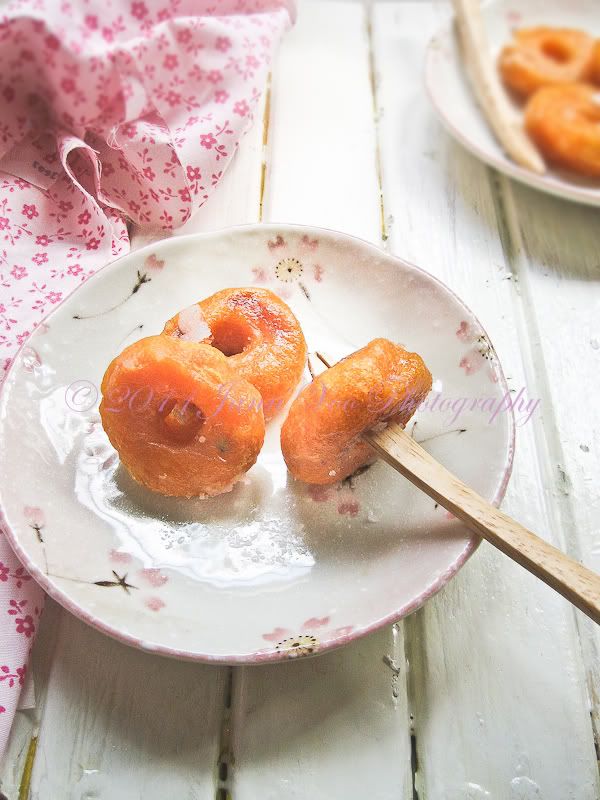 So, for my fellow Malaysians living abroad, I hope this easy recipe will help cure your cravings a little and for my dear readers who are not familiar with kuih, I think this is the perfect 'starter' kuih. Last but definitely not the least, for those of us living at home, there is still nothing like homemade kuih keria - I prefer it as I only use fresh oil for frying, I use the freshest ingredients and I can adjust the texture of the kuih myself. A final note, only make these when you have company because these are very addictive and you may find yourself finishing up the whole platter!





I am also sending this entry to Muhibbah Monday, a blog event created by 3 Hungry Tummies which will be hosted by Shaz of Test with Skewer for September 2011. This is an event which rounds-up Malaysian recipes/ food blog posts each month. Check out the links for more details.

Enter my current Cookbook GIVEAWAY here.

Makes about 2 dozen

Notes:

1. Do not add sugar to the sweet potato batter for frying as this will cause the donuts to stick to each other in the wok.
2. If using a wooden chopping board (as work surface), wrap with some clingwrap first before rolling as the sweet potato dough will get into the wood grain and cleaning will be a big chore.
3. For the shaping, apart from the roll and slice method I listed below, I also tried taking a small piece of the batter, roll into a small log, then join at the edges method but I think the method I listed below makes for a prettier donut as the joint is quite visible even after frying.
4. Instead of just slicing and frying, I prefer to gently 'knead' each slice into a flattened ball before making the hole and frying as it makes for a smoother and nicer looking surface.

Ingredients:

500g sweet potatoes, peeled and chopped into small chunks (about 1 inch squares)
4 tbsps all purpose flour
4 1/2 tbsps tapioca flour
1/2 tsp salt
1 tsp baking powder

Syrup:

6 tbsps sugar
3 tbsps water




Method:

Firstly, steam the sweet potato chunks over rapidly boiling water until soft enough to mash, this took me about 10 minutes.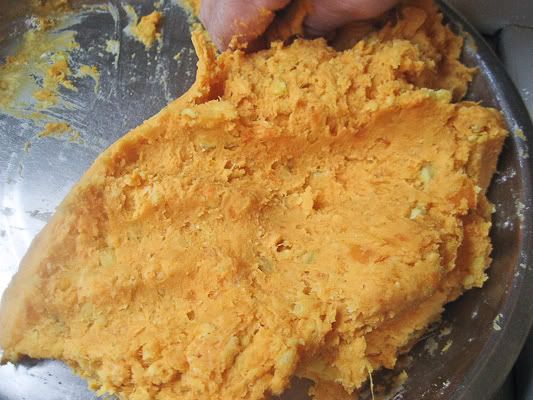 Remove from heat and place the sweet potato pieces into a large enough boil for mashing. Add the salt, baking powder, all purpose and tapioca flour and start mashing with a large fork. Continue mashing until it starts to form a dough. Allow it to cool a little bit and with your hands, form the mix into a dough.

Prepare a work surface (I used a wooden chopping board wrapped with clingwrap). Take half of the dough and roll it with both your hands gently until it forms a roll. Repeat with the other half. You can of course do this at one go, but it will be easier to form 2 rolls instead of one (this is also as my work surface was not very large).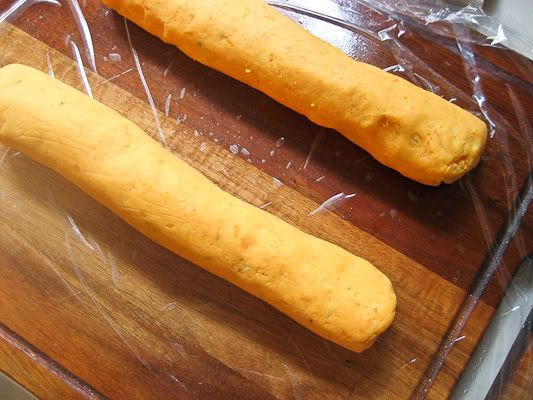 With a sharp knife, slice the roll into 1/2 inch rounds. Take each round and with the palms of your hands, form into a ball-like shape, then press down. Lay the flattened ball on the surface and with one chopstick, make a hole in the center and loosen the hole a little by moving the chopstick around. Repeat with the remaining and we're done with the shaping.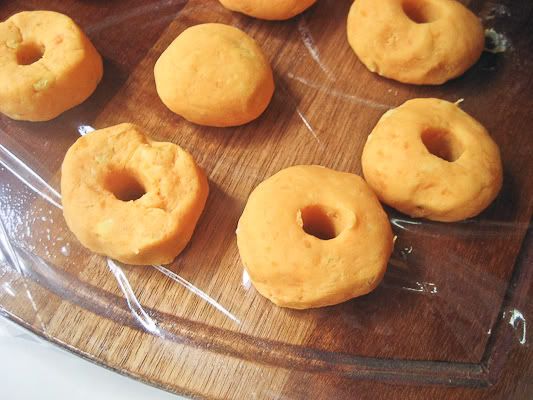 Prepare a wok for deep-frying the donuts. Fry the donuts over low heat for about 2 minutes. Remove from heat and drain on paper towels. Pleae do this in batches if your wok is not large enough, no overcrowding.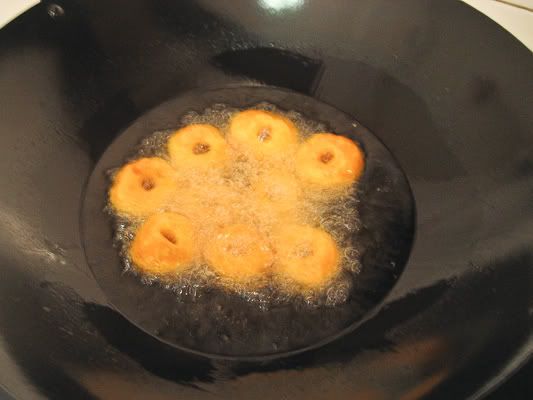 Finally, for the syrup, boil the sugar and water together on medium heat while stirring until it thickens up.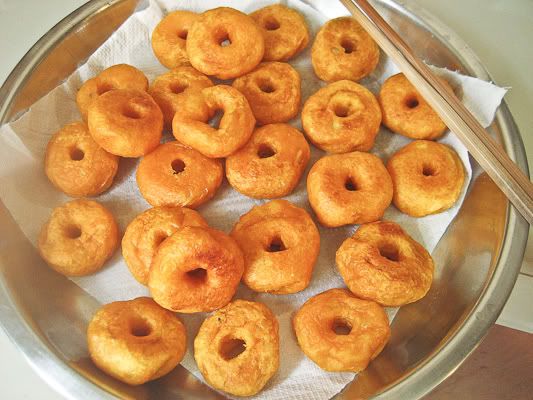 Add the donuts to the pot and coat quickly. Make sure to do this part quickly as the sugar will dry up and harden pretty quickly. In case that happens, add a bit of water into the sugar mixture again, and put on the heat for about 30 seconds. Quickly coat the rest of the donuts.

Serve.