If you have been following this blog for a while, you may recall that my favourite brand of Chinese cooking sauces i.e. Yuen Chun was introduced to my family kitchens by my late maternal grandmother. Recently, I have been thinking of her more than usual and of the times we shared, limited as they were. However, she was a very good cook and my mom constantly shares tales of all the delicious dishes she enjoyed in her childhood courtesy of my late grandmother and so I thought it fitting to share my version of a dish that she enjoyed, just a very simple Chinese home-styled dish of tofu with pork. I 'updated' it by replacing the regular tofu with egg tofu which were pan-fried for added texture and also added abalone sauce and Shaoxing rice wine to the pork topping.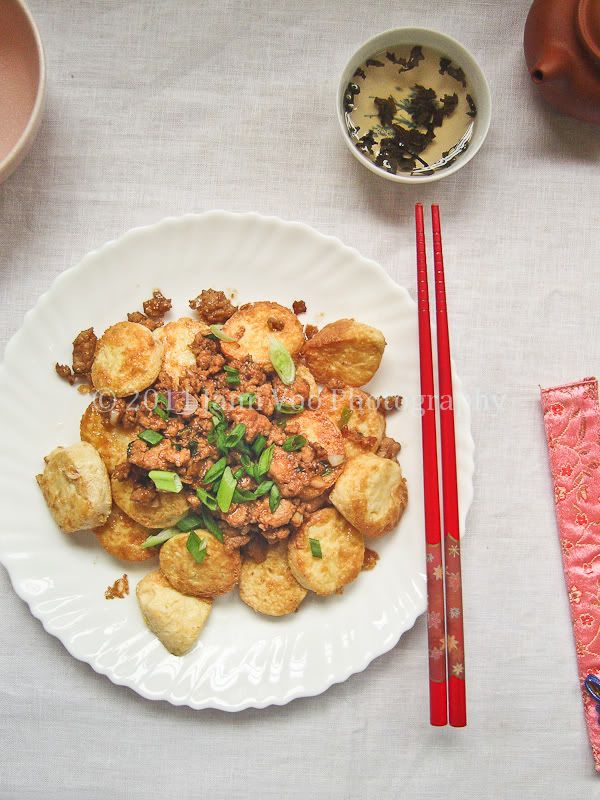 If you have not tried egg tofu, I would say that it is the more flavourful version of regular tofu which I find rather bland to be honest. These tofu are usually sold alongside the regular tofu in the refrigerated section and are usually sold in vacuum sealed tubes. You can also modify this dish by merely steaming the tofu which is just as tasty but with pan-frying, you'll get some crispiness to accompany the silky smoothness of the tofu, so it is entirely up to you. I was very pleased with the results - the umami flavours in the abalone sauce complemented the fragrance from the Chinese rice wine really well and brought the savoury flavours in the pork a few notches up. I do wish my late grandmother had a chance to taste the sauce, I'm very sure she will approve, but I do feel comforted that I am in a way continuing the culinary tradition she started in our family.




This post is a part of my series of Yuen Chun Recipes, an ongoing project on this blog.

Notes from Jen:

1. You can add mushrooms to the pork for more texture or for a spicy version, try adding some red chilli pepper or bird's eye chilli pepper slices.
2. If you don't like egg tofu, feel free to substitute with silken tofu.
3. This topping will also work with just steamed tofu especially if you don't want to deal with pan-frying the tofu which does require more time.

Serving suggestion: with steamed rice

Serves 4

Ingredients:

3 tubes of egg tofu
About 1 cup worth of ground or minced pork (even if you buy ground pork, do give the pork a few chops as this helps to improve the texture somewhat.)
4 cloves garlic, minced
3 stalks green onions, sliced (save some green slices for garnish if you wish)

Seasoning for pork:

2 tbsps abalone sauce (I used Yuen Chun's chicken and abalone sauce)
2 tsps light soy sauce or to taste
1/2 tsp thick soy sauce/ dark soy sauce (this is mostly for the colour)
2 tbsps Chinese Rice Wine (Shaoxing rice wine)
1/2 tsp sugar
1/2 tsp sesame oil




1/4 cup water (to be added to pork bit by bit)
1 tsp corn flour mixed with 2 tbsps water (optional) - this is for thickening


Method:

Firstly, slice the egg tofu which usually comes in vacuum packed tubes by slicing down the middle of the tube, then gently squeeze the tofu out. Slice into 1/2 inch thick discs. Set aside.

Prepare a wok or pan for pan-frying the tofu slices. Heat up a wok until almost smoking. Add about 2 tbsps of oil. Swirl to coat. Turn heat to medium-low and gently place the slices into the wok for pan-frying. Fry until both sides turn a golden hue. Remove from wok and place in serving dish. Set aside.

Now, for the topping. Heat up your wok again (after you cleaned it :O) until almost smoking. Add 2 tbsps of oil and swirl to coat. Turn heat down to low. Add the garlic and green onions into the wok and stir-fry until aromatic. This should not take very long and be careful not to burn the garlic. Add about 1 tsp of the light soy sauce into the wok. Add the abalone sauce.

Quickly add in the pork and turn the heat back up to medium. Stir-fry the pork while breaking it up nicely in the wok. Add the rice wine, the rest of the soy sauce, sesame oil and the sugar. Turn heat to high and stir-fry around rapidly to cook the pork. Add the water bit by bit. Bring to a boil, once the pork is completely cooked, add the corn starch mixture if using and mix well.

Bring to a boil and then dish out and top the pan-fried egg tofu with the pork. Garnish with the green onion slices. Serve hot.