Fish bibimbap is one of the many varieties of the famous Korean rice dish and is particularly easy to make especially if you don't have a lot of banchans (side dishes) in your pantry as preparing a 'full' bibimbap complete with at least a few vegetable banchans, some protein and the obligatory fried egg does take a while. For my bibimbap today, I grilled some rockfish lightly marinated in soy, sake and a bit of salt, made a quick spinach namul (marinated spinach), sliced up some lettuce and made an easy bibimbap sauce. Mix it all together and you've got yourself a fabulously satisfying meal that is also easy and quite healthy. Everyone has a different version of bibimbap sauce that they like and I've just recently discovered that I like adding some rice vinegar, sesame oil, minced garlic, a tiny bit of sugar and some toasted sesame seeds to the gochujang (Korean fermented chili paste) for mine.




Gochujang is probably one of the most-used Korean condiments together with gochugaru (Korean chili powder) and perhaps doenjang (fermented bean paste). For bibimbap, gochujang is a must as it will form the base for the sauce that will ensure everything mixes together perfectly. Gochujang is spicy, earthy and has its' own distinct flavour which I find incredibly appetising. For the fish, I used rock fish but other fishes like salmon, cod and most fishes that can be grilled would make great substitutes. Apart from the different flavours and textures all intermingling together harmoniously, it is also tremendous fun to mix everything up right before eating. The sauce is usually served at the table for the guest to add as much or as little as he or she likes. Add a dash of sesame oil and that's it!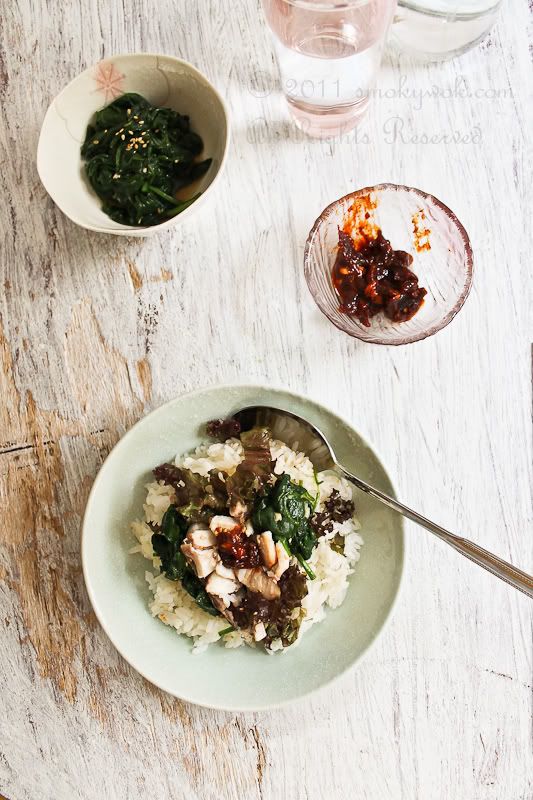 Serves 2

Ingredients:
2 bowls of cooked rice
Lettuce, sliced (optional)

For fish:

1 rockfish fillet (about 200g), sliced and marinated in:

1 tbsp soy sauce
1 tbsp sake
1 tsp mirin (optional)

For Spinach Namul (Banchan)

1 packet baby spinach (the salad packs)
2 cloves garlic, minced
1 tbsp light soy sauce
1 tbsp sesame oil
1 tsp toasted sesame seeds
1 tbsp cooking oil

For bibimbap sauce:

3 tablespoons gochujang
1 tsp sesame oil
2 tsps rice vinegar (or to taste)
1 tsp toasted sesame seeds
1/2 tsp sugar (optional)

Method:

Firstly, grill the fish slices for about 10 minutes or until cooked. Alternatively, bake in a pre-heated oven at about 150 C for 10 minutes or until cooked.

While the fish is cooking, prepare the spinach namul. Blanch the spinach quickly in a pot of boiling water. Once wilted, immediately remove and place in bowl, drain well. Once cool enough to handle, squeeze the spinach lightly with your hands to get rid of most of the water.

In another bowl, add the ingredients listed above (minced garlic, soy sauce, sesame oil and sesame seeds). Do a taste test and add more soy if necessary. You can also add a pinch of sugar if you like. Add the spinach and coat the spinach well with the mixture. Now, saute the marinated spinach lightly in some cooking oil in a pan for about 1 minute. Remove from heat and set aside.

Now, prepare the bibimbap sauce by mixing the gochujang, garlic, rice vinegar, sesame oil, sesame seeds and sugar (if using) together. Do a taste test and add more vinegar if desired.

Assembly time:

Scoop the rice into the serving bowls. Arrange the fish slices, some spinach and a handful of shredded lettuce on top of the rice. Serve with the bibimbap sauce and more sesame oil on the side.