Although it is already officially spring, the weather is still rather chilly and there's nothing I love better than having a hot bowl of congee on a cold day. Allow me to continue my current love affair with congee with my cod fish congee today. I sliced the cod really thinly and marinated the slices in some Chinese rice wine, sesame oil and soy sauce - as the fish slices are only cooked for a short while in the congee, the marinade is important for a sweet and fragrant flavour.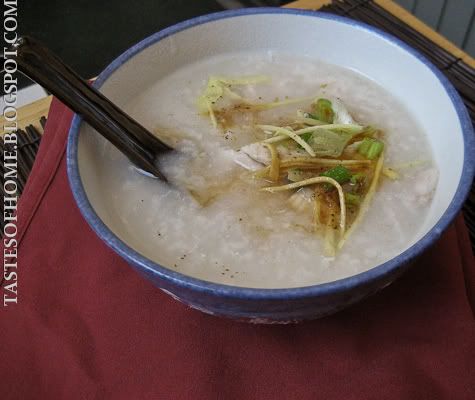 Most cultures have different versions of a dish and congee is no different at least throughout Asia - in Japan, congee is called okayu (お粥) and is considerably thicker in texture than the Chinese version. In Korea, congee is referred to as simply juk and is almost the exact same pronounciation for congee in the Cantonese dialect. The Malays and Indonesians refer to their version as bubur which is cooked almost the same way as the Chinese versions but tend to have stronger flavours.






Apart from being familiarly comforting on a cold day, cooking congee is also very easy and is easily one of my favourite one-pot dishes due to the minimal amount of dishes required to cook this perennial classic. I love to have my congee served with copious amounts of fresh ginger and green onion slices.


For more fish recipes on Tastes of Home, please click below:
Steamed Omelette Fish Cake Rolls Recipe
Chinese Pan-fried Red Rockfish Fillets Recipe
Ingredients:
1/2 cup rice (soak for 1 hour)
9 cups of water
2 cod fillets, sliced thinly
2 inches worth of fresh ginger, sliced thinly (use vegetable peeler for paper-thin slices)
4 stalks green onions, sliced
Marinade for the fish:
1-2 tsps Chinese Rice Wine (Shaoxing Wine)
1/2 tsp sesame oil
1/2 tsp light soy sauce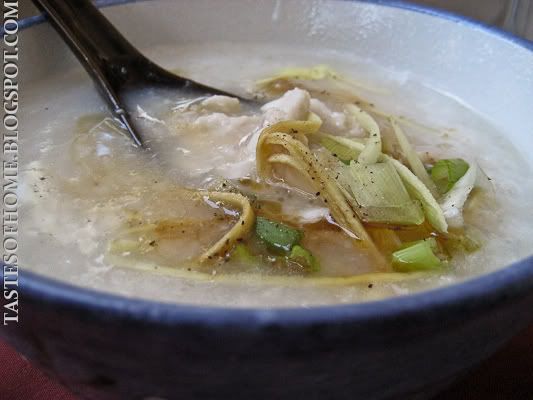 Method:
Marinate the fish with the ingredients listed above. Boil the soaked rice with the water in a pot. Once the mixture is boiling, turn the heat to low, and add 3 ginger slices to boil for about 90 minutes, checking frequently and stirring the mixture occasionally. Now, add the fish slices to the congee and bring to a boil again, if you sliced your fish thin enough, the fish should be cooked in less than 5 minutes. Note that the congee will continue to boil on its own even after removing from heat, so don't boil it with the fish for too long as overcooked fish is not exactly the tastiest. Serve the congee in bowls and allow your guests to spoon desired amounts of green onion slices, ginger into their individual bowls. I usually add another dash of sesame oil and white pepper to my bowl before eating as well.