Growing up in Malaysia, I have always been a huge fan of the culinary offerings from our northern neighbour, Thailand. I was just thinking to myself last week as to why it took me this long to actually cook something Thai - so I thought I would start with something so uniquely Thai yet is also probably one of its' most famous dishes, the tom yum soup. Loosely speaking, I guess tom yum soup can be described as a version of a bouillabaise, the traditional Provencal fish stew. I love the use of aromatic herbs in Thai cooking and of course I am naturally drawn to the irresistible spicy flavours of most Thai dishes.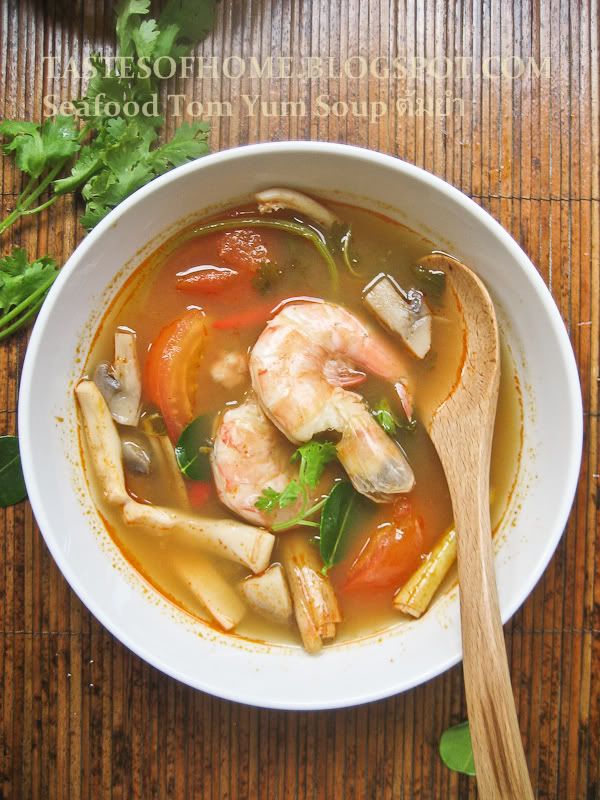 After some digging around, it seems that nam prik pao or Thai roasted chilli paste is a must in tom yum soups. The spicy paste is made mainly out of chilli peppers and shrimp paste which imparts precious flavour to the soup. The chilli paste is also often served as a condiment at the dining table with vegetables.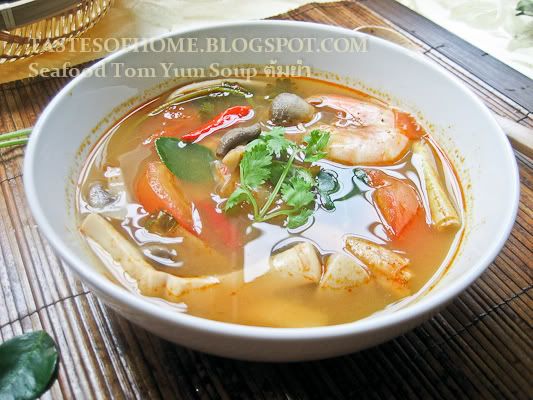 The lemon grass and kaffir lime leaves are must-haves in the soup, I think I could possibly skip galangal but definitely not the lemon grass or lime leaves.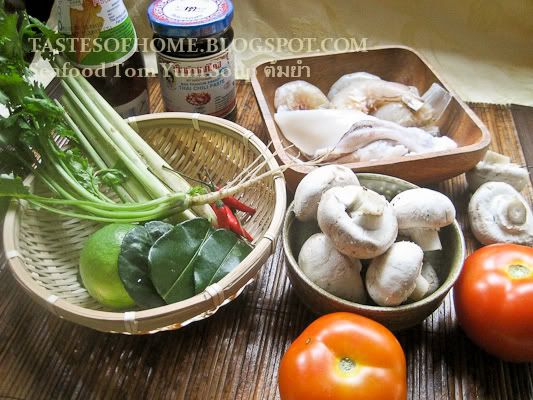 Ingredients:

6 cups chicken broth
1 chicken carcass
2 stalks lemon grass, smash the bottom with the back of a heavy knife before slicing to 2 inch pieces
4 kaffir lime leaves, torn or bruised (to release flavour)
2 slices of galangal
10 medium sized prawns, heads-on and shell on
2 large squid, sliced (remove membrane inside)
2 tomatoes, quartered
10 bird's eye chilli peppers
12 button mushrooms, quartered
Cilantro, as desired

Seasoning ingredients: (Add more if desired after doing a taste test)
1-2 tbsps of nam prik pao (Thai roasted chilli paste)
1 tbsp fish sauce (add more if desired)
Lime juice (add by teaspoon)
1-2 tsps tamarind paste




Method:

Firstly, bring the chicken stock, chicken carcass, lemon grass, galangal slices and kaffir lime leaves to a boil in a soup pot. Allow to boil for about 30 minutes on medium heat. Next, add in the nam prik pao, tamarind paste and fish sauce. Boil again for about 10 minutes on high, mixing well. Add in the chilli peppers, mushrooms, tomatoes and cilantro. Boil for another 5 minutes. Finally add in the squid and prawns, boil on high for about 5 minutes (do not overcook the seafood). Add in the lime juice, teaspoon by teaspoon. Do a taste test and add more fish sauce if desired. Serve hot.