On hot days, I do crave a refreshing salad and since I still had an unopened packet of bow-tie pasta in my kitchen, I thought it was time to put it to good use. Today's pasta salad combines spicy, tangy and altogether refreshingly appetizing flavours and is also extremely easy for you to put together. I simply tossed the bow-tie pasta with a tangy and spicy Thai stir-fry sauce, added some plum tomatoes, red chili pepper slices and topped everything off with some cilantro. To increase the tangy flavours in the dish, I added some smoky balsamic vinegar which rounded everything off nicely. This dish was something I created on the fly and I think you would probably have most of the ingredients in your pantry already, hence I shall call this a low-maintenance salad dish :O.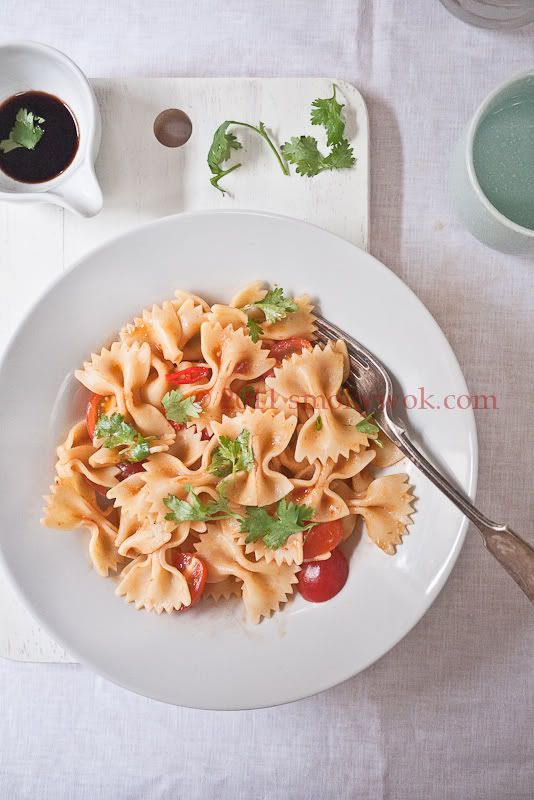 Another thing I loved about this dish is that it is equally delicious served warm or chilled. If you don't have balsamic vinegar, rice vinegar makes a great substitute although the balsamic does add a tinge of smokiness that I really love. I hope you'll give this a try the next time you're craving for a refreshing salad dish!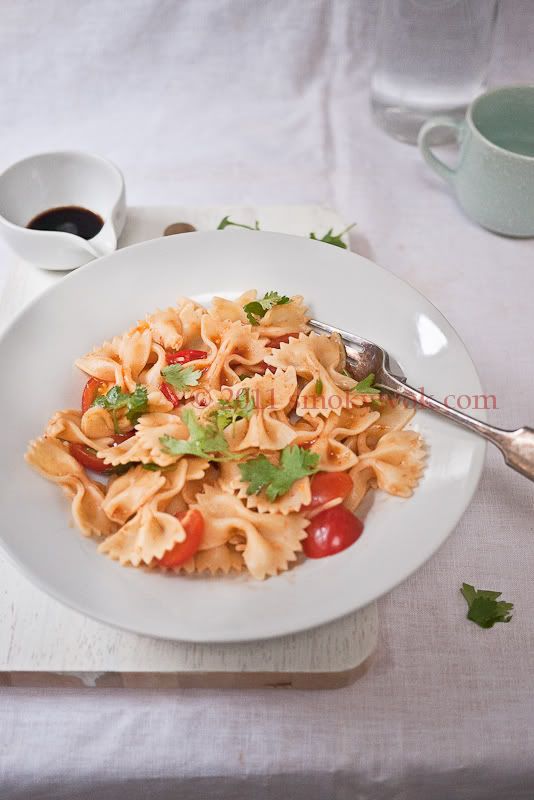 This recipe is part of my Yuen Chun Recipes, an ongoing project on this blog.




Serves 2

Ingredients:

1 cup bow-tie pasta (or use macaroni/ penne if you like)
8 plum tomatoes, halved
1 bunch of cilantro leaves, chopped
1 red chili pepper or 3 bird's eye chili peppers, sliced




Dressing:

2 tbsps Yuen Chun's Thai stir-fry sauce*
1 tsp balsamic vinegar or to taste
1 tsp salt or to taste

Method:

Boil the pasta according to package instructions. Drain and set aside. Place in a large bowl for tossing.

Heat up the sauce quickly. Let cool to room temperature.

Add sauce, tomatoes and cilantro to pasta. Toss well to combine. Add balsamic vinegar and salt to taste. Serve immediately or cover and place in fridge and serve chilled.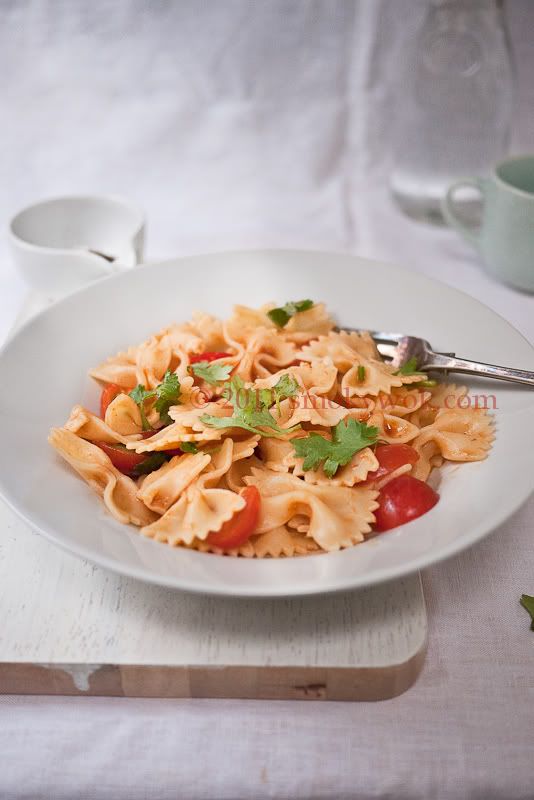 * This is a very easy-to-use tangy and spicy Thai stir-fry sauce. Substitute accordingly if this is not available where you are.