If you like Thai flavours and would welcome a bit of comfort food, I'm pretty sure you will like tom kha gai. Today's indulgently creamy and comforting chicken soup is quite a new discovery to me as I have always opted for the clearer soups like the extremely popular tom yum soup whenever I have Thai food. Tom kha gai is made creamy with the addition of fragrant coconut milk while lemongrass, kaffir lime leaves and galangal make up most of the Thai flavours. Extremely comforting, this is perfect for the cooler season and yes, this even applies to us in Malaysia since it's monsoon season - so comforting to have this when it's raining cats and dogs outside. Although not exactly the most calorie-friendly, this soup is good for the occasional indulgence but in the interest of lesser calories, you can try substituting the coconut milk with low-fat milk for a more waistline-friendly dish. This was extremely easy to whip up and literally took just about 20 minutes to complete so that's another plus point in my books.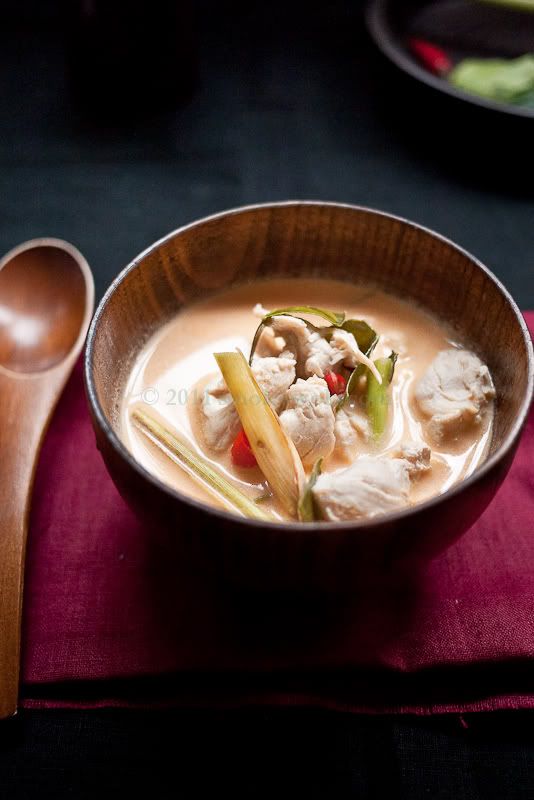 In other news, I am very pleased and flattered to share that my salmon spaghetti was featured on Glamour Magazine's website today and I sold my first photo off Getty Images - quite a good birthday month 'blog-speaking' I must say. Oh and also, Jamie's perfect roasted potatoes made it onto both Foodgawker's most favourited and Tastespotting's most popular list for the past week. Very happy! Last but not least, a big thank you to my dear readers for the kind birthday wishes, comments and generally for supporting Smoky Wok. Have a great week ahead! :)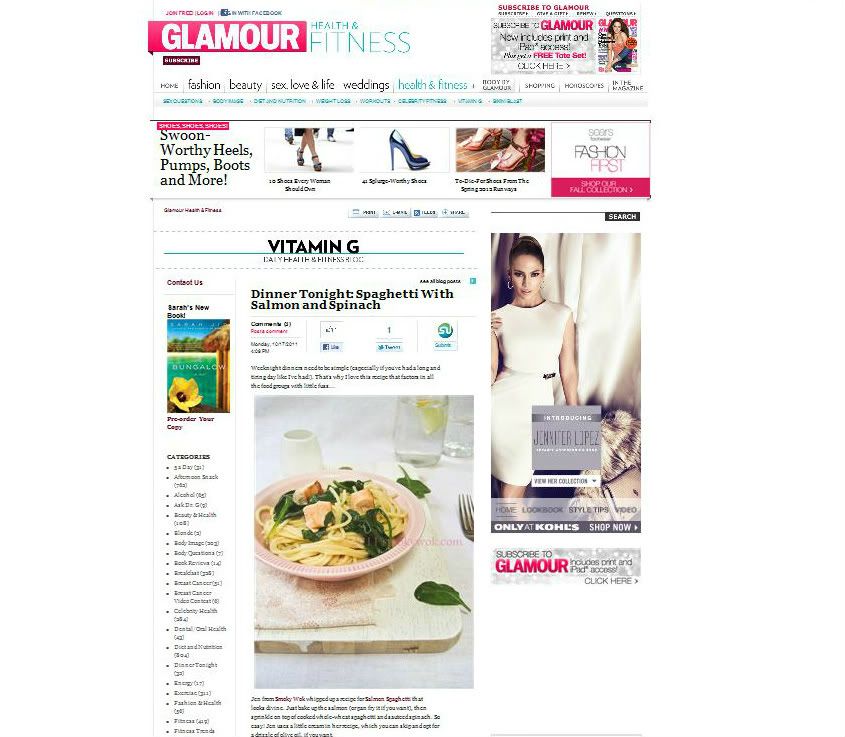 Serves 4
Ingredients:
1 cup coconut milk
1 1/2 cups chicken broth
2 stalks lemongrass, white ends smashed and sliced into 3 inch lengths
Handful of kaffir lime leaves, torn (you'll have to use the fresh ones, the dried ones unfortunately don't cut it)
2-3 bird's eye chili peppers, sliced (use red chili peppers for less heat)
2 inches worth of galangal (this looks like ginger can be found in most Asian grocery stores)
1 cup worth of chicken, cubed or cut into bite-sized (I used thighs but feel free to use chicken breast)
2-3 shallots, quartered (or use half a red onion)
2 garlic cloves, smashed
1 tsp red chili powder (optional)
1 tsp fish sauce, or to taste
1 tsp light soy sauce, or to taste
Method:
Firstly, bring the coconut milk to the boil. Add chicken broth and bring to a boil again. Add the lemongrass, kaffir lime leaves and galangal. Bring to a boil. Add chicken cubes. Add chili powder if using.
Season with the fish sauce and soy sauce. The fish sauce can be rather pungent for newbies but it adds a lot of depth to most Thai dishes. Bring everything to a boil again. Turn heat to low and allow to simmer for about 10-15 minutes. Do a taste test and add more seasoning if required. Throw in the bird's eye chili peppers. Bring to a boil.
Serve hot.