Kung Pao Chicken or 宫保鸡丁is almost inarguably one of the most famous Chinese dishes, the fiery yet delicate flavours and the contrasting textures of the crunchy nuts mingling with the tender chicken cubes make the dish irresistible. As with many Chinese dishes, there are so many versions floating around and after some research, I concluded that an authentic kung pao chicken is supposed to taste a little sweet, a little spicy and a little sour - hence the addition of a tiny bit of black vinegar. In addition, I have always been curious as to why this dish is named 宫保鸡丁, 鸡丁 just means tiny chicken cubes but what about 宫保 which really has nothing much to do with the food or the ingredients in this richly flavoured dish?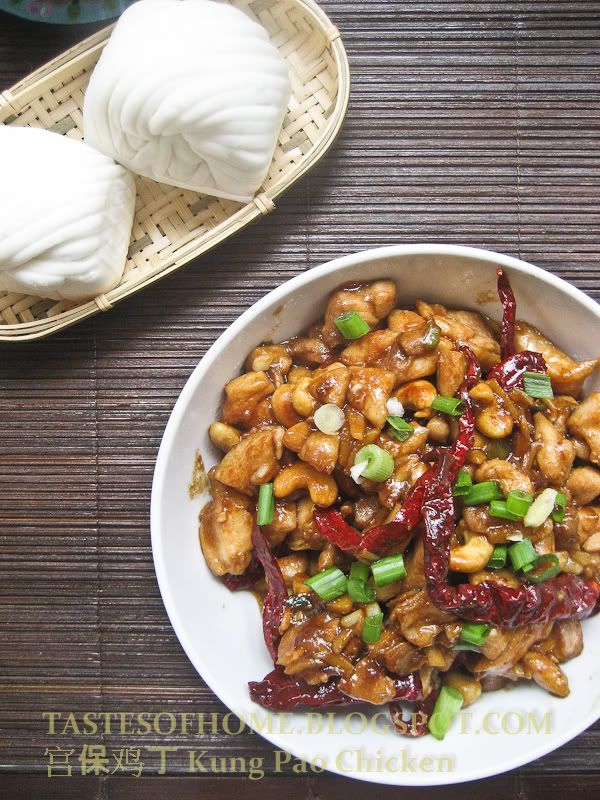 Legend has it that the dish was so named in deference to the inventor of the dish, a Chinese government official 丁宝桢, Deng Baozhen who lived during the Qing Dynasty. Deng was from Gweizhou and had always been very fond of spicy stir-fried chicken cubes and had requested his cook to prepare the now famous dish since his days in Gweizhou. However, the dish only started gaining fame when he moved to Sichuan as the new governor since he always served this spicy dish to guests at his residence. The original version was cooked with peanuts but I prefer to have cashew nuts in my kung pao chicken;which is the version I am featuring today.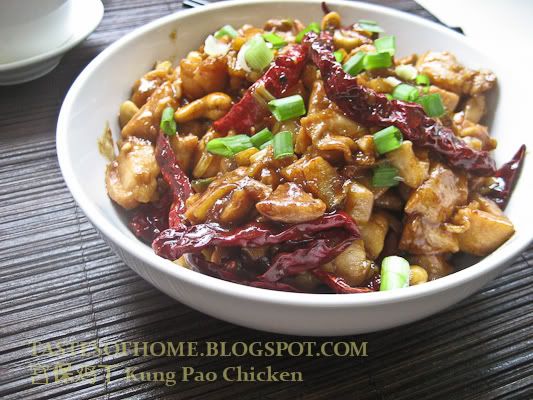 Purists might be miffed though as I omitted Sichuan peppercorns (花椒) a traditional spice used in many Sichuan dishes which creates a unique 'tongue-numbing' (麻辣) sensation - this was because I knew that my guests are not fans of the 麻辣 style of cooking. However, do include the peppercorns if you get a chance for a taste of the original. All in all, I absolutely adore this dish - serve with steamed rice or Chinese steamed flower rolls.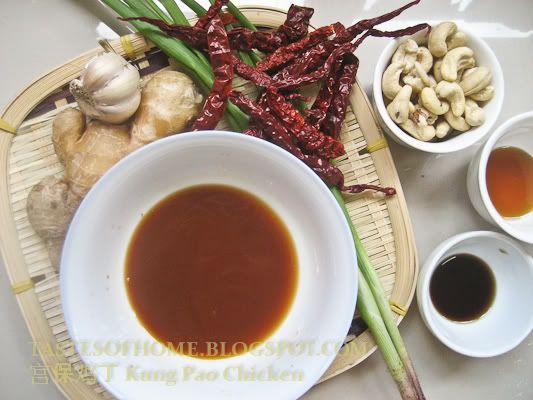 Ingredients: (Serves 4-6)

15 dried red chilli peppers (use less if you want the dish less spicy) - rinsed
6 chicken thighs or breasts depending on your preference, cubed (about half an inch in length and width) *if using chicken breasts, please adjust oil and times accordingly
3 cloves garlic, minced
About 1 1/2 tbsps worth of minced ginger (preferable to do the mincing yourself)
3 green onions, sliced - use the white parts for cooking and save the green portions for garnish
1/2 cup of unroasted cashew nuts (this is what I prefer but the original recipe calls for peanuts)

For the marinade:

1 1/2 tbsps of Shaoxing Wine (Chinese Rice Wine)
1 tbsp light soy sauce
3/4 tsp salt
1 tsp cornstarch

For the sauce:

1 tsp light soy sauce
1 tsp dark soy sauce
1 1/2 tbsps sugar
1 tsp corn starch
2 tsps black vinegar
1 1/2 tbsps water
Tiny dash of sesame oil

Method:

Firstly, mix together the ingredients for the marinade above and marinade the chicken. Set aside.

Next, heat about 1 tbsp of cooking oil in a wok. Once hot, turn the heat to low and gently place the cashew nuts into the wok, stir-frying around briskly. Once you see the cashew nuts began to brown, remove from oil and drain. An easier alternative would probably be to roast the cashews in an oven or just buy roasted cashew nuts. If you're using roasted cashew nuts, skip this step.

Now, mix the ingredients for the sauce together in a separate bowl. As usual, do a taste test, add more sugar or soy sauce depending on your preferences. I only used a tiny dash of sesame oil as I did not want my sauce to be overpowered by sesame oil. Feel free to add more if that's what you like.

Heat about 2 tbsps of cooking oil in your wok again. Once hot, turn heat to medium and add the dried chilli peppers and fry until aromatic. You should be able to smell the spiciness in the air! Next, add in the minced ginger, garlic and the white portions of the green onions. Turn heat to medium-low and saute until fragrant as well.

Add the marinated chicken cubes into the wok and turn heat to medium-high, stir-frying briskly to coat the chicken cubes in the aromatic oil. Do this for about 3-5 minutes. Add in the previously fried cashews. Turn heat to high. Stir to mix well. Finally, add in the prepared sauce and stir-fry to coat the chicken cubes well. Serve hot.