Ok, I'll be honest - I started out only wanting to cook the traditional Chinese-style beef with ginger and green onions for dinner. Somehow, I decided to use different ingredients while cooking and actually accidentally poured about 1/4 cup of mirin into the pot when I only meant to use about 1-2 tbsp! But, the beef turned out to be more delicious than usual! So I guess this was an accident that turned out 'right'?!! Mirin is actually sweet cooking sake and instead of using the traditional Chinese rice wine, I decided to put a little Japanese twist by using traditional sake and also the mirin in place of sugar.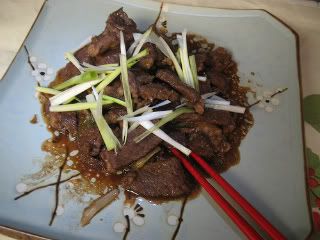 Ingredients:
2 flank steaks, sliced thinly
3-4 garlic cloves, smashed and skinned
4 stalks green onions, chopped diagonally
3-4 slices fresh ginger
2 tbsp dark soy sauce
1/4 cup of mirin
1 tsp of sake

Method:
Heat about 1 tbsp of cooking oil in the claypot. Saute the garlic, green onions and ginger until fragrant. Next, add in the beef slices. Now, add the dark soy sauce,
mirin
and
sake.
Add about 1/4 cup of water and let the beef simmer until done. Add a dash of pepper (optional). Serve hot.