This is simplicity at its' perfection - I used Thomas Keller's famous yet extremely easy recipe for roast chicken for today's feature and words just cannot describe how much I loved the roast chicken legs I made.  The skin was crispily golden while the meat underneath was still tender and moist, what more can you ask for in a roast chicken or in this case, roast chicken legs?  To be honest, I was a little worried that the chicken would be a little dry due to the sheer minimalism of the recipe and probably because of the absence of any basting liquids in the recipe, hence the mushroom sauce I made but the chicken was really just good on its' own and a sauce is really not needed although it could be a nice alternative for your sauce-loving guests :O.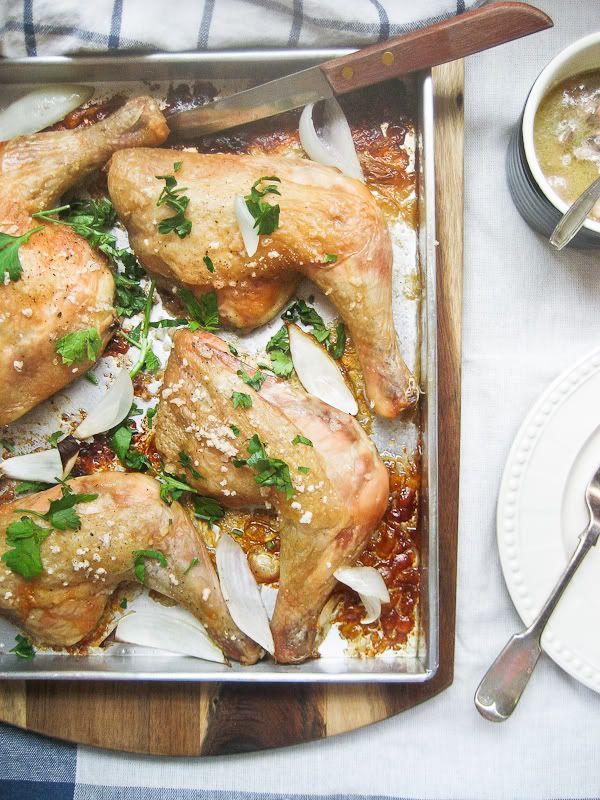 The secret to achieving Keller's perfectly simple roast chicken I think is to make sure that you remove as much of the chicken's moisture as possible and also refrain from adding butter or other liquids to marinate the chicken as we do not want any steam in the oven while the chicken is roasting.  Only salt is required (and just a little freshly grinded black pepper) and it's just so amazing what salt can do on its' own - I admit I was rather tempted to add some butter before roasting but I quelled my automatic tendencies and decided to follow his recipe to utterly delightful results.  The mushroom sauce I made was a simple affair where I used butter, mushrooms (of course!), a splatter of red wine and my little 'secret', the juices from the chicken after the legs were roasted.  I consider myself a newbie at roasting chicken, so if I can do it, anyone can - seriously, you have to try Thomas Keller's recipe at least once.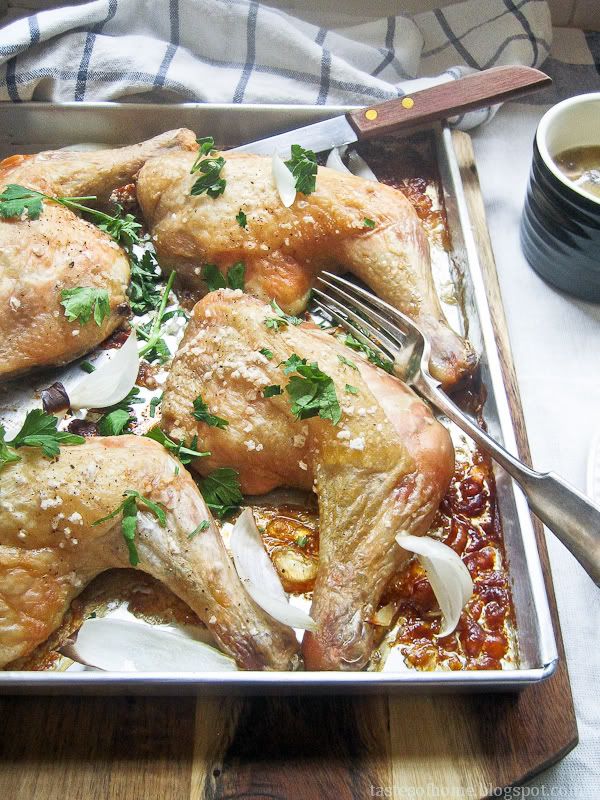 It may be my personal preference, but I prefer Keller's recipe to the roast chicken I made adapting Jamie Oliver's recipe although with the latter, you get the delicious vegetables together with the chicken all in one pan, so really it's up to you which one you prefer.