My love affair with pastry-making at home continues - today with a popular Chinese version of swirly and flaky pastries filled with sweet lotus paste.  Chinese pastries also require a quite bit of patience and dedication but compared to the classic puff pastry I made recently, requires far less waiting times, rolling plus folding and dare although it's not necessarily easier to make compared to French pastries. These swirly pastries always catch my eye whenever I walk past a Chinese bakery and you may have probably seen sweet snacks in Asian grocery stores as well.  Traditionally, these are served with a piping cup of hot Chinese tea since the tea serves as a great balance to the sweetness and slight oiliness of the pastry but I enjoy these with a hot cup of strong coffee as well.  These pastries are enjoyed throughout the day as a snack, at dim sum brunches or as dessert after a meal.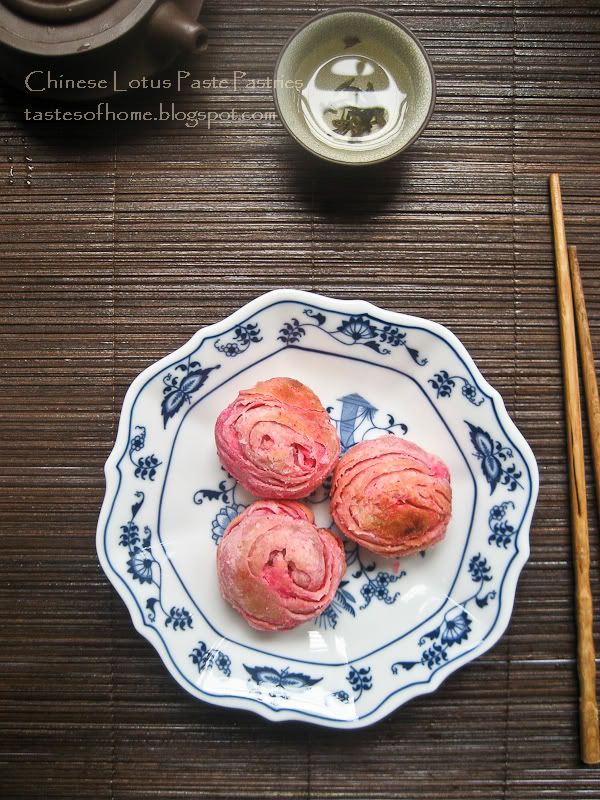 For Chinese pastry-making, usually there are two kinds of doughs required that will be combined to give us that characteristic flaky texture, namely the oil dough and the oil 'skin'.  Two types of flour are used in this recipe as well, cake flour and bread flour which contain different protein levels where the cake flour is low-protein and bread is high-protein.  If you don't have cake flour, you can substitute safely with superfine flour which contains more or less the same level of protein.  You can also play around with the dough by flavouring the dough with essences of green tea, yam, pandan and the like.  For today, I decided to leave it plain and just used a bit of red food colouring for a pinkish hue as.  If you like pastries in general I think you will like these popular Chinese version and once you find out how easy it is to make these at home, I hope you will give this recipe a try.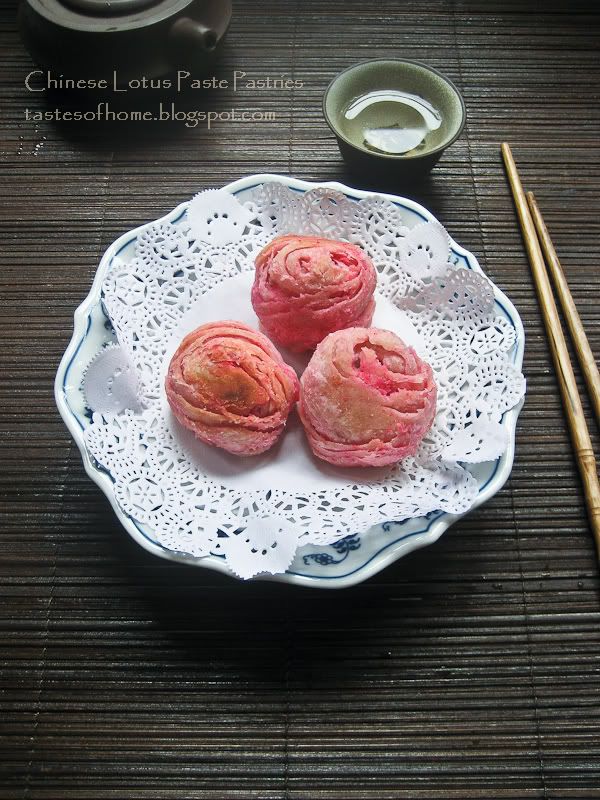 For another popular (and even easier) Chinese dessert using lotus paste, check out my steamed lotus buns.