As I don't really have a sweet tooth (fortunately!), I prefer plain cakes without heavy icing or cream although those do look very pretty! Since the weekend is coming, I decided to bake marble cake that goes really good with coffee or tea. I love to dunk the cake into coffee - anyhow, this is a simple recipe I adapted from my mom. Usually marble cakes have 2 colours, one being the plain butter part and the other being the dark cocoa part. However, I decided to use milo powder instead and added a third colour with food colouring. Makes a very pretty swirly cake! As I used red food colouring for my third colour, my dear friend commented that the finished cake looked almost like Neopolitan ice-cream, hence I decided to name my cake the Neopolitan Marble Cake..haha.




Ingredients:

3 eggs
1 1/2 cups cake flour (sifted)
1/3 cup milk
1 stick butter, softened (I used salted)
2 tbsp milo or cocoa powder (mixed with 2 tbsp hot water)
1 tsp vanilla essence
3/4 cup sugar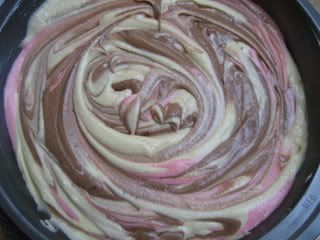 Don't forget to twirl the mixture with a fork to create the pretty swirly effect!

Method:

Firstly, pre-heat the oven to 350 F. Prepare a 9 inch round pan by greasing the pan and placing a piece of parchment paper at the bottom of the pan. Now, cream the butter and the sugar together until light and fluffy. Next, add in the vanilla essence and mix well. Crack the eggs into the mixture one by one, mixing after each one. Add half of the sifted flour and half of the milk into the mixture, making sure to mix well after each addition. Continue doing so until you have mixed in all the flour and milk. Next, divide the batter into 3 portions. Leave one plain, add the milo powder or cocoa powder to the second one and finally add some food colouring of your choice to the third portion. You can always just opt to have the 2 colours in your cake or if you're in the mood for plain butter cake, just place the mixture into the pan after mixing well without dividing into the 3 portions. Place the pan in the middle rack of the oven and bake for about 40-45 minutes. Check with a toothpick inserted into the middle to see if the cake is cooked, the toothpick should come out dry once cake is fully cooked.

Of course, if you're in the mood for icing, this is a great basic cake for dressing up as you please!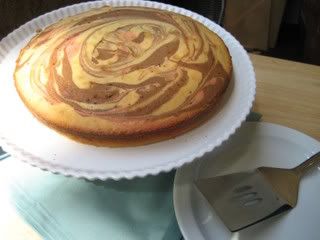 Click here for my colourful Neopolitan Marble Cake Recipe