Recipe adapted from Practical Japanese Cooking by Shizuo Tsuji & Koichiro Hata
Nitsuke simmering is a key technique in the Japanese repertoire of cooking fish. The sake rich broth removes unwanted fish odors and leaves the flesh succulent, while ideally, brisk heating makes for easy boning. Neither too much nor too little liquid will produce the desired results; choosing the right sized pot and always using a drop-lid will ensure that the liquid circulates.
I want to share this easy and delicious recipe from this Japanese cooking book I just got. Instead of rock fish fillets, I used salmon - you can substitute with any white meat fish. Hope you will like this recipe too.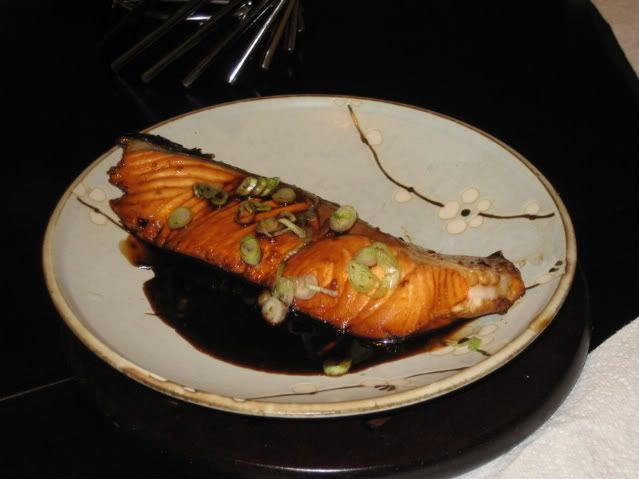 Ingredients:

4 rockfish/ white fish fillets
For simmering:
1 1/4 cups sake
5 tbsps mirin
2 1/2 tbsps dark soy sauce
2 1/2 tbsps sugar
1 tbsp tamari soy sauce (or increase dark soy sauce by 1 tbsp)
1 tbsp fresh ginger juice


Method:
Score each side of the fish. Place in a bowl and cover with boiling water. Once the skin whitens, immerse in cold water and remove any remaining debris. Wash well and drain. Set aside.
Combine the sake, mirin, soy sauce and sugar in a saucepan and bring to a boil over high heat. Set the fish carefully in the simmering liquid. Cover with a drop-lid (otoshi-buta) (or to improvise, simply use parchment paper, cutting a vent in the middle for the steam to escape and place the paper onto the fish, pressing the sides of the paper against the sides of the pot). This step ensures the liquid circulates and the flavor does not escape. Cook for 10 minutes over high heat.
When the liquid is reduced by about half, add the tamari soy sauce and ginger juice. Simmer for about 5 more minutes, ladling sauce over the fish occasionally. When the sauce begins to thicken slightly, remove from heat.

Garnish with some thinly sliced scallions.