Some of my friends have been noting that I have been cooking lesser - in fact, this is not true, just that I've been slow to upload photos to my computer as the latter is acting up really bad, slower than a snail! Well, today I offer miso cooked spare ribs, something I thought up since I did not have the Chinese version, i.e. bean paste in my fridge. So I figured miso i.e. the Japanese equivalent can do the job as well! Easy to prepare as most of my dishes are yet never compromising on flavour..hahaha.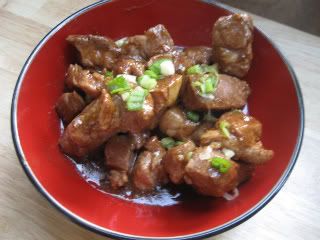 Ingredients:

Spare ribs (about 1 pound)
4 cloves garlic, left whole but smashed
Green onions, sliced (save the green parts for garnish)
1 tbsp white miso paste
1-2 tbsps of sake
2 tbsp light soy sauce
Pinch of sugar

Method:
Firstly, heat up about 1 tbsp of cooking oil in your pan. Next, saute the garlic and green onions until fragrant. Turn heat to low - add the miso paste, sake and light soy sauce. Add the ribs in finally and stir around until cooked. Add a pinch of sugar. You may also add about 2-4 tbsps of water using your own judgement. As always, the seasonings serve as a guide, add more or less and play around with the quantities to suit your tastes! Serve hot.