Simple and easy recipe for lazy days - you can substitute the chicken wings with chicken drummettes or drumsticks. It's a little puzzling that as a person who does not like drinking alcohol, I do love to cook with spirits - right now, I'm in a sake phase so let me introduce my Sake Chicken Wings. The wings are simply marinated in my sake mixture and baked for about 15 minutes at 380 degrees F until there's a slight crispiness on the skin.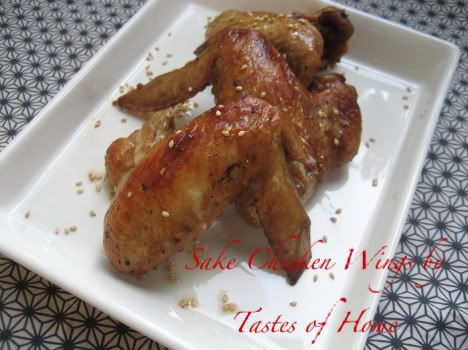 Ingredients:

1 dozen chicken wings
4 tbsps sake (adjust as necessary)
4 tbsps mirin
1-2 tbsp sugar
2 tbsp dark soy sauce
4 tbsps light soy sauce
3 thick slices of ginger
6 cloves garlic, smashed
2 stalks green onions
Sesame seeds (optional, for garnish)

Method:

Simply mix the ingredients above except for the wings in a bowl. Place the wings in the bowl and let it marinade as long as possible, preferably more than 4 hours. Baked in oven for about 15 minutes or until cooked. Garnish with some toasted sesame seeds.