I made these Chocolate Chip cookies a while back - very easy to make and of course chocolate chip cookies don't require much introduction! I think I could have done better with my sizing of the cookies. But don't you think the irregular sizing adds to the 'rusticness' and the 'home-made' level of these still delicious cookies? These turn out alright but I'm still on the quest for the 'perfect' chocolate chip cookie recipe.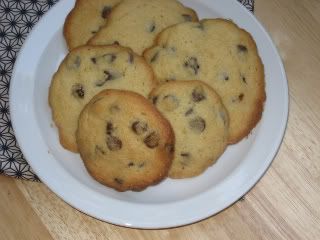 Ingredients:

1 cup butter, softened
1 cup white sugar
1 cup packed brown sugar
2 large eggs
1 tsp vanilla essence
3 cups all purpose flour (sifted)
1 tsp baking powder
2 tsps hot water
1/2 tsp salt
2 cups semisweet chocolate chips

Method:
Preheat oven to 350 degrees F. Cream butter, white sugar, brown sugar until smooth. Add in the eggs one at a time while mixing, stir in the vanilla essence. Dissolve the baking soda in hot water and add to the batter. Add the salt as well. Mix in flour and chocolate chips. Use a tablespoon to drop generous dollops onto ungreased pans. Bake for about 10-15 minutes in oven. Remove from the oven and allow to cool on wire racks. You may add in almonds/ walnuts if you so prefer.